In-App Shopping: Black Friday vs. Cyber Monday
Holiday season officially kicked off last week with Thanksgiving, followed by the two biggest retail holidays of the year — Black Friday and Cyber Monday. The holiday season has always been an important time of year for marketers, and it keeps growing as seasoned mobile marketers make enticing offers new and existing users can't resist.
In the past, Black Friday has been focused on brick and mortar stores, while Cyber Monday became a thing when online retailers and shopping apps wanted a piece of the pie. But in the past few years both days have merged into one epic online holiday shopping weekend. So how did each of these shopping days perform in 2017? Does one cannibalize the other, or is there room for both in the hearts and pockets of shoppers? We dived into our data to find out.
[A Lot] More People are Shopping in Apps
The period between Thanksgiving and Cyber Monday enjoyed 20% higher revenue and over 65% more purchases in shopping apps across both the US and the UK, compared to the same period in 2016. This impressive growth is largely due to the increase in the number of buying users this year compared to last year. In 2017 there were 62% more buying users than 2016 during the retail holiday weekend.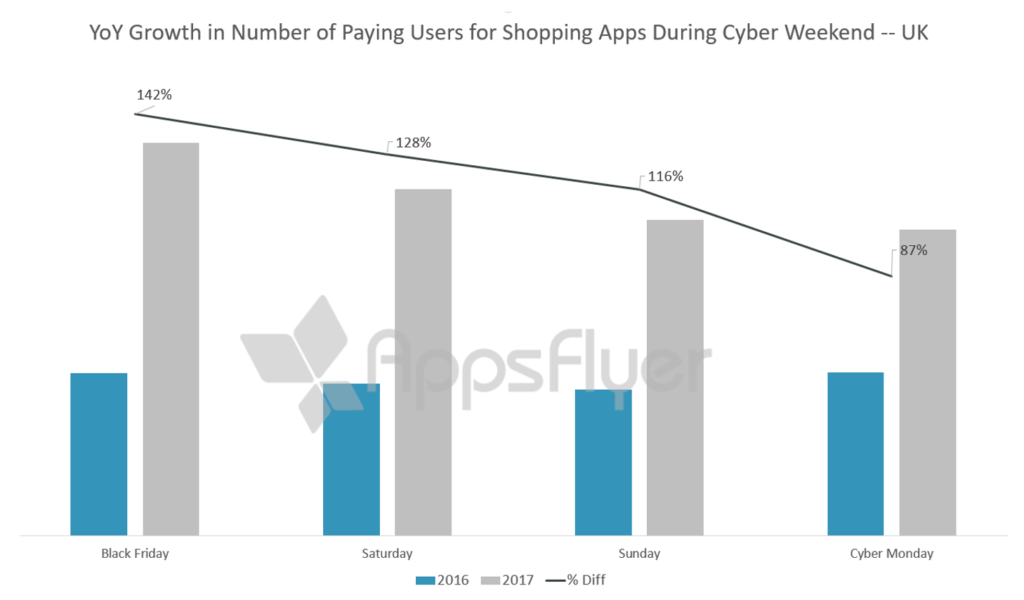 Black Friday Takes the Cake
Our numbers show that when stacked up against each other, Black Friday surpassed it's younger brother Cyber Monday. In the US, Black Friday 2017 gained over 20% more in-app revenue than Cyber Monday 2017, and the trend remains similar in the UK where Black Friday reached almost 50% higher revenue than Cyber Monday.
When comparing this year to last year, both Black Friday and Cyber Monday grew significantly. This year, Black Friday garnered 30% higher revenue than last year in the US, and 70% higher in the UK, while Cyber Monday's revenue grew by 15% in the US compared to last year, and 40% in the UK.
While revenue grew significantly across the board this year, but the average order value in both markets was lower compared to last year: by 25% in the US, and by 20% in the UK. In the past two years, both markets experienced a higher AOV on Black Friday than on Cyber Monday (7% higher in the US, and 1% higher in the UK).
X Marks the Spot
Beyond comparing Black Friday to Cyber Monday, we also examined how different device owners varied in their spending this year. Overall we looked into how purchase behavior on mobile apps varied between different device types — examining mostly newer, higher-end devices, in the US alone. We found that iPhone X users have been shopping up a storm this holiday season:
The average order value of the recently launched iPhone X users was 30% higher than other popular iPhones, and 70% higher than the leading Samsung devices.
Revenue generated by iPhone X users during the shopping weekend was almost 2x higher than the average of other popular smartphones.
iPhone X users' AOV outperformed Google Pixel and Galaxy phones by 40% and 28%, respectively.
How did your app do this holiday season? Any valuable lessons for next year? Expecting another surge before Christmas? Let us know your thoughts in the comments.