Create One Smart Link for Any Use Case: AppsFlyer Releases OneLink
We want to save you time and make your work easier.
Up until now, creating deep links for your app was a pain. You had to create a different link for each mobile OS your potential users might have and make sure the right users were getting the right version of the links. On top of that, standard deep links have horrible user experience since they can't detect if a user has previously installed your app or not.
We've created our new OneLink smart deep linking tool to change all of this.
With OneLink, you create one deep link that will:
Automatically detect the user's mobile OS (iOS, Android) or if the user is browsing the web
Redirect the user to the appropriate app store (Apple App Store, Google Play, Amazon App Store, etc.) to install your app (or use a fallback web URL). Then when launched, you can configure that the app to open to the landing page you specified.
For users who've already installed your app, skip the app store and launch straight into your app's specified landing page
Create Smarter Deep Links
Deep linking creates big opportunities for app marketers to create more engaging advertisements and more effective conversion funnels.
When we decided to create OneLink, we set out to create the most flexible and easy to use deep linking tool possible to help app marketers push their user acquisition to new levels.
AppsFlyer's OneLink is a different animal from most other deep links. OneLink was created for active app marketers in mind, so it has some big advantages over regular deep linking.
One Universal Link
OneLink is a universal deep link. You only need to create one link which will auto-detect the user's OS and redirect to the appropriate app store if the app needs to be installed.
Deferred Deep Linking
Just like online ads, conversion rates for mobile are highest when you can drop clicking users onto a custom in-app landing page. With standard deep links, once a user installs an app, their journey is over.
With OneLink, users click on deferred deep links which launch to your in-app landing page once your app is installed.
Install Attribution
AppsFlyer's OneLink is packaged with our mobile ad measurement platform so it's also an attribution link. Each install, session, in-app event and revenue generated by your OneLink deep link will be attributed to the media source and campaign used.
OneLink can be used for in-app, email, social, search and any other app marketing campaign.

Platform Integration
OneLink is also integrated with other deep linking platforms. Marketers can keep using their existing deep linking platforms while getting the benefits of AppsFlyer's universal deep linking and attribution.
Setting Up Your Universal Deep Links
Setting up OneLink is simple.
1. Log in to your AppsFlyer account, click on your app and choose "Settings"
2. Click on "Configure OneLink"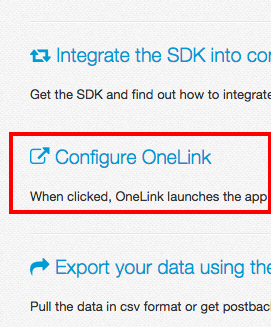 3. Add your app for multiple mobile OS', your URL scheme & click "Save"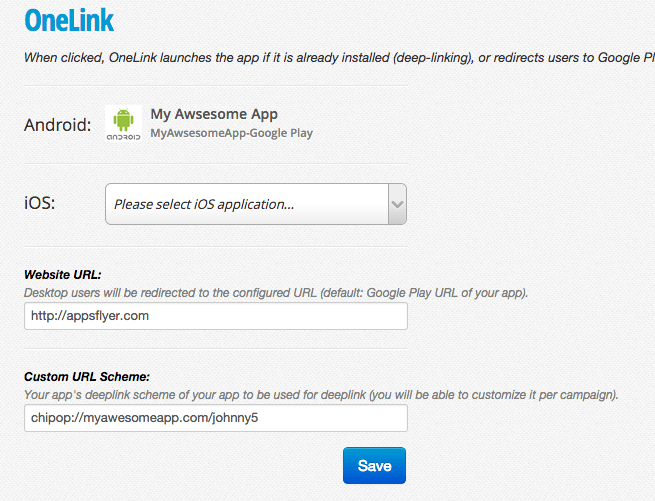 4. Choose "Media Source Configuration" from the left menu and choose a media source (or custom source) to set up your first OneLink attribution link

5. Choose your media source and campaign name, enable OneLink, shorten the URL (optional) and you're ready to start deep linking!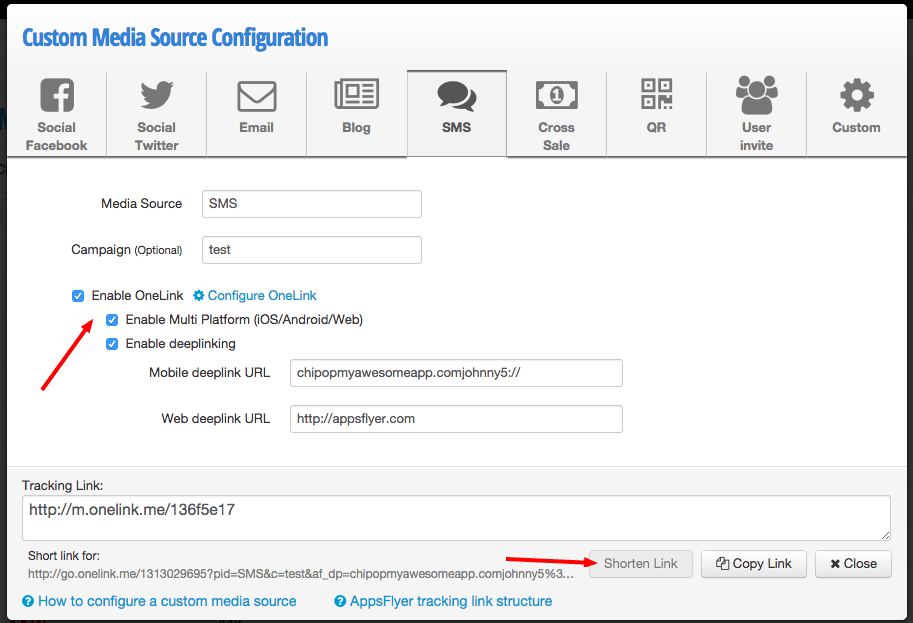 OneLink is available for all AppsFlyer users, so sign up today and let us know what you think!