Mobile App Retention: Doing It Right
With the mobile application market becoming more saturated and competitive, developers are finding it increasingly difficult to acquire their user base. To make matters worse, once  they get users to download an app – mobile app retention becomes another obstacle in itself.
In a recent study by Localytics, 20% of marketed applications are glanced at only once and then are discarded as an afterthought. Trying to understand why users don't keep using an app, or churn, can be difficult for companies and developers who lack even the minimal data feedback and/or analytic tools.
Developers have the ability to increase their app user retention by using various methods. Here are some helpful tips for developers to keep their users active and engaged and improve their app's retention rates:
Don't Let Down Your Guard – Regular App Updates
You're off to a great start if your application is well made and users find it addictive. However, like with any relationship, once a person downloads your app, you still need to work continuously work on staying in touch with your users.
One way to keep your users engaged is to literally engage them with in-app notifications. Apps that send users push notifications have retention rates that are double apps without push notifications. Notifications allow you, as an app developer, to keep the lines of communication open and provide users with updates and offers that will keep them engaged with your app.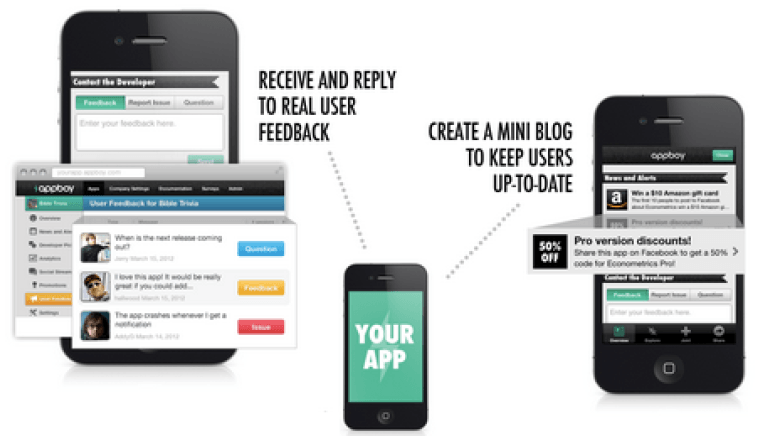 Some notification strategies include user opt-in to receive automated updates including promotions, prizes, new content and related news feeds. However, as the saying goes, timing is everything; so make sure you time notifications in moderation. No one wants to overwhelm their audience – you want to show your presence without being too aggressive.
Social Media-Maintain Strong Relationships
Social media is a vital piece in fighting user base churn and, in turn, creating loyal users.
Keeping connected with a strong core of users on your social channels is vital to ongoing user engagement. It is a branding device, because when you build an app, you are creating a culture of users where ongoing conversations can be fostered. Social networks are places to share your app's information and in extension operate as a reward system for app users. People will visit for a reason, they want to engage with sharable content and take part in conversations.
Bubble Witch, by Saga King, and Angry Birds, are examples of mobile games that use Facebook as their social outlet. It's very important to find a platform suited to your app's core user base for ongoing communication and engagement.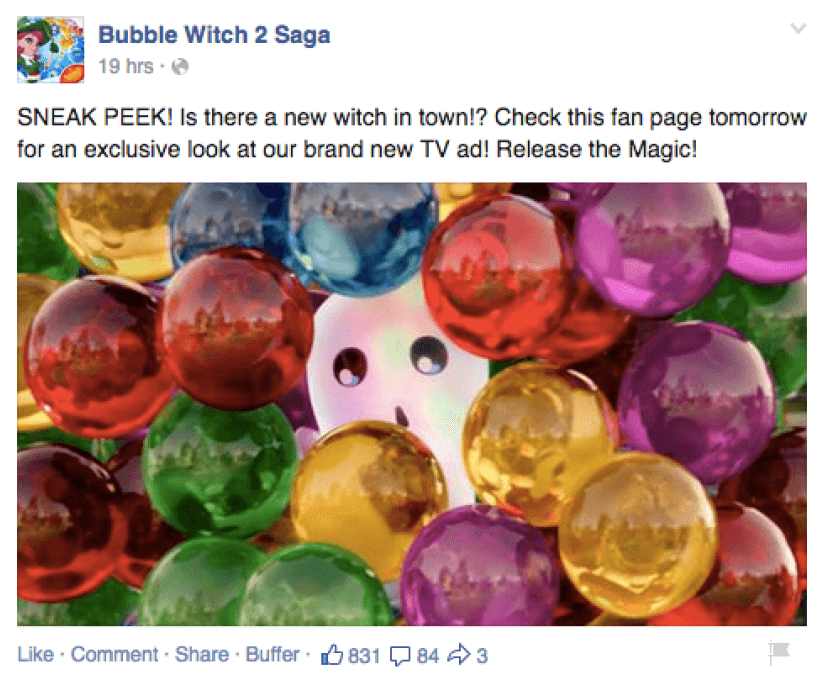 Create a Dynamic Environment
Every user wants an app that offers and maintains a dynamic atmosphere. This makes the difference between a user walking away versus staying for the long term.
A good way to create this kind of atmosphere is by utilizing the psychographic principle of periodically changing the user's experience. Make things more interesting by changing the way a user uses your app, learns of new features, etc. A common practice for mobile games is to create new levels and virtual items that change what and how app users play the game.
Make Sure It's Pretty
User experience (UX) is arguably the most important aspect of your app after the app's concept itself.
Make sure your app's design makes it as easy to use as possible. Visitors will stop using an app if it takes too long for them to get started or is annoying to use. In the Appiterate's survey below, 6 of the 7 most common reasons users gave for deleting an app were related to UX.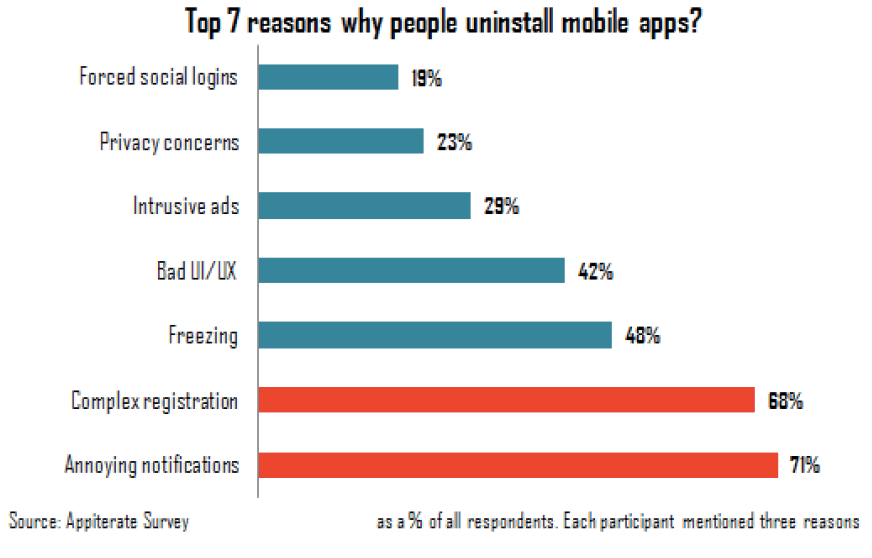 Some best practices for creating an enjoyable user experience for your app include making the app startup as easy and quick as possible, reducing the number of options in the user interface, creating a nice looking app, and making sure the app works smoothly and as advertised.
Customer Research and Analytics
There are ways to uncover plenty of insights that will help you understand why your retention rate is what it is and how you can improve it:
Once you have a community of users, you can easily monitor how satisfied they are by using mobile analytics platforms. Using in-app analytics platforms that track how users interact with your app (what they tap/click, errors, where they exit, session length, etc.) you can identify the pain points in your app that are causing users to churn.
Other analytic tools that track metrics such as in-app events, user acquisition sources, device types, etc. are also great ways to observe user patterns. You can again identify what's causing users to quit your app (ex: an ad campaign that's targeting the wrong type of users, users using a specific device, users who don't trigger a certain event) by seeing where they come from and what they do or don't do in your app.
Another tactic is actual user research. Email users and ask for feedback. Find out why they downloaded your app, why they used your app and why they stopped using your app.
Getting your apps name out there and building a loyal fan base is never easy. The more you understand the type of unique experience your users want, the better you can plan effective methods of delivering a delightful experience.
As advances in app tracking and user retention in mobile devices continue to evolve into the new year, it will become easier to grasp what was once considered a complicated and tedious process.
This will make for a heightened rate of user retention in mobile applications, making your app not just survive but thrive.