How to Scale UA Campaigns for Your App Growth
When you start to scale a UA campaign, there's always a catch. CPI might suddenly be higher than expected; CPM is already sky-high; and ROI is average, at best. The truth is, creating great campaigns in your home market is tough; but it's even harder to plan, deliver and scale campaigns abroad.
By following the lessons in this article you will be able to effectively scale your app install campaigns more securely and with a lot less hassle. It's based on the lessons we've learned working on apps for clients across the world.
Are you ready to scale your UA campaign? Then let's get started…
1. Be Sure Scaling Can Work
Frankly, if you can't make campaigns profitable in your home country (which you know the best), it won't be any easier elsewhere. This is especially true in overcrowded verticals like news, anti-virus software, casual games, and many others.
If there are hundreds of competitors in your market, and you don't have any REAL competitive advantage, you need a reality check. Also, if your user Lifetime Value (LTV) for the previous 12 months is smaller than the average acquisition cost, then now may not be the right time to plan expansion.
It's also worth re-considering your expansion plans if you're not profitable (or don't know if you are). If you are still optimizing campaigns for CPI and not sure of their performance, then you should use an attribution provider to record the real number of installs – and the revenue generated – from paid acquisition. Facebook Analytics, iTunes Connect, Google Play Console, Google Analytics, or Firebase are just not good enough and won't give you the full picture of your traffic and profitability.
Before you commit to a scaling strategy, ask yourself the following questions:
2. Choose Your Markets Wisely
Once you have clear figures of your average CPI and basic Return On Ad Spend (ROAS), you should then be able to generate a Lifetime Value (LTV) calculation for your app, and define a target ROI. 
The simplest way to choose your market is by selecting the best LTV by country (how much is the average user worth in US compared to France, for example?) and adding some additional data.
If you don't have a country-specific LTV you can take the blended LTV from all sources – your total income for certain period – the previous month for example, and divide it by number of total users who used your app in the same period.
You will also need to estimate the downloads and revenues in your app category, or for your direct competitors. By doing so you will find a 'purchase ratio' which will tell you not only which markets are the biggest in terms of downloads, but also where users won't spend a dime. You will also get an insight into the maximum acquisition costs, and in which countries you'll be able to generate cheap installs for your soft-launch.
You can get this information from AppAnnie, Prioridata, Apptopia — or other mobile data analytics platforms — but it's often faster and more reliable to do your own tests to generate real data. Some attribution providers already have cost data at scale so you'll be able to see the data in your attribution dashboard.
What's next? You might choose to explore the general market situation in your potential target territories. Here, GDP absolute values/growth, or indicators like the World Happiness Index can tell you more. If you want to save some money you can use certain tools to help you understand how the general public thinks and feels about the subject matter of your app.
If, for example, I was promoting a fin-tech app, I would want to know how many people use their smartphone for banking, or how many people make purchases online. Information like this can be found in the Google Customer Barometer.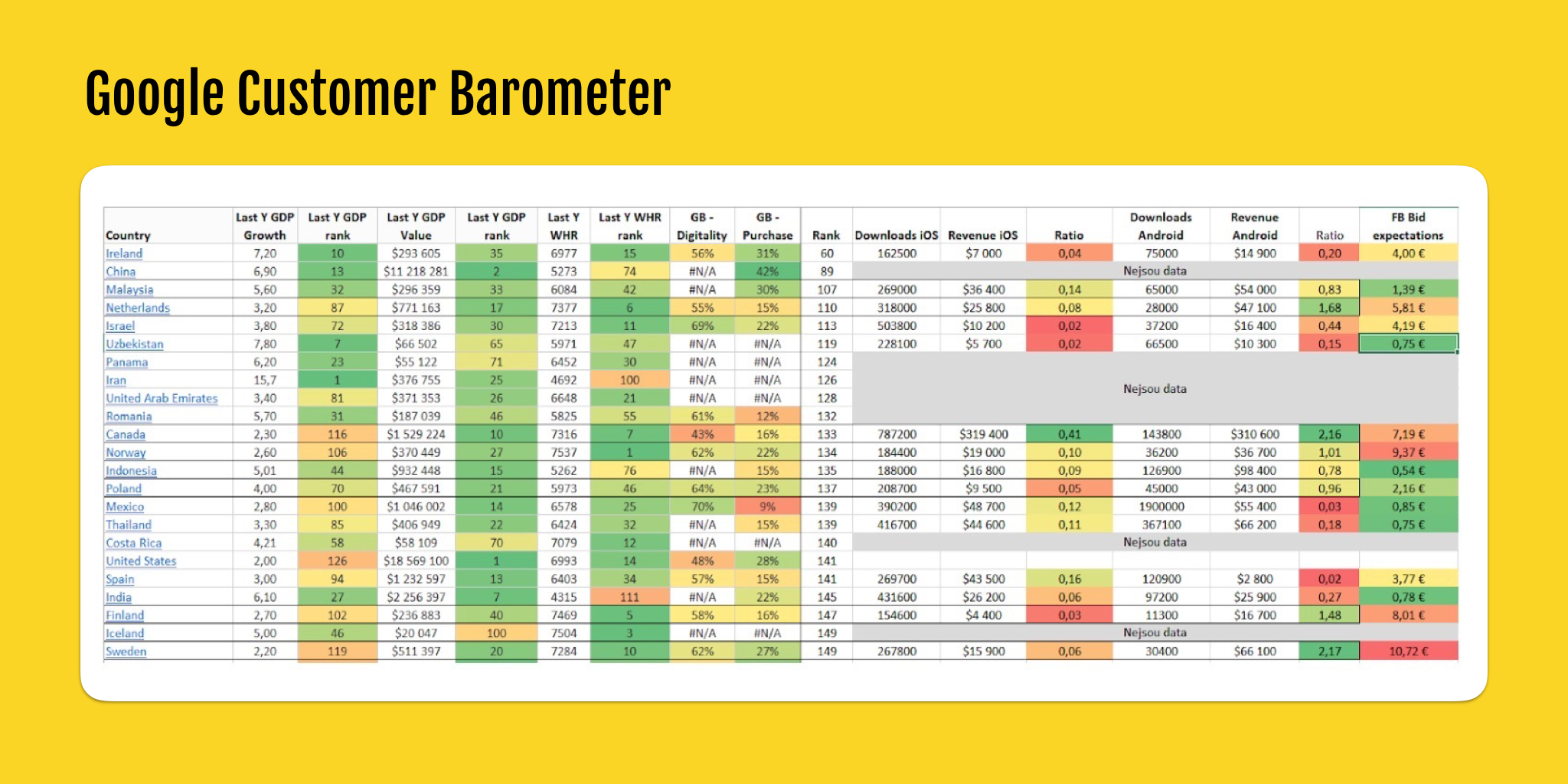 It's important that you define your priorities. Will you go to a country with bigger potential audience, but higher CPI? Or do you see a chance to generate bigger revenues? Will you prefer a country with high GDP growth and so users are willing to spend more money? It's up to you, but solid planning is the basis for a solid campaign.
3. Calculate Revenue Per Country
At this stage, you should have a clear list of countries you want to target. It's time to roll-up your sleeves and use Facebook data to forecast your future revenues. Because we're all interested in how much we can make, aren't we?
Currently, only Facebook shares information about the potential reachable audience for each country. If you use Look-A-Like (LAL) audience targeting (I bet you do), Facebook will give you potential reach of an audience similar to yours. You can use whatever percentage look-a-like you see fit (3% – 5% from events which correlate highly with the purchase seem reasonable) to see how many users FB offers you.
You may think: 'Hundreds of thousands of potential users? That sounds good!' But there is a catch!
Usually only 25% – 30% of this audience is actually reachable. People are out, they don't use Facebook every day, or they might be just too expensive to reach with your bidding strategy. It's safe to assume that your potential LAL audience will be similar in install conversion and CTR (at least at the beginning) as your initial calculations.
This equation can tell you how many users you might attract to your app:
This is the maximum number of potential users for one day. If you multiply by 30 you can get a reasonably good monthly average. In this case, that's 157,000 users (but it will only happen if you are lucky, have a good creative and, of course, the budget to pay for it).
What about other networks? For many clients, we were able to reach a similar number of users through AdWords UAC. While there are definitely some overlaps, you can roughly double the figure you have to obtain a reasonably accurate country potential for both major ad-networks.
Now, when you're asked about how many users you can get, you can also extrapolate the cost and ask your boss for a budget. It's rough calculation, but at least you have an idea of what it might cost to attract users.
4. Estimate Your Creative Team's Workload
At this point, everything may seem to be going well and your budget has been assigned, but there are still some things to check-off, like preparing ad creatives and making some decisions about localization.
There are two useful mechanisms that can help you: A-B-T and Banner Frequency Fatigue:
A-B-T (Always Be Testing)
Even if I'm working on the smallest campaigns, with a budget of just a few hundred dollars, I seek at least two different creatives. It's important to have variation because there will always be a difference between the performance of ad-groups, and you'll learn something (even if you just use stock photos).
As a rule, you should run with at least two variations of your creative. Once you have these, you can use them as a basis to develop further iterations of your preferred direction. It's worth having a pool of different ad creatives which you can use across networks, developing new ideas as you observe your CTR changing.
Banner frequency fatigue
Research has found that user fatigue with banners grows in relation to the the frequency that they are seen. Basically, the more people see your banners, the less influential they are.
Our experience at AppAgent correlates with these findings, demonstrating that the frequency of exposure influences CPC, and causes CTR to decrease. We avoid a frequency that exceeds 2.5, and at this point another creative must be made.
Based on your budgets and creative department availability, your number may be different – from 2 to 4. Be aware that anything over 4 could be deadly in terms of CPC increase.
This equation should help you calculate how many creative directions you may need:
If you are targeting more territories, you will need to localize, taking into account both language and cultural connotations.
If you are on a tight budget you could try to make use of Facebook's dynamic language optimization, where you can add multiple translations to one creative. This will only work if you avoid text in your visuals or videos.
5. Prepare your Stores and app for a siege
You know the drill, it's good to clean your house before your guests arrive. This applies to app stores too. If you are going to have multiple language ad versions, you will surely want to have app screenshots in multiple languages as well right?
Here's a handy app store campaign preparation cleaning-list:
Adjust your screenshots and content to match your creatives (if you are communicating benefit A in the ad, it's good that it's also captured in screenshots)
Translate your screenshots to corresponding language versions (at least titles would be nice and translation is super-easy with services like fiverr)
Do you have any ongoing promotion? Put it at the top of the long-desc on Google Play or in the promotional text which will appear on top of your description in the iOS App Store.
Ensure your old screenshots still fit (if they don't, fix it!). Got the shiniest app version in the screenshots? Screens for iPhone X? Important things are legible even on search results page?
Are your [deferred] deep links prepared? (If not, fix it too!). When using deep links, wouldn't it be nice for your user to see some welcome screen connected to your ad as an in-app message?
Summary
There is plenty of information that can help you scale campaigns, but the key learning point is that if you're considering international expansion it needs to be planned strategically. You simply can't be led by your gut feelings. Data from one platform is usually not enough to make a decisive decision and following your instincts could be disastrous.
Sometimes, you and your product might not be ready for an expansion. So be realistic.
Before you make any decisions, acquire as much data as you can to help you identify the best countries to invest in and what sort of budget you will need to fund this expansion. You'll then need to prepare your creative department for an incoming chunk of work — both on the add creative and in updating your app stores. Once this is done, you're ready to go.
International expansion is never easy, but with planning and strategy it can be effective. Do the research and the work and you won't need to play to a user acquisition god, because you'll already know it's going to work.
Happy scaling!