Testing your AppsFlyer Integration Just Got Easier
2017 is off to a great start, and we have a number of exciting updates for our AppsFlyer customers and partners. To learn more about these updates, please follow the included links or contact your Customer Success Manager.
3 Exciting Updates To Your Dashboard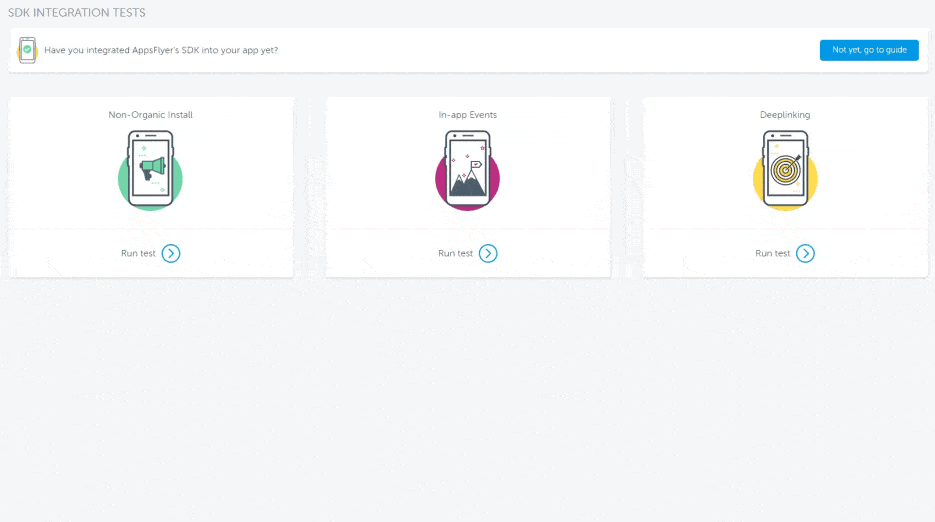 New SDK Integration, In-App Events and Deep Linking Test Page for iOS and Windows
Integrating an SDK can be a slow, drawn out process. But it doesn't have to be. Our new SDK integration test page makes it easy to QA your AppsFlyer SDK integration, identifying what is working properly and what fixes are needed. Similarly, we have also introduced automated testing for your in-app events and deep links for both iOS and Windows. We have done the hard work, so that you can focus on your marketing.
Exports Updates – Selectable In-App Events
While many marketers enjoy our comprehensive raw data exports, not every marketer wants to download all of their in-app event data when downloading their In-App Events Raw Data Reports. Towards this end, marketers can now select which in-app events they would like to include in their In-App Events Raw Data Exports, making their analyses faster, smarter and easier. To learn more, check out our In-App Events Reports pages for iOS and Android.
New Payments Page
Updating your payment info should be simple and easy. We have redesigned our payments page to make this easier and simpler.
Updated Organic Attribution Methodology
As of February 7, 2017, organic installs will be attributed based on the first launch date (rather than the device download date). This aligns organic installs with non-organic installs, providing stronger consistency across the board. You can also enjoy additional insights for organic installs including the number of loyal users, the ratio of loyal users/installs and the number of unique users per in-app event.
Facebook Updates
Are You Ready For Custom In-App Events?
In addition to Facebook's standard in-app events, we have added support for your own, custom in-app events. These custom in-app events will sync to Facebook just like your standard in-app events, providing you with the optimal flexibility to make your impact in the Facebook universe.
Standardized Facebook Campaign Names in Raw Data Reports
The latest raw data reports (V5) feature standardized Facebook campaign names, making it easier to compare your campaign-level performance across media sources.
Bonus – Why Only Facebook MMPs Can Provide Accurate Measurement
By popular request, we asked for Facebook for their perspective on measuring mobile marketing on Facebook using deep linking. Given the amount of misinformation in the industry regarding Facebook measurement, this post helps clarify why only certified Facebook Mobile Measurement Partners can offer accurate measurement of Facebook mobile campaigns.
Retargeting Updates
Get Conversion Data For Reattribution
Get Conversion Data is one of the most powerful UX tools in the mobile marketer's toolkit, allowing marketers to customize the in-app experience based on the ad the user clicked. We have added support for Get Conversion for reinstalls from retargeting campaigns, so you can improve the UX of your reinstall customer journeys.
Enhanced Twitter Retargeting[sta_anchor id="twitter"]
Working closely with Twitter, we have enhanced our support for attribution for retargeting campaigns run on Twitter. Enjoy!
Welcome mParticle and Branch!

We are committed to helping marketing do more with their mobile marketing data. To this end, we are excited to announce two new amazing partners. The mParticle Data Platform allows marketers to connect their marketing data across an ecosystem of providers. The enhanced AppsFlyer integration allows mobile marketers to connect their AppsFlyer data to this powerful pipeline, so that they can use their mobile attribution and marketing analytics data across mParticle's network of integrations.
Furthermore, with AppsFlyer's updated Branch integration, developers can sync their Branch data to AppsFlyer, combining their Branch-based deep linking campaigns with their AppsFlyer attribution and analytics. This provides enhanced visibility into individual organic channel performance in context, providing deep link insights that complement your paid growth strategy and user lifetime value.
All of these updates are now available to all AppsFlyer customers. To learn more about these updates, contact your customer success manager or schedule your AppsFlyer demo today!