Chapter 4
Use Cases: How to Leverage Deep Links to Drive Better Performance
We have established that deep linking is a feature of Attribution which drives a better user experience across different channels, and creates better performance from these channels. This is especially relevant in cases where the number of steps to conversion dictates performance success. Leveraging deep links to drive users to the optimal place in the app as quickly as possible, and with the right context, can unlock a higher performance across paid and non-paid channels.
But what does "leveraging deep links" look like? This is another common issue in the industry. Many vendors talk about the value of deep linking without showcasing specifics. To try to combat this problem, below, we will explore how typical customers leverage an attribution & deep linking service in order to drive better UX and performance from paid and organic channels.
How does an eCommerce app think about use cases? Let's explore:
Running mobile app download campaigns with Google, Facebook, Pinterest, Snapchat, etc.
Deep link users to specific products, even through the install process across all these channels
Create single URLs that can drive and track installs or opens for all marketing org efforts
Track performance of "Download the App" banner at the top of mobile Web page and in emails
Send a live feed of app downloads to ad partners to create a real-time blacklist (don't show ads to customers who already have the app)
Show customers a dynamic "Easy Reorder" ad featuring products they've purchased before with a link to download the app and opening the Easy Reorder page upon app launch
But use cases don't stop there. You can leverage an attribution and deep linking solution to power a variety of use cases, all of which have had noticeable growth impacts and can help serve a mobile marketing team.
Social
This is one of the most common use cases for leveraging mobile links. In this example, a marketer or mobile app would place a link to content in the app on a well-known social channel, such as Facebook, Google, Twitter, Instagram or Snapchat.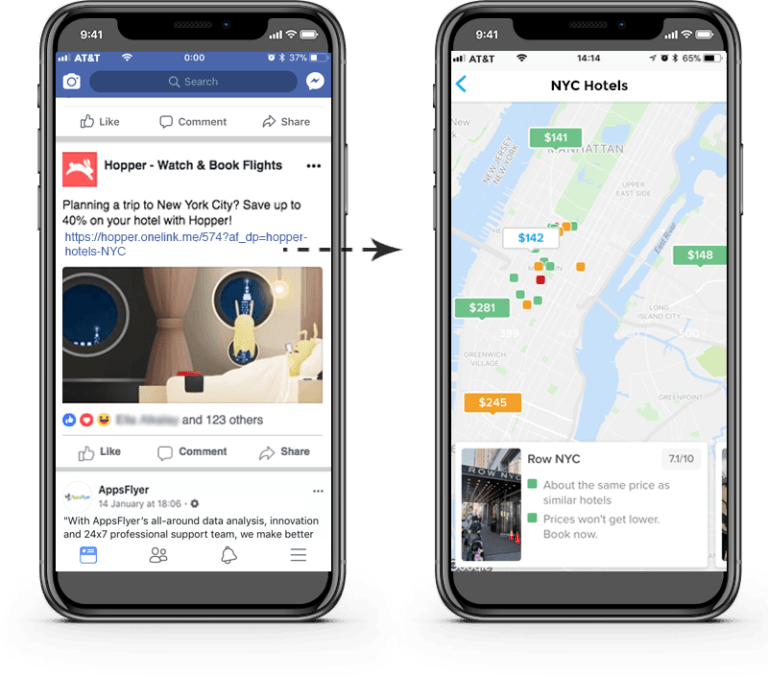 With a universal routing & attribution system, this single URL would be able to intelligently route the user to the app store if the user did not have the app, or open the app via Universal Links & Android App Links if they did.
Beyond this, there are solutions that have a built in feature that scrapes "Open Graph" information from the URL. This means that the attribution link will display a preview of the content, title and description when the link is posted in social media. Similarly, this option allows the link to be shortened, conserving space in posts and providing a level of trust in the link the user is clicking.
Email
Email is another great medium to leverage attribution and deep links. Traditional email service providers (ESPs) do allow you to track clicks on links, but they don't always have the ability to route the user to the app store or app intelligently. Also, Universal Links usually break if you wrap click tracking around them.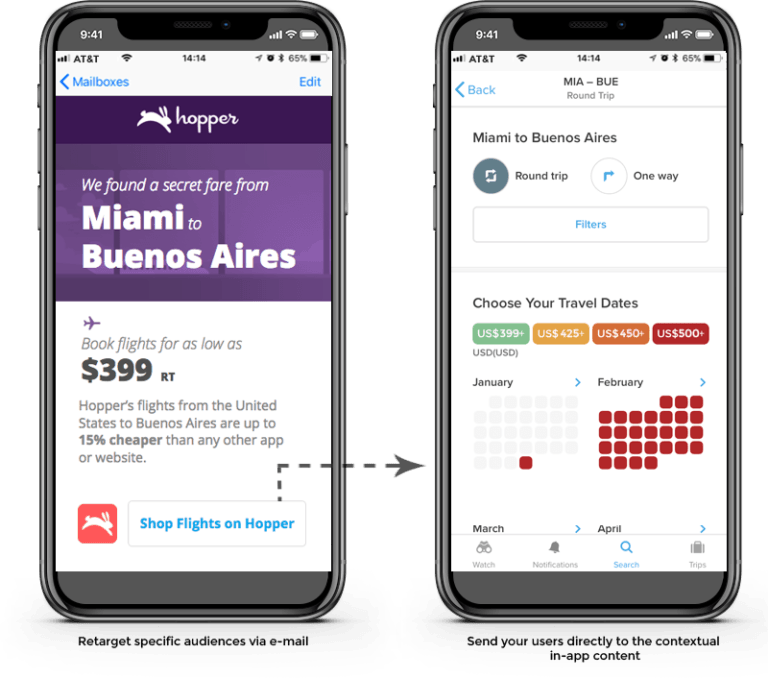 An email marketer can create deep link urls programmatically or manually and place them in the email for a better user experience.
SMS & Referrals
Everyone knows that word of mouth referrals provides one of the strongest mechanisms to spread the app and create virality. Text message and SMS is the digital equivalent of this whereby friends can share great new apps with their friends.
Advanced deep linking technologies enable marketers to dynamically create short URLs in the app to share the app or a referral program. This is how it works. A user would share a link to the app from a piece of content or referral screen in the app. At the moment when the user hits share, you can leverage the deep linking API to create a short link and stuff it with useful data that you want to tie to the user – such as promo codes, content strings, or even the referrer's name and user ID.
When the user then shares it on SMS that data will all be wrapped up in a short link. When the receiving user clicks the link, they get an optimal experience – going to the app store if they don't have the app, and to the app if they do.
After downloading, your app developers will get all this rich data back in the app to help understand and invest in your best virality loops and referral channels.After downloading, your app developers will get all this rich data back in the app to help understand and invest in your best virality loops and referral channels.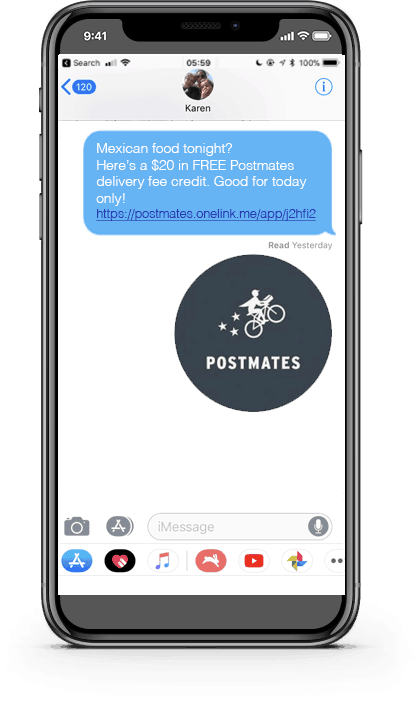 QR Codes
While some scoff at the use of QR codes, they serve as a major channel for many companies outside of the US. With an attribution and deep linking provider can you create a url and instantly generate a QR code.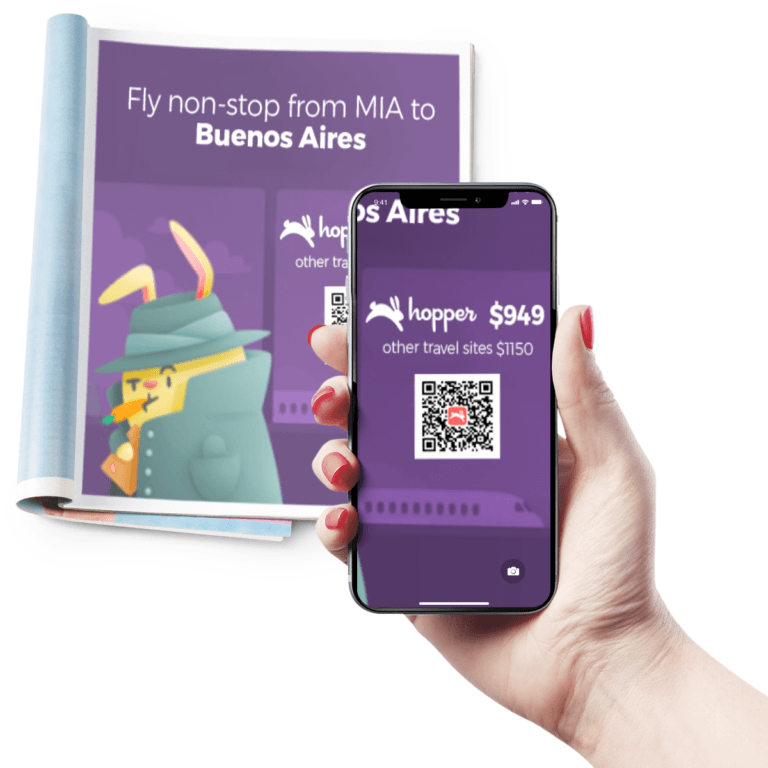 These codes, generated in the dashboard, can then be placed in emails, SMS, direct to consumer marketing and other mainstream channels. With Android, QR codes can be instantly scanned and in iOS 11 there's a built in QR reader in the "Passes App".
Custom Onboarding
An advanced version of SMS sharing and referrals allows you to use the data you share in links to provide a welcome screen or customized onboarding.
The concept is simple: when you create links for users in your regular marketing channels or even in SMS & referral links, you can include information like a "popup title" or "popup message", and then display this information in the form of a welcome message. Postmates uses a deep link to display welcome messages to users who come from paid and organic.
Example Link:
https://postmates.onelink.me/5uYG?pid=facebook&af_click_lookback=7d&af_dp=postmates://root&promo_code=icecream&title=Welcome%20to%20Postmates!&message=Use%20OneLink%20for%20your%20custom%20onboarding&button_title=Let%27s%20Go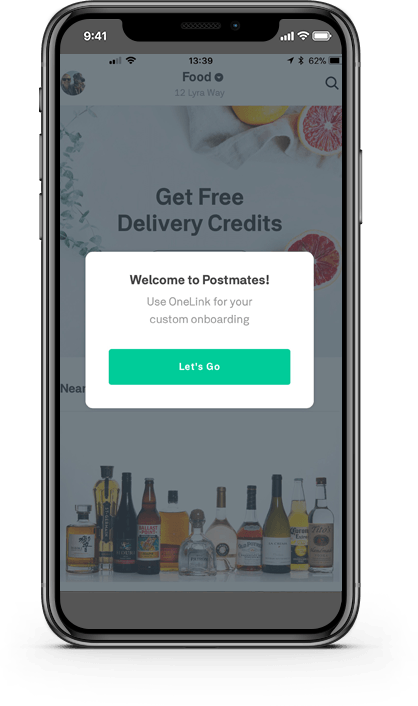 Web to App Banners
Last, and certainly not least, one of the most well known use of deep links is to drive users dynamically from your mobile web site to your app.
Because most deep link provider URLs  are easy to structure, many mobile teams develop their own banners or use one of the many templates Appsflyer provides for free.
Your team can customize the banner however you'd like and then, an advanced deep link can power the urls and attribution behind the button. In this example, Moovit uses their own customized banner alongside AppsFlyer's OneLink technology so that users can click and download or navigate to the app from moovitapp.com.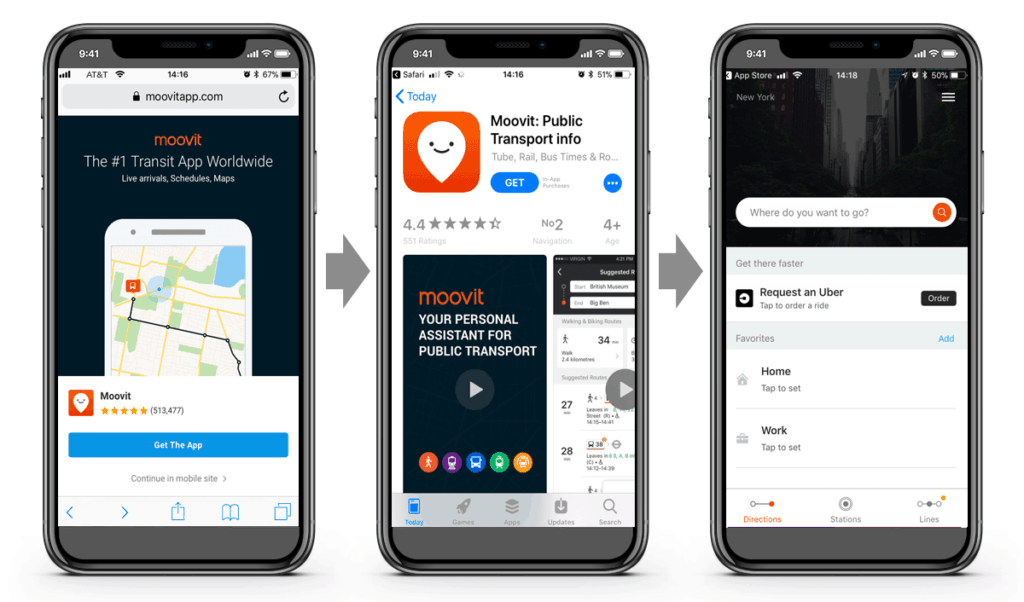 Regardless of whether the user has the app, an advanced deep link can direct them to the appropriate content, even after installing for the first time.
About the Authors