Custom Dashboards: Bring Your Data to Life
We all know that fast access to the right data is key to mobile app marketing success. Faster time to insights enables you to improve agility, focus on what matters, and create a culture where data-driven decisions lead to better outcomes. To be truly insights-driven, every team member across the organization needs to have access to relevant data so that they can constantly measure and optimize their individual KPIs, while discovering new developments and trends as they happen in real-time. UA managers, for example, require granular insights into their new-user growth, engagement and revenue, while product managers tend to focus on user value (LTV, ARPU) and engagement data. In contrast, execs typically need a bird's-eye view of their app health and monetization trends.
At AppsFlyer, our mission is to help businesses unlock the full potential of their mobile marketing and engagement data by exploring, driving insights and visualizing complex data outside or within the AppsFlyer Dashboard using Cohort Analysis, Pivot Tables and one of AppsFlyer's most popular features — Custom Dashboards.
Getting Insights isn't Only Fast, it's Fun
AppsFlyer's Custom Dashboards allow every member in your organization—from the CEO down to the most junior product or marketing manager—to explore their key metrics at a glance and tailor the view to their own needs.
This flexible, fully configurable dashboard allows you to group, sort, slice and dice your data, select and preview the visualization at a click of a button, and tailor the dashboard view with an intuitive—and fun!—drag-and-drop interface.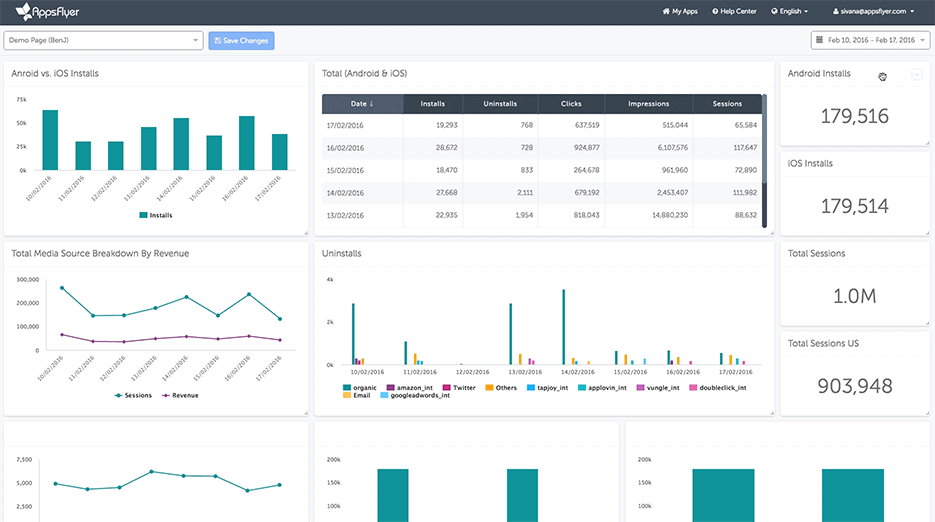 With this simple drag-and-drop editing, one step cloning, easy customization and export to PDF capabilities, AppsFlyer's custom dashboards are ideal for unlocking the power of your mobile performance data across your organization:
Interactive reporting on a single app or across multiple apps

Easy setup of geo-specific dashboards for your regional teams

Easy comparison between iOS and Android

Media source-specific dashboard

In-app engagement dashboard

Business performance & app health dashboard

Overall marketing performance overview & funnel analysis

And more!
Bringing Data to Life
To get inspired, here are a few examples of how our clients' teams use our Custom Dashboards:
Cecilia, Head of UA
Cecilia, a UA executive, configured the custom dashboard below to show cross-app, top level performance of her mobile marketing team. At the top of the dashboard are the high-level metrics she checks daily. Then, she added her Android funnel, as this is an area the team is working to improve. Beside the Android funnel, she records her campaign performance in both Tier 1 and Tier 2 regions – monitoring both new installs and sign-ups (using in-app events). This is followed by a multi-app Aggregated Performance table, where she monitors her preferred metrics per-app. At the bottom, she set up two dedicated rows: one for install performance data and the other for revenue performance data.
Overall, this dashboard represents the key areas she manages on a regular basis, allowing her to keep her finger on the pulse of her team's performance without needing to dive into multiple dashboards.
Nate, Campaign Manager
Nate, the campaign manager built a very different type of dashboard, focussing entirely on performance numbers rather than charts or trends. The left-hand side of this dashboard breaks down installs by paid and organic channels, paid performance by OS and total installs. He then built columns listing performance by geo, conversion to his preferred in-app events by geo, overall installs by media source and media spend per media source. As their top paid media source, he also carefully monitored Facebook installs by country and OS in separate breakout charts.
While this format may not work for everyone, this format works very well for this campaign manager's specific needs, saving him a great deal of time and effort when optimizing his media spend and building his performance reports.
These were just a couple of examples of what you can do with Custom Dashboards. With this degree of flexibility at your fingertips, the possibilities are really endless.
Want to learn more about Custom Dashboards and how your team can use them to build customized, interactive dashboards for their unique business needs? Talk to your Success Manager or schedule your AppsFlyer Demo today.