The New AppsFlyer Mobile App: Setting A New Standard For Mobile Measurement
Your mobile marketing campaigns run 24×7. Whether you are in the office, out on a date, waiting on line for coffee or relaxing at the beach, your campaigns are always running. Checking in on your mobile marketing campaign performance used to require opening up your laptop and connecting the nearest hotspot. This is fine for when you are at the office and have your laptop nearby. For all those other times, there is the new AppsFlyer Mobile App.
Download The AppsFlyer Mobile App
For Everything You Need To Know, On The Go
The all-new AppsFlyer Mobile App is designed to provide mobile marketers with quick and easy access to their mobile marketing performance data, anywhere, anytime. Navigate across your apps, track your performance metrics and KPIs, drill deeper into your data with dynamic filters and group-bys, it's all there. See something interesting? You can even send a screenshot to your colleagues for follow-up, right from the app.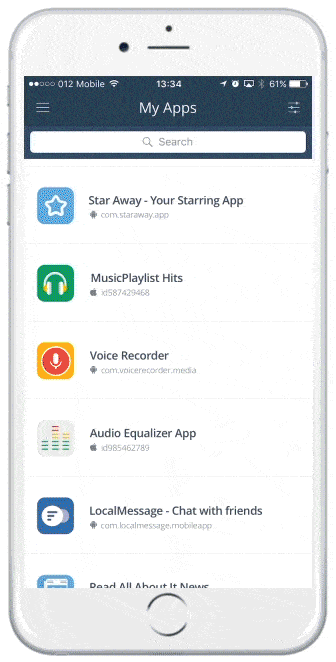 Over the last few months, AppsFlyer customers around the world have helped us improve and refine this new mobile app. On behalf of the entire team, we would like to thank you for all your ideas and encouragement. The stories you shared, from the time you had to answer an urgent question for your CEO while at a football game, to the time you were running late and had to prepare for your team presentation while standing on a crowded bus, helped us better understand your needs and adapt the app accordingly.
Thanks to your amazing feedback and a dedicated push from our engineers, the AppsFlyer Mobile App is the first of a new generation of mobile attribution and marketing analytics offerings, a dedicated mobile reporting app that delivers unparalleled speed, flexibility and ease of use.
As Hua Xing, Mobile Operations Manager at Ctrip recently shared,
"The AppsFlyer Mobile App exceeded all our expectations. At Ctrip, our mobile marketing performance data is our lifeline. The ability to navigate my mobile performance data on-the-go in a simple and intuitive interface and at this speed… this app has become an integral part of our real-time marketing tech stack on a daily basis."
The new AppsFlyer Mobile App is now available, for free, for all AppsFlyer customers and supports English, Chinese, Japanese (with more to come). Download it today from the App Store or Google Play.