What is DeviceRank?
DeviceRank™ is AppsFlyer's proprietary, anonymous device fraud rating, and the only solution of its kind. Built from AppsFlyer's massive, real-time anti-fraud database (aka The Vault), DeviceRank™ rated devices based on over a dozen points of anti-fraud metadata. Ratings span from A, AA and AAA for devices with strongly non-fraudulent metadata signatures, to B – suspicious for devices with sufficient fraud signals, and C for devices known to be actively perpetrating fraud. By default, AppsFlyer blocks all clicks, installs and engagement from C-rated devices. Device metadata profiles are updated with every click, install and engagement, providing the world's most comprehensive device-based protection.
Marketers who use Protect360 enjoy the full value of DeviceRank™ reporting, including DeviceID Reset Fraud detection (identifying sources with large numbers or high densities of "New Devices"), Suspicious Device detection, Limit Ad Tracking Fraud detection, as well as Clean Device reporting.
Sample Screenshots
Fraud Hiding Behind Limit Ad Tracking
Fraud Hiding Behind A DeviceID Reset Marathon
.
Identify High Densities of Suspicious Devices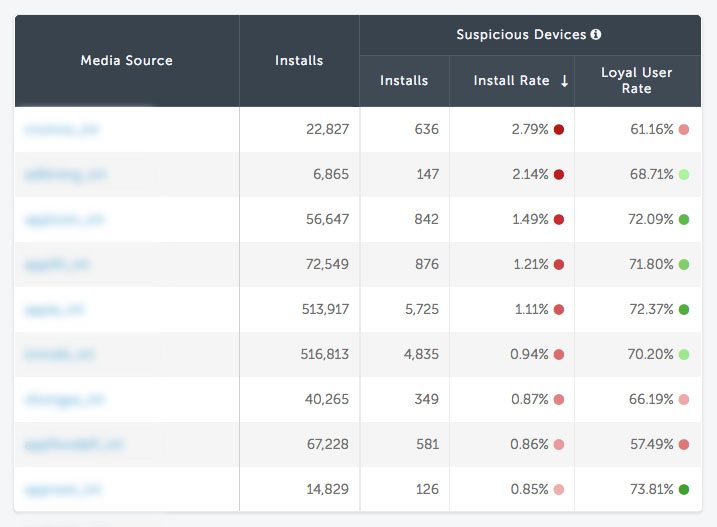 .
Clean Device Reporting
« Back to Glossary Index