5 Steps to Build an Amazing Facebook Audience Strategy [MAMA Board]
Welcome to the 2nd edition of MAMA Boards, a new AppsFlyer video project featuring leading mobile marketing experts on camera. For today's mini whiteboard master class, we have Albert Abello Lozano, Group Head of Display and Paid Social at Treatwell, Europe's largest hair and beauty bookings service managing millions of users every month. He discusses the five simple but powerful steps you need to optimize your Facebook audience insights and boost your prospect and user bases.
Facebook's audience segmentation capabilities have the potential to significantly scale your app just like Treatwell, and with the following steps, you too will become a Facebook audience building master! 
Real experts, real growth. That's our motto.
Video Transcription
Hi, everyone, welcome to another edition of MAMA Boards by AppsFlyer. My name is Albert Abello Lozano, and I am the Group Head of Paid Social and Display at Treatwell. Treatwell is the leading marketplace app for hair and beauty here in Europe, with more than 5000 downloads every day.
Today, we're going to discuss five simple steps for building an amazing Facebook audience strategy. Given the fact that Facebook is one of the main advertisers in the world, as well as that their key feature right now is their audience segmentation capabilities, this is a very very important lesson that all marketeers should take home for their business.
Part 1: Plan a Data Collection Strategy
The first part of building an amazing strategy for Facebook is to make sure you're collecting the right audience with the right steps. For this, you need to focus on how you collect your data. In other words, making sure that your pixels and SDKs are in place. Each business is different, so you should think about it this way: you can't copy anyone, you have to think about how you want to make your business unique regarding audience collection.
So, first of all, [you should map out] all steps of the funnels that make sense for you. In the case of Treatwell, our checkout process takes four steps. Therefore, we have four steps in the checkout funnel from which we collect [an audience segment], both on mobile and the web. Consider that [your strategies and audiences] can change on different platforms. OK.
The second thing: use advanced matching. Send that hatched data to Facebook about your customers – that will help Facebook identify who's visiting your website. The way Facebook does that is based on what they call 'sessions,' or 'personas.' Eventually, however, they will need you to tell them who is visiting your website. So, using advanced matching is a very powerful way to increase your audiences.
The third thing to take into consideration when collecting data for Facebook is actually something that a lot of people forget exists: the custom pixel. The Facebook pixel allows you to put information in different steps – all the events that you want in the website – to be measured. People forget that and they usually just limit themselves to events like 'purchase,' 'view content,' 'checkout,' but there are many more things you can measure. In Treatwell, for example, we put one event in each step of checkout, which is composed by four things: people can select their time slots, day, hair style, and hairdresser.
So, think about your business and how this process fits [your app]. As an example, if you have an e-commerce app that sells shoes, maybe you create an event for every time the user selects a different shoe size or shoe colour. When people scroll through your website or send a form, maybe that will help you in the future to collect better audiences, [with that pixel you just placed]. It's free, it doesn't cost anything, and it will really improve your business in the future.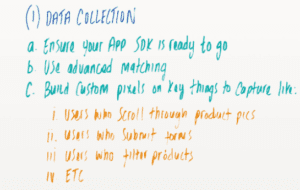 Part 2: Add a Data Layer to Your Website or App
The second part of building a Facebook audience is considering which data you can send to Facebook. Let's not forget that, when you have a pixel or the SDK, you are sending the information that is available at that moment on the website. There's one thing that helped us a lot, which is to add a data layer. The data layer is basically like having a business card of each user that visits your website with the information you have about them. That information doesn't necessarily need to be their phone number or address, but rather, how many times they bought [a certain item or service], what they bought in the past, the last time they bought [an item or service], their T-shirt size – in our case, also the neighbourhood they most commonly booked in. Because if you put information there, in what they call a 'data layer', basically a JavaScript object, you can then send it back to Facebook and help it to personalize your audiences. This is a very very common misconception in the marketers' world, that only big companies use a data layer. I think it was a major discovery for me when I saw it.
Part 3: Specify Custom Fields
So, the next part of audience building, once you've got all the measurement in place and the data layer installed in your website or on your app, are the custom fields. Once you have the data and pixels in place, figure out what you want to send to Facebook, because that's going to help you, as we said before, group these collectives of people to either retarget or build lookalikes from. Think about Kayak.com or Skyscanner – they probably send a lot of data to Facebook using custom fields. They will probably send the departure airport, arrival airport, date of departure, when you want to leave, first class selection or not; then use this data to segment people; and later either build lookalikes for prospection or retargeting with more accurate messaging.
For example, if I am a person that wants to fly to Barcelona from London in first class, the ad they might put in front of me will be slightly different from one to a person who wants to go to Ibiza, you know, partying. Take another example. E-commerce, very common thing, very common thing. You can either tell Facebook that a person has added a T-shirt to their cart or you can tell Facebook that a person has added a size L, red T-shirt to their cart and then retarget that consumer differently. So, don't forget, the previous steps work together specifically to be able to do this – to send all this data back to Facebook to build your custom audiences.
Part 4: Target Your Custom Audiences!
OK, the fourth part of creating your amazing Facebook audience building strategy – this is the moment we start making money. Everything we've done before is the set-up to be able to segment your audiences and now it's time to execute them. Here are a few of the things that have been proving very efficient for Treatwell. First, segment your audiences based on the source: which channels do they come from? Do they come from PPC, from displayed, affiliates, email? These last channels have been very powerful for us because we've been able to place specific discounts in an email and then retarget the customers who open the email through paid social and/or Facebook with the same specific ads and discount. That's been very interesting for us.
The second useful item for us [at Treatwell] has been using Facebook analytics or your attribution partner's audience building tool to segment audiences [on a more granular level than] Business Manager. Business Manager is a very simple tool for building audiences, but using an audience segmentation tool, you can put many more inputs: usage time, [app open history], specific in-app events, what they come from, what age they are. So, don't forget that using more sophisticated tools than Business Manager usually proves to be more targeted and granular.
The last thing that has proven very efficient for Treatwell has been building self-feeding lookalike loops. Basically, we [create a lookalike loop by] first building a campaign with one ad; building an audience from the people that click that ad based on their UTM; building a lookalike audience from the first; and then building a second campaign with the same creatives based on the lookalike audience. Over time, this setup will start to self-feed and improve the campaign results drastically. If you leave it like three or four weeks, you should start seeing big changes happening – it's amazing. The results for us have been very good and it has helped us figure out the best creatives for our audience.
Part 5: Include Five Must-Have Audiences in Your Facebook Audience Building Strategy
So, let's recap the must-have audiences your business needs to succeed. The first one is based on user data – you need customer data you can use to leverage either for retention or for building new lookalikes.
Second, you need to have lookalike audiences to prospect new customers, to get all those new users. You either build it from the first sets of customer data or with other retargeting data.
The third category, one that has proven quite efficient for us, includes all the people who engage with your webpage or your Instagram profile. In addition to these, you should also consider people who view your videos in Facebook or open your carousels – those are audiences you can use.
The fourth one – use your audience building tool, either Business Manager or from your attribution partner, to build sophisticated audiences. Those should be used either for retargeting or for lookalike building.
Finally, one type of audience that people tend to forget is the audience that you never want to target, the blacklist audience. These are customers that either cancel their orders, have a lot of promo codes, are fraudulent, return a lot of shoes, whatever you do. Work that list because it pays off in the future.
Key Takeaways
Finally, here are the key takeaways from the whole presentation.
First of all, don't forget that each audience is different, so you have to figure out what the message you want to give each one.
Second, data is what allows us to effectively retarget. If you aren't sending data to Facebook, then you're not going to be able to build effective audiences. The more data you provide to Facebook, the more granular you will be able to go, the better the retargeting will be and, by default, the better the lookalikes will be out of those audiences.
Third, use the trick we mentioned about self-feeding lookalikes loops, because it has been an eye-opening strategy for us in reducing CPC's and being able to drive more traffic to the website. Don't forget about that one.
Fourth, and the most important, all the above happen because of testing. We test, we test, and we test and we try and we fail often times. Be creative. Let your team be creative with which audiences they want to build, who they want to target, how they want to target them, and then separate the things that work from the ones that don't.
Thanks, everyone, for watching. Leave your comments and tips in the comments section below and please enjoy watching the other MAMA Boards video using the link above.
Thanks. Bye-bye.