How to Attract Higher Value MCommerce Consumers Using Deep Linking
The benefit of apps to retail brands is undeniable. In general, and specifically for ecommerce, apps are well known to have significantly higher user loyalty and conversion rates than mobile websites. There are three main reasons: 1) apps tend to offer a more efficient and satisfying experience for users 2) brands can more easily communicate and connect with customers through instant updates and push notifications and 3) apps give users online and offline access.
Since loyalty and higher conversion rates are bottom line goals for any retail brand, let's talk about how and why deep linking makes it much easier to attain both.  
Deep linking is the glue that connects the mobile universe together, fixing broken flows as users navigate between the mobile web and apps and between different apps. And it significantly improves the user experience; an absolute must to reduce churn. For more on deep linking, check out our comprehensive guide Everything a Marketer Needs to Know About Deep Linking.
The following use case, which we've seen a number of marketers implement, illustrates how you can use deep linking as a strategy to encourage more purchases and more downloads of your app. A brand's overall long-term goal should be to convert mobile web users to app users.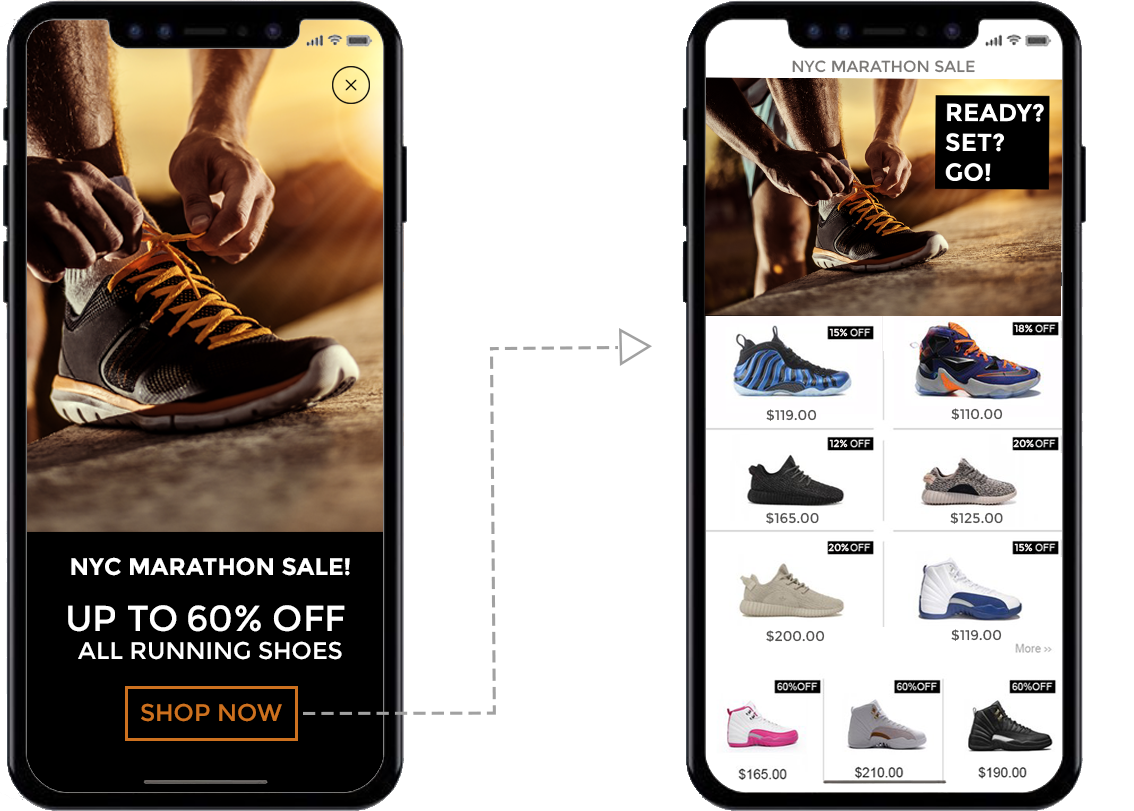 In this first pair of screens we see an interstitial ad targeting users in the US for a sale on running shoes that leads shoppers directly to a page on a brand's mobile website.
After the customer selects a shoe type, they are brought to an "Add to Cart" page where they can choose color and size.
Behind the "Add to Cart" button is a deep link that enables two scenarios:
1) The user has the app installed: The deep link behind the CTA button collects the product information along with other standard attribution data and passes it to the app. The link also enables the app to seamlessly open at the right screen to complete the checkout process. Brands should always encourage their website users, whether they have the app or not, to complete their purchase inside the app. In general, conversion rates on apps are higher than on mobile web. And again, the fact that apps provide a better, faster user experience and build greater brand loyalty over time cannot be emphasized enough.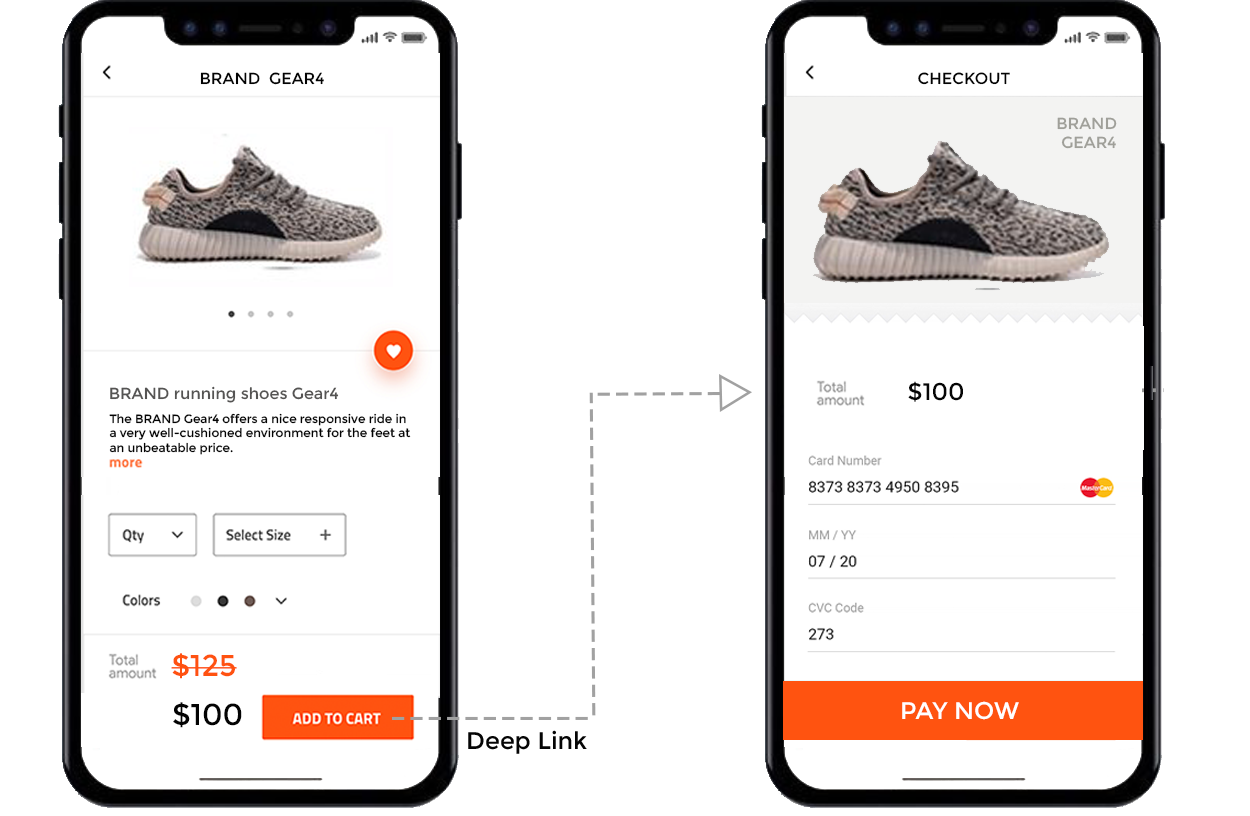 2) The user does not have the app installed: In this scenario, they can choose to download the app through the promotion button for an additional discount. They are then lead through the app store to download the app and straight to an identical "Checkout" page inside the app. This gives the customer a world class first impression and onboarding experience by opening the app exactly where they expect to. Meanwhile, the deep link passes information such as details of their product selection and attribution data back to the app. The user just taps on "Pay Now" and the purchase is made.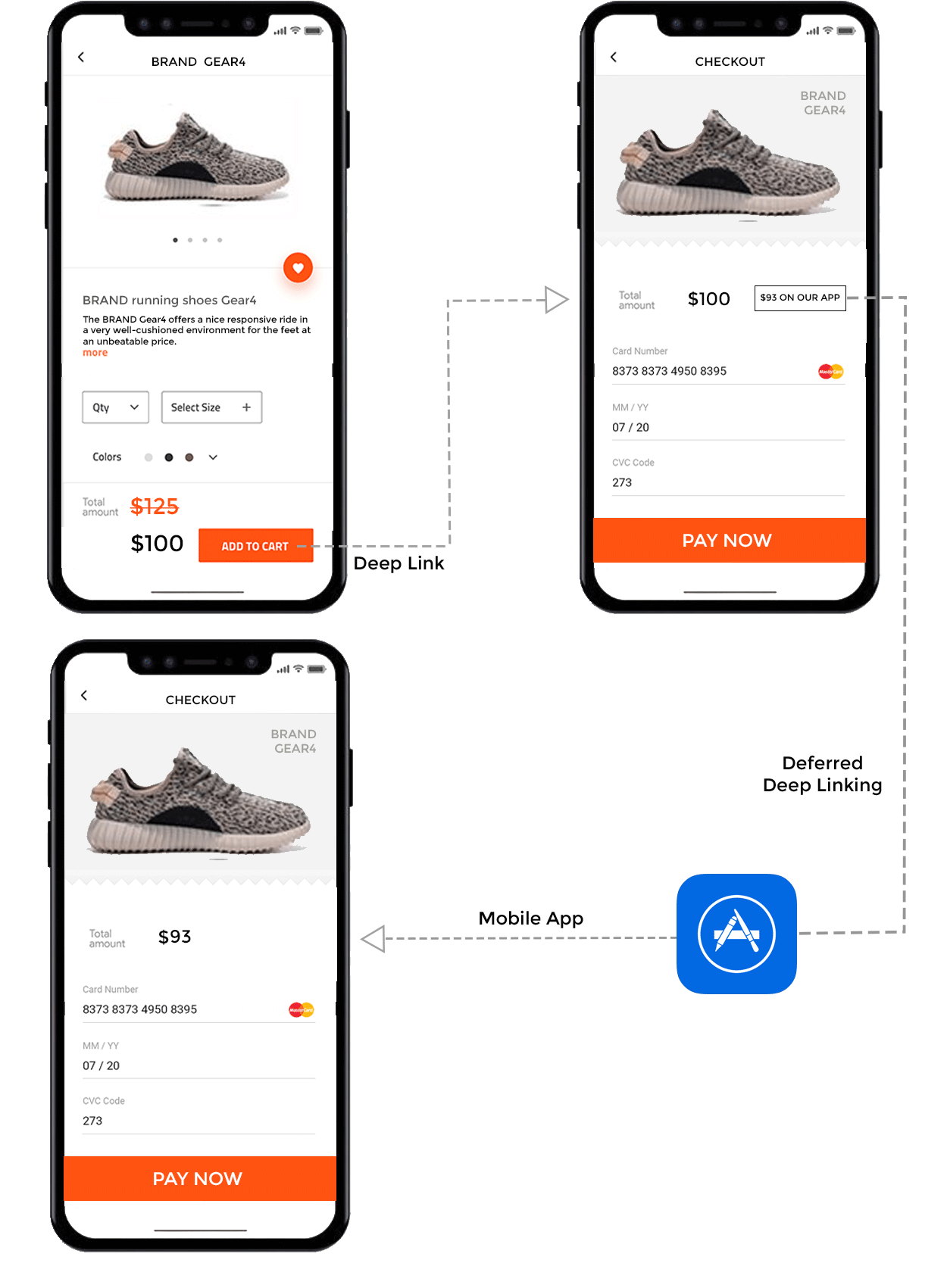 Deep linking should be a weapon of choice for any retail brand with an app. Your bottom line mcommerce onboarding strategy is simple: When customers come in through the Web, beam them straight into your app. Deep linking makes this happen, and the benefits are clear and easily quantifiable.