The State of App Marketing in India — 2018 Data Benchmarks
The fact that India is a mobile-first and often mobile-only country is well documented. But beyond that, this massive country is all about apps. In fact, it has just surpassed the US with the second highest number of apps installed, behind China.
Thanks to a dramatic price cut in the price of mobile data and a significant increase in the size of the consumption class, more and more users in India are buying new smartphones (39 million shippined in Q3 2017!) and trying new apps. India is the #1 country in the number of monthly apps installed and used with over 40, according to App Annie. At AppsFlyer we've seen the average number of installs per app jump three times year-over-year.
Add that to the fact that the cost of media in India is very low (an install costs about
30 cents), and it becomes clear why India is witnessing an explosion in non-organic activity. This includes an increasingly high number of non-Indian apps running aggressive campaigns in the country.
India is a fascinating market with massive potential for app marketers. To understand how Indian users interact in the app economy, The State of App Marketing in India analyzed over 1 billion app installs and 4 billion app opens of 950 apps, 40 million app retargeting conversions, and over $400 million of in-app revenue generated. Overall, data was pulled across different time frames from January 2017 to January 2018 (inclusive).
Among our findings, we found that the non-organic rise in the country was far more significant than the global average. Largely broken organic app discovery and low cost per install is driving apps running campaigns in India to invest in marketing, as we can see below: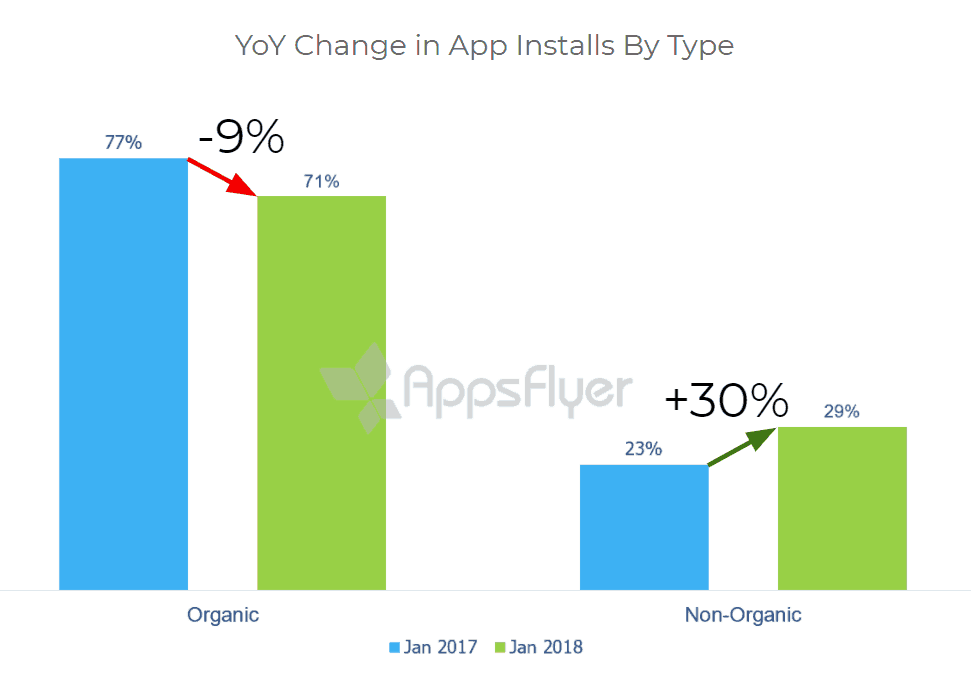 App retention is a challenge in India just as it is elsewhere in the globe. Only a handful of users remain active in an app over time, with organic users delivering higher loyalty. 
App install fraud in India is rising at an alarming rate, with install hijacking responsible for the majority of bad traffic during January 2018:
The comprehensive 42-page study offers deeper insights into install, engagement and re-engagement trends, in addition to revenue benchmarks, fraud, and much more, including a category level breakdown.
Enter Your Details Below to Get the Full Study!