Take Your Attribution Links to a Whole New Level
In a lifetime, brands create hundreds, thousands and sometimes millions of links. They're everywhere — in emails, web pages, SMS, behind CTAs, social media posts and social sharing, spreadsheets, and user invites — online and offline.
Whether you're a marketer, advertiser or social media manager, the value of links is clear. Behind every link is a potential paying customer; conversions that are instrumental to your company's success. However, if your company is like many others, once a link is shared, it's often completely forgotten and therefore poorly measured and optimized. And there is no recourse for modifying, reassessing or recalling links once they're shared, creating a real challenge and even a potential threat to your company.
That's why today we are delighted to announce a brand new Link Management Solution that includes a fully overhauled OneLink and Custom Attribution Link flow, now live for all AppsFlyer customers. The new Link Management feature provides unprecedented link visibility and makes building, shortening, cloning, attributing, optimizing, and modifying your flows across your owned and earned media platforms easier than ever before.
One-Stop-Shop for Your Attribution Links and OneLink Deep Links

To start using this new feature, head over to the left menu in your AppsFlyer dashboard and click Link Management.
Click on Add Custom Attribution Link and you'll be prompted to choose whether you'd like to create a multi-platform OneLink or a single platform attribution link.
Follow the wizard, name your link and choose the application or OneLink configuration for which you are creating the link. Select the channel for sharing (social, email, SMS, blog, user invites, and more) and the campaign structure will be filled in automatically. You can then choose to add custom parameters, brand your short link, set your deep linking preferences and redirections and even add fallback options.
When you're done, click Generate Link and your attribution link is ready to go.

A Special Treat for Savvy Marketers
Ready to dive even deeper? The Advanced section allows you to easily customize your lookback window and assign the currency and cost value for every install.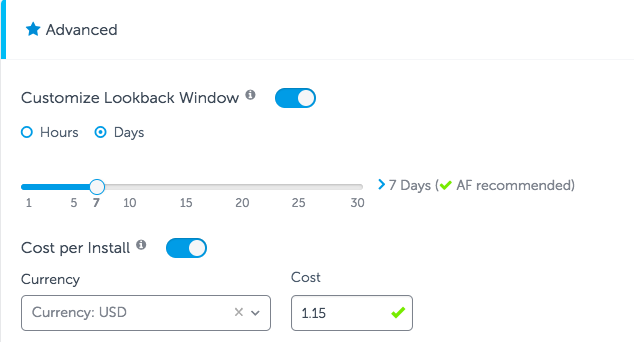 Long, Short Links and Downloadable QR Codes in One Single Click
As marketers add more attribution and flow parameters, links keep getting longer. OneLink provides full length URLs, short links for when you share on social, email or SMS, and QR codes for your non-digital media.
Edit Your Flows or Settings, Duplicate and Delete Links on the Fly
Once you've created your link, it will be listed under Link Management along with all the other links created in your account. You can edit your link settings and flow, copy your link URL, duplicate your link, and review its history.
Best of all, when you edit your link's settings, your live link will automatically be updated without needing to replace links you've already shared.
Now that you're all set up, learn how you can make the most out of deep linking with this comprehensive, free guide.