Drastically improving performance and experience with AppsFlyer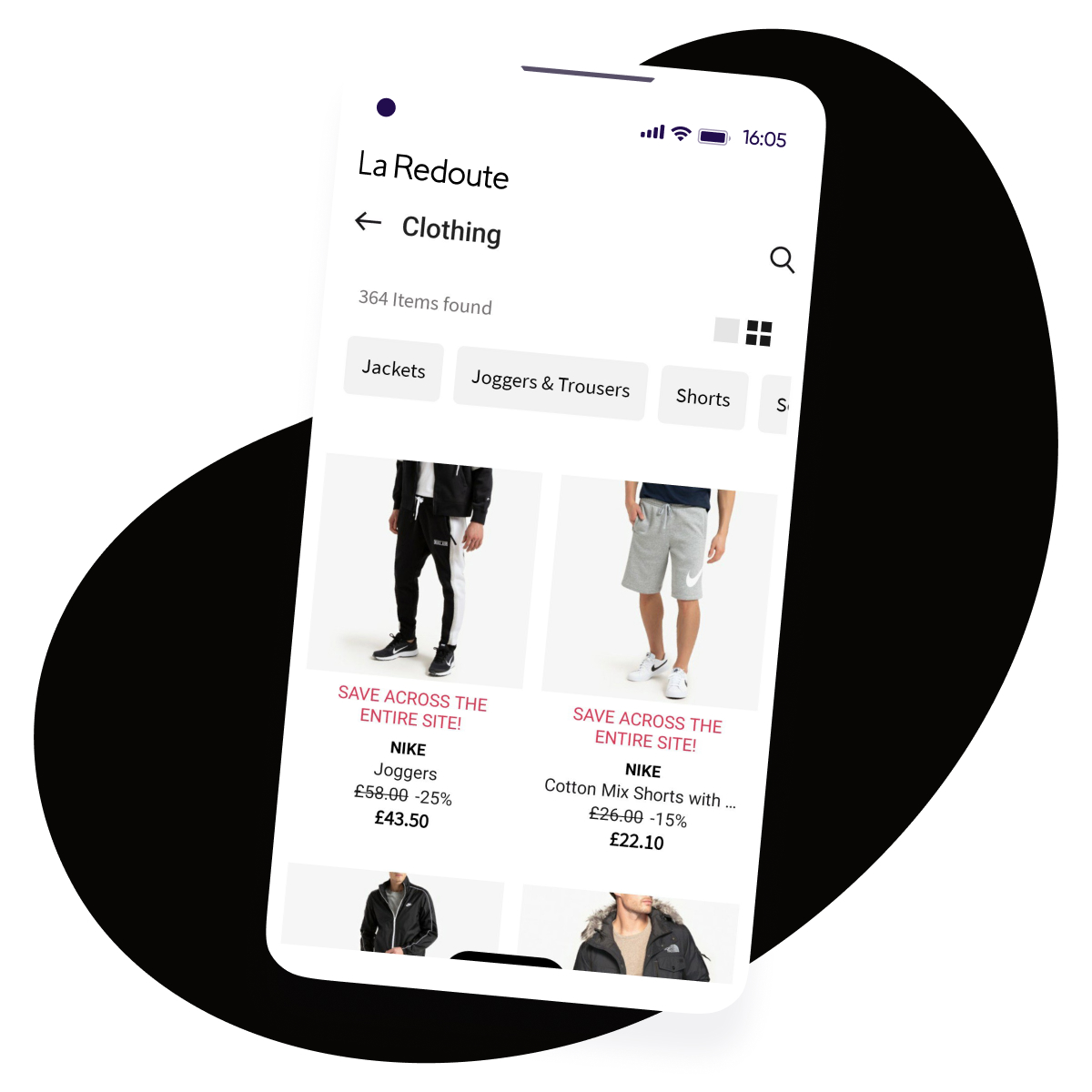 130%
Increase in app downloads
2.6x
Increase in active users
10%
Growth in new customers
Background
La Redoute is a multinational French fashion and home decor retailer.
With mobile as a top business priority, La Redoute kicked off with a complete redesign of their mobile apps and a fresh, new marketing and communications strategy.
Challenge
The team set out to increase app installs, engagement, and purchase activity across 7 countries: France, UK, Spain, Portugal, Russia, Belgium, and Italy. Towards this end, the team set both qualitative and quantitative goals and KPIs.
Qualitative objectives
Deliver real customer value, similar to a "personal shopper"
Be "inspirational" to users, while also delivering social, personal and intuitive experiences
Quantitative objectives
Increase the number of downloads, engagement (active users), and retention on the app
Attract new customers by appealing to a younger audience
Solution
The La Redoute team wanted to better understand and improve their marketing performance and mobile customer engagement across each of their localized mobile apps.
In addition to AppsFlyer's attribution tools and marketing analytics, deep tech and media integrations with every one of La Redoute's partners (including Google, Facebook, Tapjoy, Addict Mobile, and Ad4screen) helped make the choice of choosing AppsFlyer an easy one.
AppsFlyer integrations allowed the team to easily measure and optimize their performance across from a centralized dashboard. They also allowed for automatic syncing between La Redoute's data and their partners, so the team could easily add and test new partners or test new retargeting campaigns without adding new SDKs to their app.
Another item up for consideration was the user experience. AppsFlyer's customer experience and engagement suite suited the team's deep linking needs, specifically as it related to their owned marketing channels and social media pages. Powered by OneLink, this solution not only provided the optimal user experience for their customers, but also rich mobile performance analytics and insights for the team.
Anna Faure, a Traffic Manager at La Redoute confirmed their decision to go with AppsFlyer noting:
"After a thorough review, we chose AppsFlyer because of their deep partner integrations around the world, their neutrality, their dynamic reporting dashboards and their advanced technology. AppsFlyer's insights continue to inform and impact our growth strategy and marketing optimization."
Results
AppsFlyer's insights and capabilities helped the La Redoute growth team dramatically improve their mobile app performance.
AppsFlyer's deep partner integrations allowed La Redoute to add and test new partners in minutes, quickly and efficiently quantifying their respective performance in each market. By further measuring the engagement and revenues of each install and user, La Redoute gained deeper insights into their user behavior and LTV (lifetime value).
Additionally, with just one click, they automatically synced relevant in-app engagement data to their network partners, further improving their user acquisition and retargeting efforts.
Based on these insights, La Redoute's team was able to optimize each of their campaigns, partners, and regions in real-time. Following, this data-driven strategy delivered a rapid reduction in CPI alongside a dramatic increase in both retention and conversion rates.
Looking for an MMP? Get your free assessment template today
Thanks for your download!