How India's leading eGrocer drives revenue through re-engagement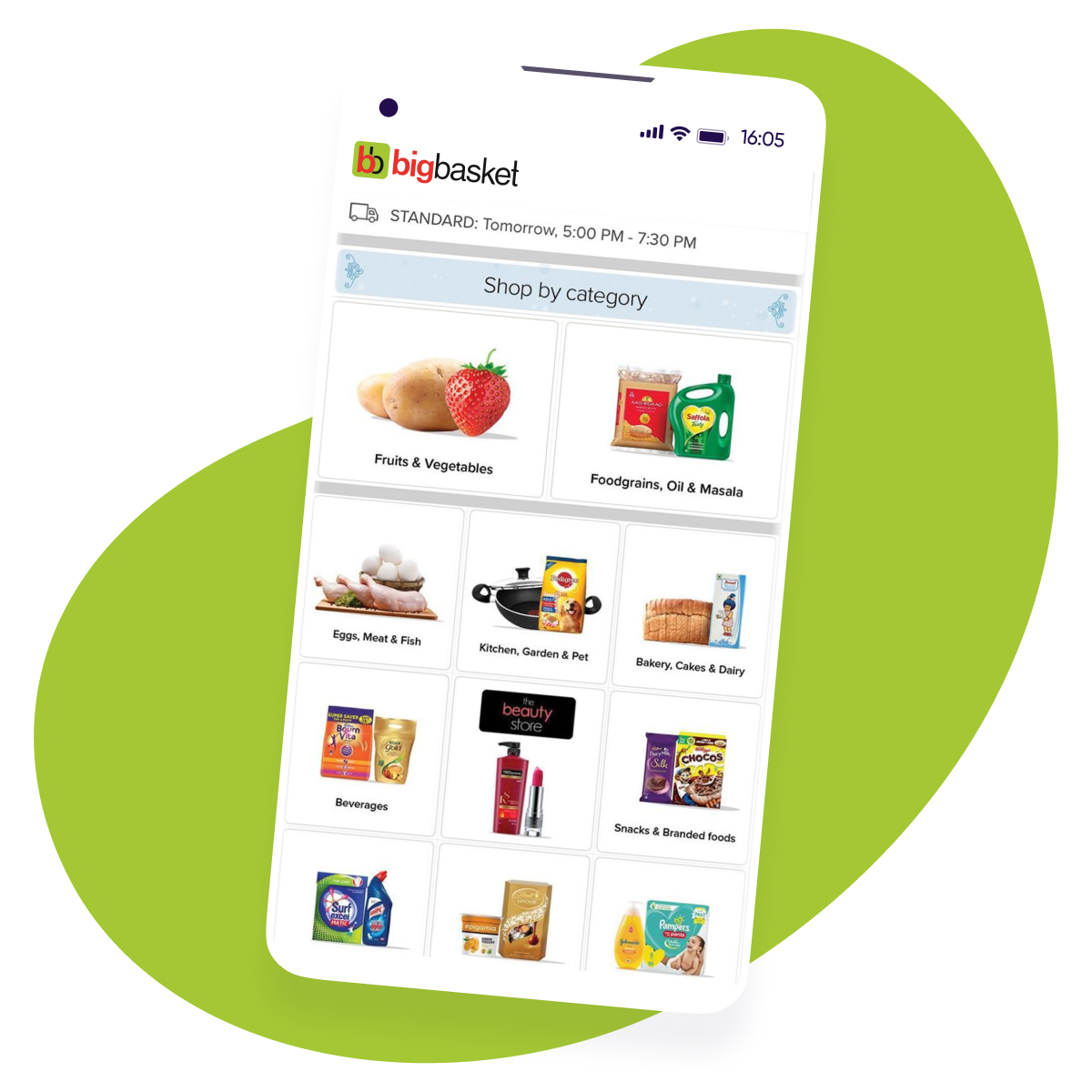 20%
Higher ROI with Google's App campagins for engagement
367%
Uplift in orders by unique users
Background
As one of the largest online food and grocery stores in India, BigBasket boasts a selection of over 40,000 products and more than 1,000 brands. Its mobile shopping app is accessed by over six million customers, offering on-time deliveries to over 26 cities in India. It currently processes around 150,000 orders a day.
BigBasket is currently a leader in India's online grocery (e-Grocery) market. Grocery retail is by far the largest consumer segment in India, estimated at over 60% of the country's total retail sector. The company is now focused on sustaining growth and profitability in an environment of rising competition between other e-grocers and e-tailers.
Retail tends to be a fairly seasonal industry, and BigBasket ensures that its campaigns are timed to deliver maximum impact. Profit opportunities, for instance, typically rise during peak shopping seasons, particularly in the autumn months of October and November, when festive shopping and big-ticket purchases are spurred on by holidays such as Diwali or Navratri.
Many of BigBasket's campaigns are related to the mobile app, which complements the online web presence and tends to outperform the website on key metrics such as customer retention and engagement. Web users are therefore encouraged to try out the app.
Challenge
Retail apps often face an uphill climb to profitability.
While the market continues its steady growth, costs associated with online deliveries, customer returns and processing orders have traditionally squeezed already tight margins. In India, grocery retail is an enormous market, but ultra-thin margins and high capital costs have challenged traditional players in this sector.
A significant portion of BigBasket's business (80% of revenue) is derived from returning users.
BigBasket understands that winning requires a sustained focus on cross-selling, up-selling and category promotions, as items such as higher-margin private labels, in-house brands and other household goods can cover for the typically low-margin business.
To reach and sustain operational profitability across its multiple markets, BigBasket has made it a priority to accrue incremental revenue from its existing customer base. As a result, the company's long-term success is largely based on bringing customers back and encouraging them to explore additional categories.
Currently, two of the most effective channels for cross-selling and category promotion are e-mail marketing and push notifications.
However, these channels come with inherent disadvantages, with users having the option to opt out of receiving messages altogether. This can prevent messages from reaching parts of BigBasket's user base. For its re-engagement efforts, BigBasket therefore decided that the best course of action was to pursue a more effective way to reach out to its users.
Solution
BigBasket decided to use Google's App campaigns for engagement (ACe) to connect effectively with its users across YouTube, Search and AdMob.
"App campaigns for engagement has helped us drive significant ROI on engagement," said Anand Bhaskaran, Head of Digital Marketing, BigBasket. "We found it very effective in converting users who have recently installed our app, with the ROI significantly better than other engagement channels."
The company also relies on the raw data and analytics provided by AppsFlyer to continually power its campaign insights and inform its creative and investment decisions.
"Without AppsFlyer, we wouldn't be able to draw the right conclusions," says Varun Vijayaraghavan, Digital Marketing Manager at BigBasket. "Given the granularity of the data, it's important for us to dissect our campaigns and determine where to allocate our budget."
Setting goals
BigBasket clearly defines its re-engagement goals up front.
User acquisition campaigns are designed to boost installs volume, whereas its re-engagement activities focus rather on boosting spend effectiveness and optimal revenue per unit spend.
The goal is to get more users who had stopped buying from the app to come back, while increasing the regularity and purchase volume of infrequent shoppers.
Getting smart with creatives
All data from BigBasket's re-engagement campaigns are broken down by channel in AppsFlyer, to better understand the individual effectiveness of Google Ads channels.
For instance, re-engagement generated a large amount of impressions and views on YouTube, allowing BigBasket to put more investment towards creatives and video production.
AppsFlyer also helped BigBasket understand how often each user would shop on the app, thus allowing them to segment their base according to purchasing frequency.
By determining from the data which audiences to select, the team could also tailor their creatives to fit the intended viewers. Another key finding on optimizing ROI was that videos should mention the main proposition within the first five seconds.
Knowing your audience
"AppsFlyer helps us significantly improve the efficiency of our marketing spends by providing extensive data on the impact of individual channels and inventory types within channels," said Varun Vijayaraghavan. "This has helped us to narrow down our focus and spend towards users whom we think are infrequent shoppers and to reactivate users who have stopped shopping with us. In this process, we have also cut down our spend on users who are likely to transact with us anyway, hence improving spend efficiency considerably."
Users were segmented with AppsFlyer's audience segmentation solution, based on how often they shop on the app, with lapsed and less frequent customers targeted more frequently with creatives and category promotions.
Category penetration is also of primary importance for BigBasket, which designs campaigns around encouraging users who wouldn't normally buy certain products (such as fruit or beauty products) to make a first category purchase.
BigBasket has tailored their creatives to fit different audience groups.
Ensuring that strong creatives and assets were present in ad groups in Google Ads (which lets marketers upload more creatives and group their creatives based on a theme) allowed BigBasket to manage their creatives more effectively.
Timing is everything
Timing can define the success of a re-engagement campaign. Optimal strategies shift dramatically depending on the time of the year, whereas certain weeks might offer qualitatively better re-engagement opportunities than others. While BigBasket tends to optimize their campaigns for in-app actions such as purchase events, they may choose higher funnel events such as app opens in certain instances in order to attract new users. Meanwhile, typical campaigns tend to avoid targeting frequent users of the app so that more regular customers aren't bombarded with messages.
Major holidays such as Diwali are a singular exception to this, however, presenting advertisers with prime-time options for re-engagement. In fact, BigBasket finds better success during the holidays in driving revenue than acquiring users, prioritizing re-engagement as a result.
And because of their relative importance, BigBasket programs 10-15% more spend during holiday periods (which can last from 10 days to two weeks), with the objective to increase sales and business revenue. Planning typically begins four to six weeks in advance, while marketing commences 30 days ahead of the holidays.
Note also that BigBasket tends to avoid launching its campaigns during the first and last week of every month, a time when sales are traditionally strong and a large number of lapsed users revive organically. Instead, the company tends to focus their spend from the 11th to the 20th of every month, a period in which they would typically see a noticeable dip in orders.
Re-engagement also needs to take place at the right time.
These opportunities can include reminding users who have placed items in their cart but have yet to check them out; upselling customers who are looking at a specific product; or re-engaging consumers who have brought a specific product by cross-selling them a related item or accessory.
"ACe is one of the most cost-effective means we have to reach our own users," says Varun. "We have increased our budgets (and will continue to) on this campaign type by 15x in the last year...AppsFlyer helps us significantly improve the efficiency of our marketing spends by providing extensive data on the impact of individual channels and inventory types within channels."
Results
BigBasket's re-engagement campaigns have been highly successful.
The company posted a 53.77% month-over-month uplift in orders placed by unique users in November, followed by a whopping 367% month-over-month uplift in December.
When compared with other re-engagement channels, BigBasket also saw a 20% higher ROI with Google's App campaigns for engagement. This has led to App campaigns for engagement becoming a key component of the team's marketing strategy.