Converting loyal app users through user referrals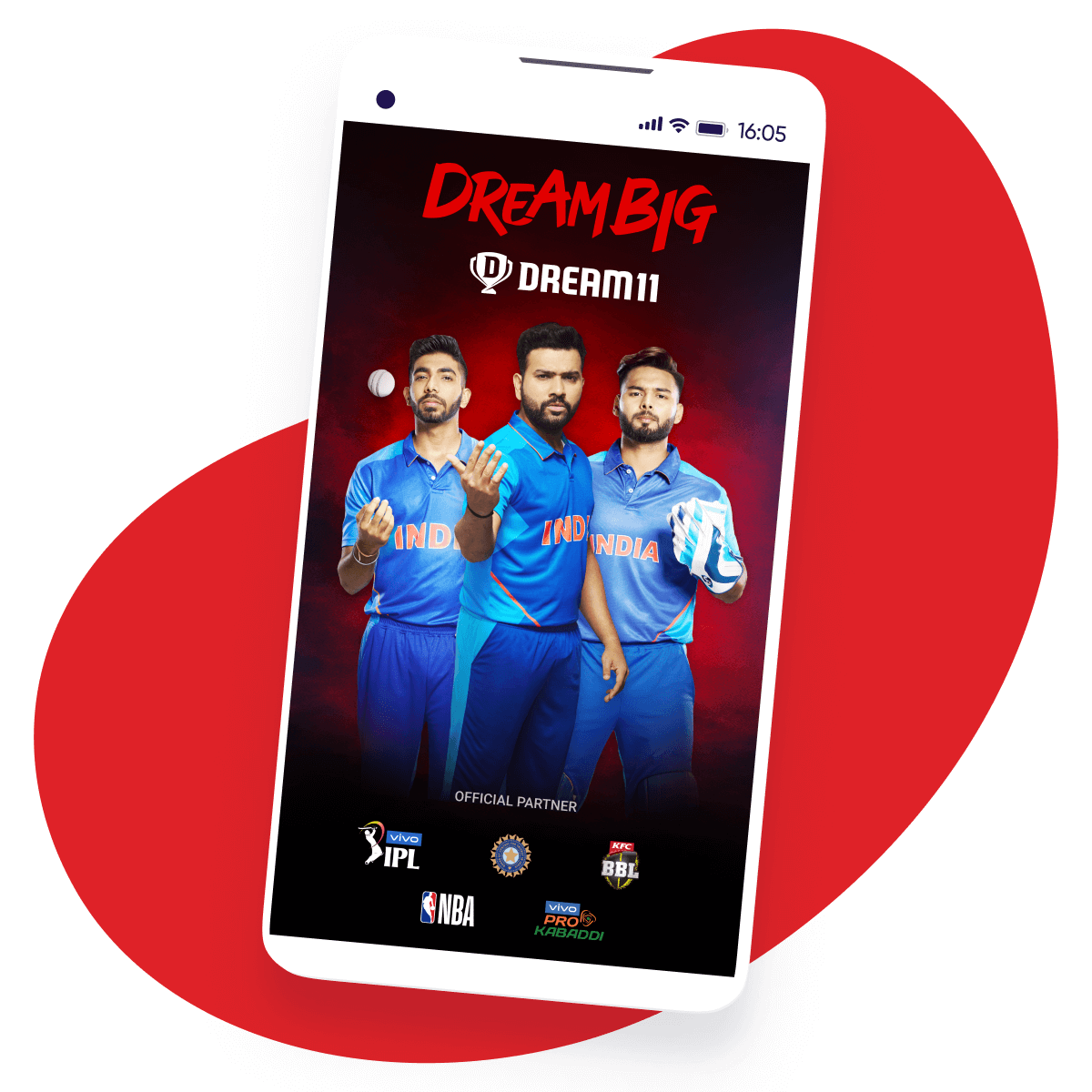 37%
higher conversion rates from referrals
28%
more registrations from referrals
Background
Dream11 is the world's largest fantasy sports platform with 120 million+ users playing fantasy cricket, football, kabaddi, basketball, hockey, volleyball, handball, and baseball on this platform.
A homegrown Indian brand, Dream11 helps Indian sports fans actively engage with real-life sporting events and showcase their sports knowledge. Dream11 is the flagship brand of Dream Sports, one of India's leading Sports Technology companies.
Other brands under the Dream Sports umbrella include FanCode, a premier digital sports destination that personalizes content and commerce for all fans; Dream Capital, a CVC and M&A arm; DreamSetGo, a sports experiences platform; and Dream Pay, a payment gateway.
Challenge
Operating in its home country of India, Dream11 serves one of the fastest-growing markets for fantasy sports. To better capitalize on this explosive growth, the Dream11 team had to find a way to launch and manage complex marketing campaigns effectively and at scale.
With the app distributed across various app stores, platforms, and channels, the Dream11 team needed a platform to have all of its mobile acquisition data in one place. This would allow Dream11 to accurately attribute every app install and other data to each web campaign, allowing for better campaign optimization.
Finally, Dream11 needed to improve its user onboarding process, seamlessly stitching the various pre-install touchpoints into a smooth, contextual user journey.
Solution
Dream11 turned to AppsFlyer for a platform that could attribute installs from multiple sources, platforms, app stores, and channels. Furthermore, the team took advantage of AppsFlyer's raw data reports to get deeper and more granular insights into their customer base.
The attribution and in-app engagement data in these reports allowed the team to measure the impact of their various marketing and customer-focused strategies. In addition, the raw data allowed Dream11 to go beyond Day 1 user engagement metrics, so they can better understand the true worth of each user by using a lifetime value (LTV) model.
On top of attribution, the team rolled out AppsFlyer's Deep Linking solution, which helped streamline the onboarding process for new users across all touchpoints.
AppsFlyer's invite referral system allowed existing users to invite friends through their selected channels with automatically generated deep links for easy sharing.
The final component to the Dream11 strategy was implementing AppsFlyer's OneLink Smart Script, which enabled them to get accurate attribution from their mobile landing page while measuring all key UTM parameters.
With OneLink Smart Script, Dream11 was able to correlate app and web traffic, and at the same time – gain better insights into the value and role of their mobile website.
Dream11 was able to correctly attribute all the key parameters of their Google web campaigns, such as source, campaign, and other sub-parameters, and have the data sent back to Google for optimization.
Results
With AppsFlyer's dashboard to accurately attribute data from multiple platforms, app stores, and channels, the team was able to reduce user acquisition overlap across various sources, saving on budget and spend.
With OneLink Smart Script, the team was also able to convert and attribute its website visitors (from any source) into mobile app users, improving their app install rates and app engagement.
With the integration of AppsFlyer's user invite referral system, Dream11 witnessed a spike of 37% in conversion rates from referrals, when compared to other paid media sources. 
On the registration front, the rate of users registering from referrals is now 28% higher than that from other media sources, while the first deposit rate has peaked beyond all other paid media sources.
Testimonial
"AppsFlyer has been our go-to tool for correctly attributing and measuring our "Referral Program" impact, which has been instrumental for us in optimizing and scaling this program. The referral program is now one of our critical channels for user acquisition in terms of scale and at a cost that is significantly lower than paid channels."

– Kundan Kumar, SVP- Marketing, Dream Sports
Looking for an MMP? Get your free assessment template today
Thanks for your download!