Fast-tracking app adoption at scale with a rewards program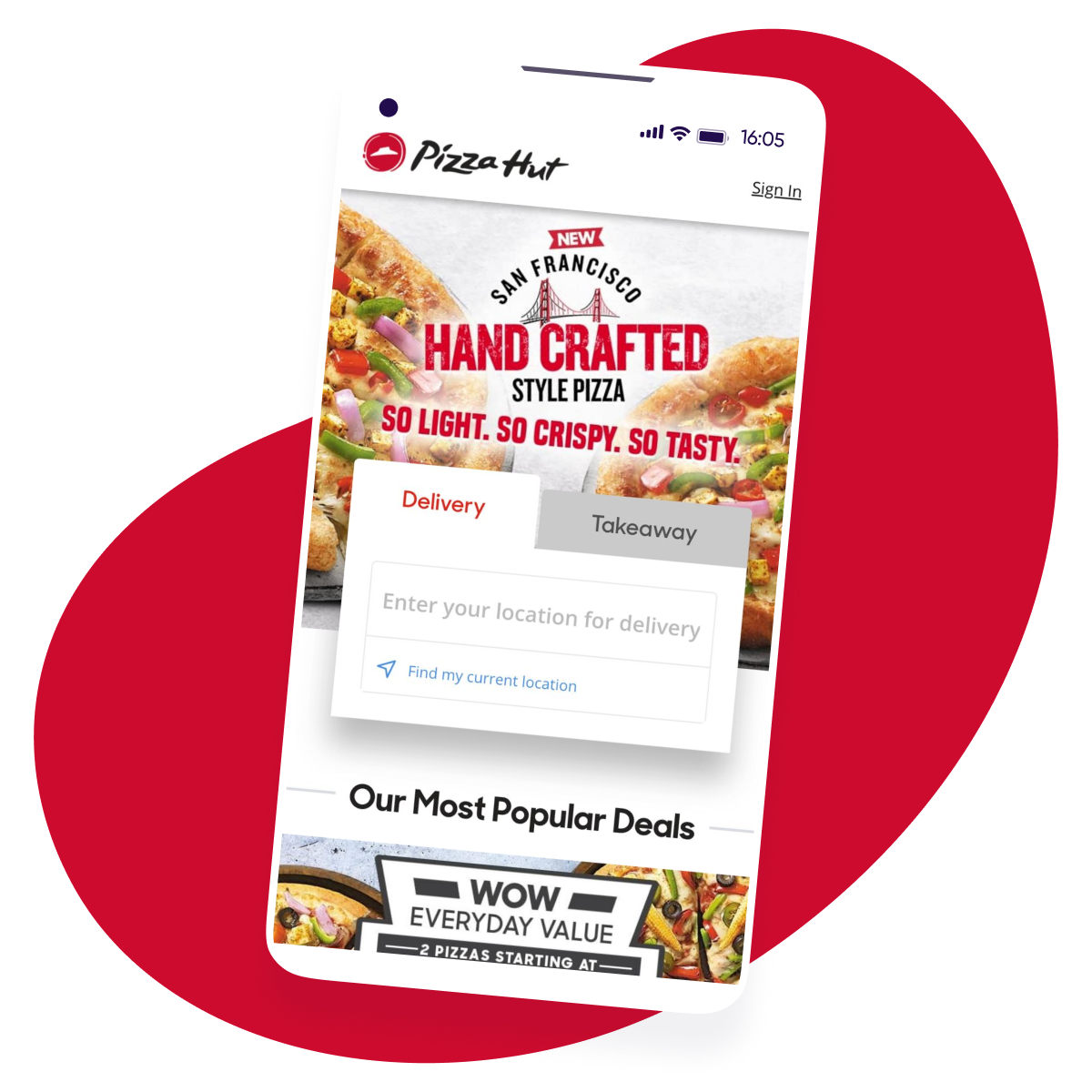 Background
In 1958 two brothers borrowed $600 from their mother to open a pizza restaurant in Wichita, Kansas.
Over a half-century later, Pizza Hut has grown to be one of the most ubiquitous food and drink brands on the planet. Having grown through a rapid evolution in technology – from the rotary phone to the smartphone – they are no stranger to evolving their marketing strategy to meet the needs of their customers.
Whether it's a restaurant visit, a phone call, a web-click, or a mobile order, the core value of providing high-quality food at a reasonable price in a welcoming environment remains the same.
In 2019 Pizza Hut launched a new mobile app, built to be an easy-to-use mobile solution where customers could order pizza while also collecting and managing their Hut Rewards points. Calls-to-action that once directed the customer towards Pizzahut.com to enroll in the Hut Rewards program now directed the customer to download the app.
Challenge
The Pizza Hut User Acquisition team saw a strong correlation between participation in the Hut Rewards program and mobile usage, with a significant amount of mobile orders being attributed to Hut Rewards members. This meant that Hut Rewards members were among Pizza Hut's highest value customers.
While they saw a strong migration in web-to-app behavior for customers who typically ordered online, they did not see the same migration rate for customers who typically called or ordered in-store. Many customers used the website as a casual discovery tool to find franchise locations and browse menu items, but when it came time to order they picked up the phone or walked into a Pizza Hut location.
The UA team needed a way to convert traditional offline customers into mobile users in order to see their rewards program succeed at scale.
Solution
The Hut Rewards and UA teams embraced a test-and-learn mentality, and in October of 2019, they presented an innovative plan – to feature QR codes on in-store displays, direct mailers, and pizza box toppers to drive customers to download the app.
OneLink, AppsFlyer's CX and deep linking solution, was the clear choice to power Pizza Hut's QR codes, ensuring they could measure the impact of their new offline campaign with minimal development required and robust attribution reporting and analytics built right in.
OneLink also ensured a seamless user experience, operating across mobile platforms, and allowing the flexibility for QR codes to be updated after being deployed via print.
"OneLink was simple, powerful, and ready to go out of the box – everything we needed to run a bold offline campaign with full confidence we could attribute key in-app events with the same granularity as online campaigns." – Andrew Ellis, Performance Marketing Manager
Results
The pilot QR campaign confirmed the initial hypothesis that those who integrated the Pizza Hut app into their purchasing routine grew to be more loyal customers than those who did not.
Additionally, those customers who activated the QR code were shown to have a higher average rate of engagement and a higher per-user order volume than those who did not.
In 2020 the teams ran a second updated QR campaign with even greater geographic reach, leading to robust growth in the impact of both their mobile app and customer rewards program.

Looking for an MMP? Get your free assessment template today
Thanks for your download!