Accelerating user acquisition and cutting CPI in half with TikTok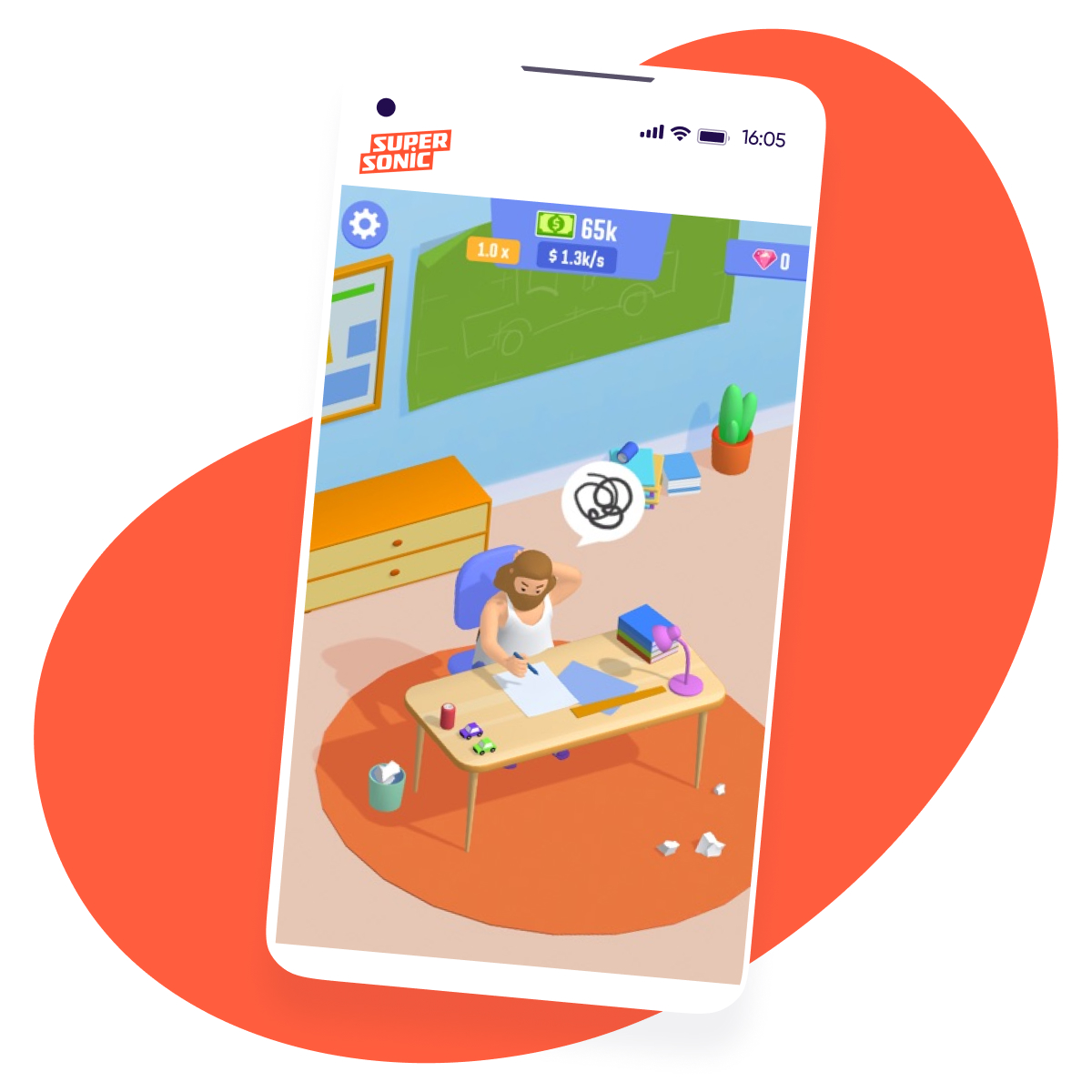 Background
Supersonic Studios have experienced phenomenal growth since launching in January 2020.
Supersonic's blend of marketing optimization and publishing experience makes it a truly unique games studio. They put their partnership with developers at the heart of everything they do. I
t's an approach that seems to be working, as those partnerships have produced runaway hits like Join Clash, Sort It 3D and Chat Master.
Challenge
Hyper casual gaming is, by its nature, highly competitive. In a market of 'everyone', where margins are tight, cost effectively acquiring new users is critical.
From the outset Supersonic made a strategic decision to use multiple channels for user acquisition to help diversify the risk and increase scale. That meant going deeper with existing channels while at the same time exploring emerging, high-growth channels.
One of those channels offers something completely different. That channel is TikTok.
"TikTok is one of the rising stars with millions of users around the world, and as an advertising platform, it's one of the most important right now for Supersonic. I was sure that we hadn't yet seen its full potential and so we wanted to learn how to get the most from the platform." – Igor Bereslavski, Director of Growth
Solution
TikTok's rapid growth and huge audience makes it an attractive proposition for any advertiser. It's a platform that rewards creativity with engagement.
Smart TikTok advertisers are abandoning their traditional creative approach and are instead embracing the platform at a native level. You earn engagement on TikTok by being engaging. Or, as TikTok says – 'Don't make ads, make TikToks'. That process is helped by a rich suite of creative tools and training.
Supersonic attended workshops to learn TikTok best practices, which highlighted the importance of the creative in the auction process.
Analyzing the performance of their TikTok campaigns is essential for Supersonic. To do this, they leverage the power of their AppsFlyer dashboard as well as their in-house BI platform.
Going deeper with their data is only possible by having access to the most accurate level of data.
Supersonic uses a combination of AppsFlyer's Pull API, Master API, and Data Locker products to populate their BI system. And, thanks to Xpend, AppsFlyer's cost aggregation solution, they now have a much clearer understanding of their campaign ROI.
"To get the most from our TikTok experience it was important to pull the cost data and have the ability to view it alongside the rest of the data, all in one place. Luckily, AppsFlyer were early adopters of the TikTok API, which gave us the ability to pull the cost data from TikTok and optimize our campaigns accordingly. Now, AppsFlyer's data is crucial to our campaign analysis." – Noam Ganzi, Director of Business Operations
Results
Supersonic now has the ability to upload multiple creatives to TikTok at the same time and measure their performance quickly and with ease.
In no time at all Supersonic gets a deep understanding of how each of their titles is performing on the platform. They can see CPIs of individual creatives and make real-time adjustments as necessary.
They've learned that a good creative can cut the CPI by half. And, thanks to TikTok's rich suite of creative tools, they now have the ability to scale quickly, rapidly test new creatives and apply what they learn to future campaigns.
Igor and Noam can also identify when they hit audience saturation, prompting them to refresh their ad creative at just the right time.
"Both companies have helped us expand our UA activities and reach a broader audience. AppsFlyer's early adoption of TikTok's API and their reporting power helped us make the most of the TikTok platform. We are able to run smarter campaigns and get better results. We're very happy with the collaboration. AppsFlyer and TikTok are a crucial part of our success."
Looking forward, Supersonic Studios will continue to harness the power of data to optimize their user acquisition activities.
They'll keep working closely with the developer community to bring new hyper-casual games to the market, by leveraging their white-box approach that puts their partnership with the developer at the centre. And they'll continue to explore new opportunities to drive more value from their collaboration with TikTok and AppsFlyer.
Looking for an MMP? Get your free assessment template today
Thanks for your download!