Leveraging Audiences to boost ROI and optimize acquisition strategy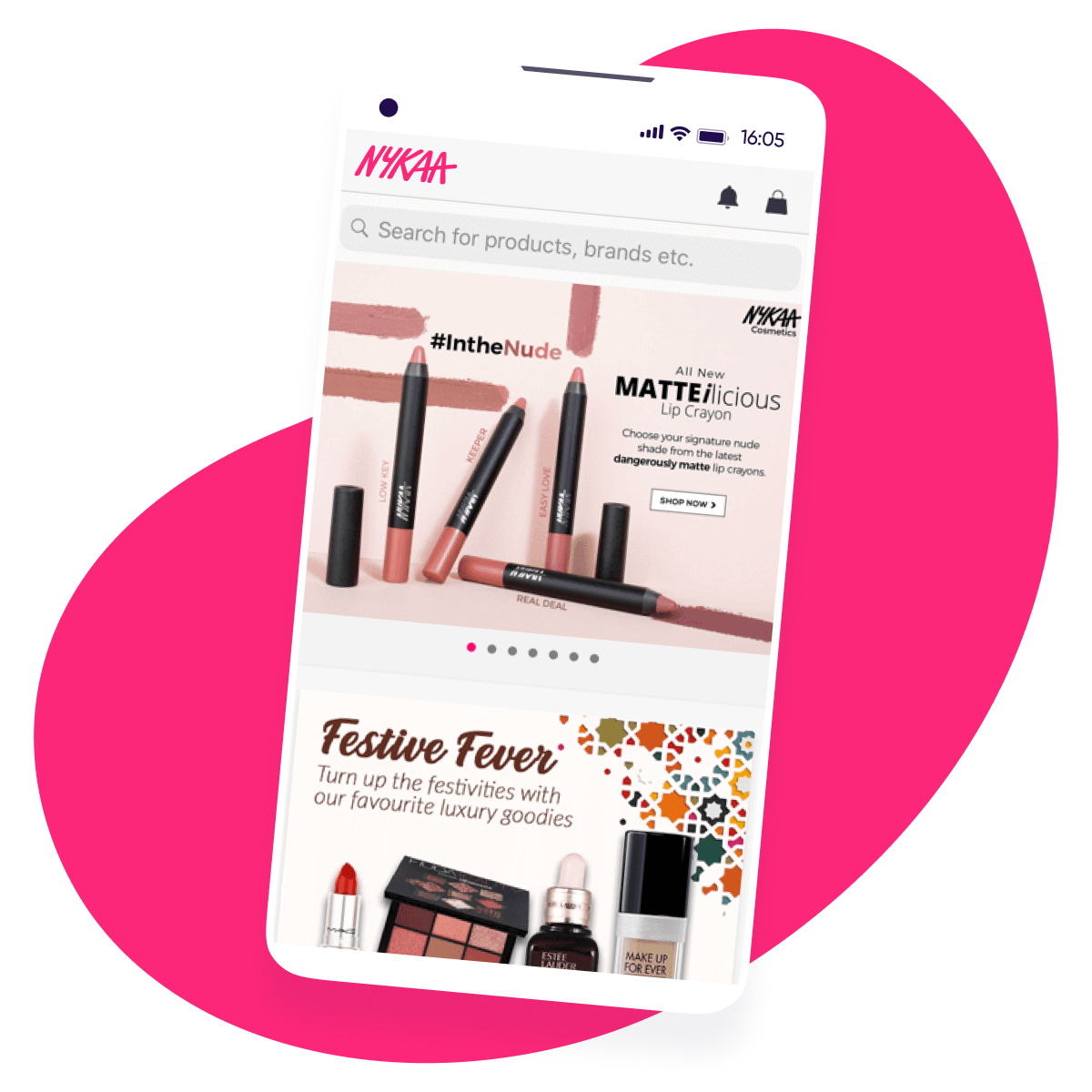 2.5X
Increase in installs
Background
Nykaa is the largest beauty brand in India and emerged as a market leader within a span of just three years.
Offering comprehensive selection of beauty products and 100% genuine brands, Nykaa captured the hearts of its users with utmost dedication and brilliant marketing efforts.
With half a million happy customers, Nykaa continues to acquire new users, retain existing customers and boost ROI.
Challenges
From the very beginning, Nykaa's marketing team was driven and focused on acquiring new customers and retargeting uninstalled users. Acquiring customers is the first challenge, but re-engaging users to boost ROI is the true winning story.
To triumph their goals, Nykaa strategically set their KPIs and formed a robust strategy to reach them:
Increase recurring purchase frequency by continually engaging with customers purchase frequency

Target lookalike audiences to expand their customer pool

Acquire new users by studying behavior patterns
Solution
Using AppsFlyer as their mobile attribution platform, Nykaa quickly scaled its user base whilst optimizing its paid media campaigns in real-time.
Rich in-app events helped Nykaa gain deeper customer insights and run effective result-driven retargeting campaigns per cohort group. Retargeting attribution, retention and cohort analysis reports helped Nykaa improve user engagement and purchase activity; doubling the life-time value of their customers.
AppsFlyer's Audiences solution improves cost per install and retention rate
AppsFlyer's flexible, enterprise-grade Audience builder delivered a very effective advanced segmentation solution that helped Nykaa marketers to dynamically segment their audience.
By segmenting users based on complex user behavior, Nykaa successfully retargeted users who are inactive or dormant, display high-purchase intent or have uninstalled entirely. Segmenting as granular as SKU level, allowed Nykaa to re-engage the uninstalled users and improve their overall brand experience. This eventually led to the creation of new brand ambassadors for Nykaa.
Nykaa wanted to re-target users who had uninstalled the app and analyze their user behavior that led to the uninstall event.
By identifying users within this category, the team ran very specific retargeting campaigns through AppsFlyer's integrated partners and successfully re-engaged uninstalled users, then converted them into active customers. The exclusivity of audiences for segmenting users worked wonderfully for the brand and increased the retention rate by 55%
"Thanks to AppsFlyer we were able to build smart, dynamic and targeted audience segments that drastically improved user acquisition, re-engagement and our bottom-line performance. We were able to segment users as granular as SKU level, and that has truly helped us re-engage uninstalled users and improve their overall brand experience; eventually creating new brand ambassadors for Nykaa." – Hitesh Malhotra, CMO
Results
Nykaa recaptured its user's attention by re-engaging them actively, and in real-time, which led to boosting their ROI.
While analyzing user behavior by embedding rich in-app events, Nykaa built dynamic segments and re-engaged users at various touch points along their journey, increasing retention rate by 55%.
Nykaa continues to be ahead of the curve while striving for excellence.
Going into next year, Nykaa plans to leverage the exclusive Audiences features to segment their users by complex behavior and run custom ROI driven retargeting campaigns to boost the LTV of its beauty fans!.
Looking for an MMP? Get your free assessment template today
Thanks for your download!