Exceeding ROI targets for 19 games using AppsFlyer attribution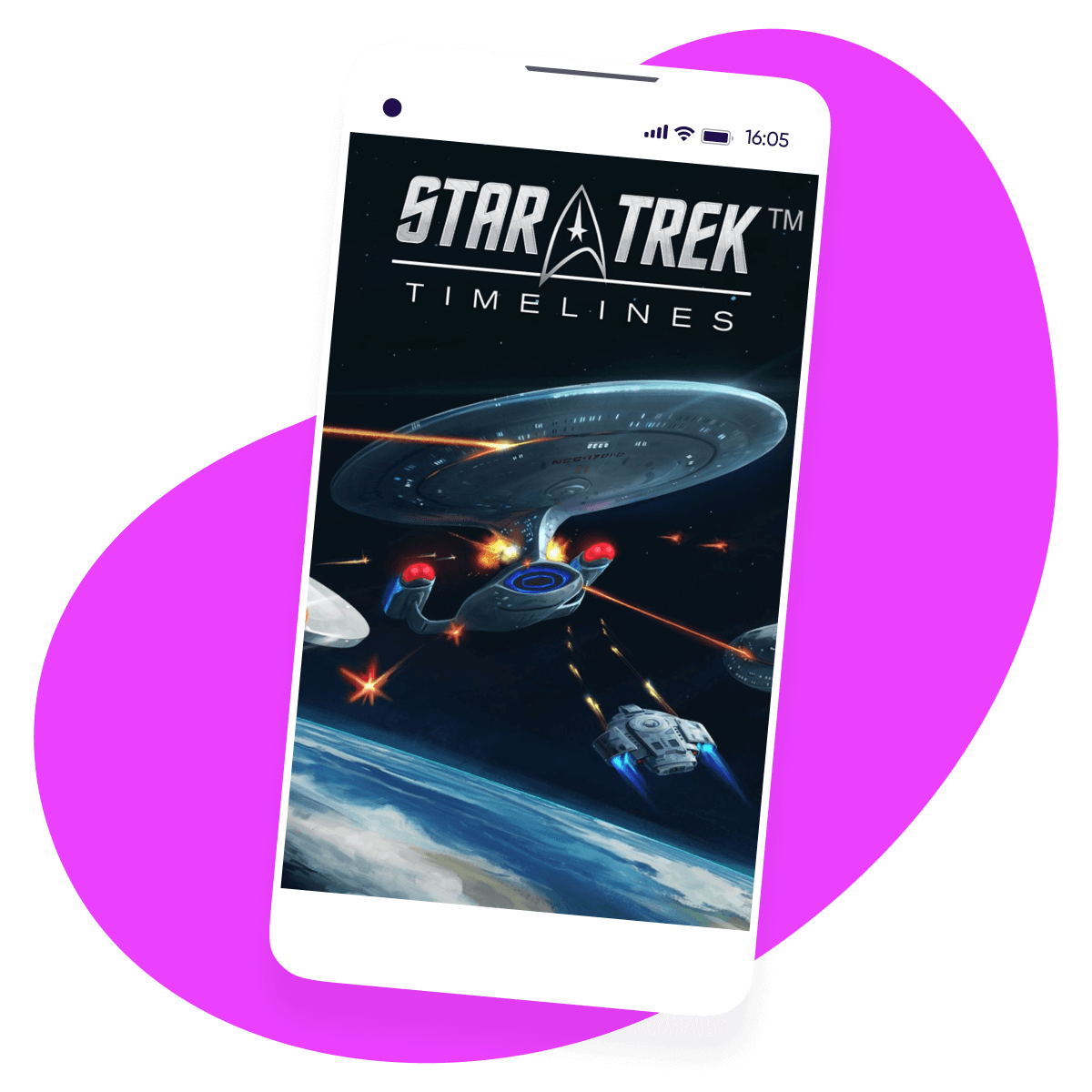 19
Games generated positive ROI using AppsFlyer
25
Media partners tested using AppsFlyer
Tilting Point uses AppsFlyer attribution data and SKAdNetwork solutions to run ROI positive marketing campaigns while overcoming challenges from iOS 14
Background
Tilting Point manages publishing for a diverse portfolio of 30 mobile games ranging from casual to hardcore that include "Star Trek Timelines", "Adventure Escape Mysteries", and "Hidden Hotel: Miami Mystery". Tilting Point is a major player in the global mobile gaming space, generating 34M app downloads and $31M USD in gaming revenue in 2021 according to data.ai.
In 2012, Tilting Point was founded to develop a new model called "Progressive Publishing". The founders believed they could be more successful at monetizing mobile games if they built deeper relationships with game developers.
"Progressive Publishing" involves two key strategies:
Live publishing (AKA "Power Up"): Accelerating monetization for games that are already active, including user acquisition (UA) funding, marketing campaign management, creative asset creation, app store optimization, ad monetization, production management, and live operations.
Game co-development (AKA "Team Up"): Funding game production and other related services such as game design, PR, IP licensing, and community management.
In 2018, Tilting Point made a deal with direct-lending firm Metropolitan Partners Group to annually invest $132 million in Tilting Point's UA fund.
Challenge
The Tilting Point growth team is tasked with generating a positive return on investment (ROI) for 30 mobile games. To maximize ROI, the team needs real-time, accurate data to make daily optimizations to bids and budgets.
Since Tilting Point manages games with different revenue models across diverse international user bases, they need to customize marketing and measurement with each game to be successful. Sometimes they need to cut their losses with a certain media partner or an entire game, so it is critical that they test and optimize as fast as possible.
Unsurprisingly, the measurement limitations introduced by iOS 14.5 in 2021 severely hampered Tilting Point's and other gaming publishers' ability to optimize marketing for their iOS apps. With the launch of iOS 14.5, marketers are no longer able to deterministically attribute the vast majority of installs from users who have not given consent for tracking, unless the campaign is measured by Apple's SKAdNetwork. As of December 2021, 46% of iOS users globally consented to be tracked.
Although SKAdNetwork enables marketers to regain deterministic, user-level attribution for many installs, it comes with technical limitations that make it much more difficult to capture conversion values and analyze iOS campaigns holistically.
SKAdNetwork only allows marketers to collect one conversion value within 24-72 hours of install in the vast majority of cases, and that conversion value is limited to one of 64 possible value combinations to grade post-install activity.
SKAdNetwork also provides an incomplete picture of marketing performance, as it does not capture all attribution flows (e.g., it's limited to installs from in-app ads). Moreover, attribution data from other sources cannot be easily combined with SKAdNetwork data due to overlapping datasets.
Solution
While some marketers were scrambling when iOS 14.5 enforcement began in April 2021, Tilting Point had been measuring iOS campaigns with AppsFlyer's SKAdNetwork dashboard since August 2020.
Today, Tilting Point leverages additional iOS 14+ solutions from AppsFlyer to make the most of optimization in an environment of limited data. including:
1) Conversion Studio: Enables marketers to easily configure their conversion value mapping directly in the AppsFlyer dashboard based on their measurement requirements (engagement, revenue, or a combination of both). Before Conversion Studio, Tilting Point had the conversion value set to $1-64 for all apps due to the complexities involved with customizing bit mapping for each app. With Conversion Studio, Tilting Point can easily customize conversion value setup to measure the revenue range and upper funnel events necessary for each app.
Since in-app purchases often occur after SKAdNetwork's 24 hour window, measuring upper funnel events enables Tilting Point to better estimate the value of its new users.
2) Null conversion values: To make up for the 14% of SKAdNetwork installs with null conversion values (where no post install data is provided by Apple), AppsFlyer estimates missing events and revenue using machine learning models.
3) Single Source of Truth (SSOT): While Tilting Point currently relies on AppsFlyer's SKAdNetwork dashboard to measure iOS campaigns, they're planning to move to AppsFlyer's new SSOT dashboard that combines all iOS attribution sources and removes duplicate data – a vital component to achieve data accuracy in an environment with multiple overlapping data sources
Beyond SKAdNetwork, Tilting Point trusts AppsFlyer to accurately measure marketing performance for their 20+ media partners across numerous Android and iOS apps.
Managing games with both in-app purchases (IAP) and in-app advertising (IAA) models, Tilting Point leverages AppsFlyer's capability to capture both revenue types and attribute it to the campaign that drove the event.
To take this analysis to the next level, Tilting Point utilizes AppsFlyer's cohort analytics, as well as Data Locker to push real-time attribution data to an Amazon S3 bucket that syncs to Tableau. This allows Tilting Point to create customized metrics that enable faster optimization, such as extrapolating 7-day LTV data to calculate predicted 90-day LTV.
Results
Although Tilting Point leverages multiple attribution platforms across their suite of apps, including those acquired from other gaming publishers, they prefer to work with AppsFlyer because of its superior SKAdNetwork solutions, dashboards, and partner integrations. AppsFlyer enables Tilting Point to test media partners faster by offering a seamless process for connecting media partners with each app.
AppsFlyer enables us to fairly test new media partners in just one month without having to implement the new partner's SDK

Yi Gong, Growth Marketing Director at Tilting Point
As their primary tool for partner testing and marketing optimization over the past 2.5 years, AppsFlyer helped Tilting Point generate a positive ROI for 19 games, contributing to the following big wins:
Star Trek Timelines – Increased ROAS increased by 60% while also increasing remarketing spend by 300%
Adventure Escape Mysteries – Doubled revenue and increased monthly average installs by 280%
AppsFlyer's attribution platform is an everyday, every-hour tool for our team. Without it, the business does not happen.

Enric Pedró, VP of Growth at Tilting Point