6 tips to running high impact ads on TikTok
Tik-Tok, Tik-Tok… ranging from 15 to 60 seconds where every second counts. With potentially millions of people waiting to hear what you have to say, be careful not to make a boring and cliché ad that will be scrolled past.
Last year, I shared some tips on how to hack your performance creative strategy. At the time, I wasn't considering a platform like TikTok Ads as I wasn't fully aware of how powerful this platform was. In this post, after a year's long journey through the world of ads with TikTok, I've narrowed it down to the 6 most important lessons.
But before we dive into the creative, let's put things in context: TikTok is the world's fastest growing social media platform, ranking as the most downloaded app in 2020 with 817M downloads in the last twelve months. According to Forbes magazine, the user base in the U.S. alone is growing at a staggering pace of five-folds in just under 18 months. TikTok, is continuously gaining followers and driving engagement, peaking as the hottest platform out there.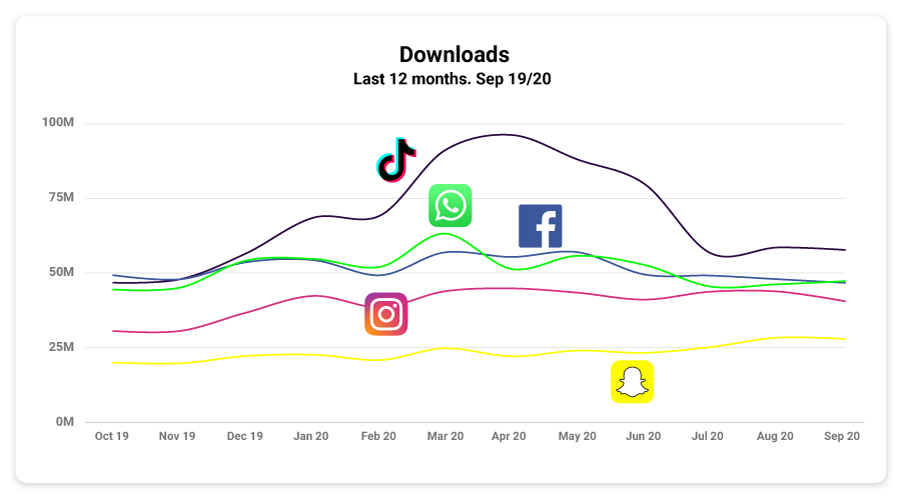 Source: App Annie, October 2020
TikTok is highly engaging and has potential for user content to transform to viral content, with over 211M daily active users. When we break down the logistics it's quite interesting to see that more than 35% of users participate in Hashtag Challenges, and that, on average, a user opens their app more than 11 times a day.
Brands and marketers have come to understand the power of TikTok and are shifting their focus and creative efforts at producing engaging content that drives user-generated videos and scale views around campaign initiatives and Hashtag Challenges.
This trend continues to spearhead globally driving engagement, and as such, companies, apps, and game developers are filtering in.
Don't make ads. Make TikToks.
TikTok Ads have changed the way we think about ads. If you are a marketer, a CMO, a UA Manager, or a founder of a company, you know how to communicate your brand message and target your ads to reach the best potential users out there. You may be ahead of others with your own company brand book, outlining tone, do's and don'ts, look and feel, and more. But TikTok has a completely different logic.
Advertising and communicating on TikTok challenges us to go beyond our traditional approach and really focus on the audience, adjusting the way we tell a story. Which is why you shouldn't create standard, traditional  ads; instead, you need to start thinking about what's right for TikTok.
Over the past year we have been running ad campaigns  on TikTok for several clients, achieving  some great results. After continuous A/B testing within the platform here are some of the best practices we've come to learn.
1. Create ads with vertical video in mind
TikTok is a vertical platform by nature and to maximize user and brand experience, all your video assets should look as native as possible, aligned with the ad specs. Despite the fact that square videos can be uploaded and advertised, a 9:16 ratio has greater potential for higher performance. 
2. Start with a high impact visual or an engaging hook
Unless you catch their attention you will be scrolled. Discover what motivates your viewers and  keep them engaged. Maybe it's something eye-catching, or even shocking. In any case, the key here is to hook them in and improve the overall performance of the ad.
3. Think musical.ly
TikTok at its foundation is a musical platform (previously named as Musical.ly) where all TikTok videos play with the sound automatically 'on'. Matching your videos with the right music and sound will spark greater engagement and attention. 
Tip!  Try to be geo specific and tap into the popular sounds/song to capture your audience.
4. Be concise and keep videos SHORT
Your viewers are bombarded with ads, with their home feeds splurging with content, which means their patience is cut short.
Think of TikTok ads as your best elevator pitch. You have less than 60 seconds, and less is more, to get your message across. We noticed that the more powerful videos ranged between 10-25 seconds have greater engagement. 
Tip! Stay focused and be quick about it. 
5. Lean on trends
Adapt your message to the latest trends: music, effects, dance, or challenges; this way there is a greater chance that your ad will get noticed or even outperform your competitor. 
What brands entice your viewers? What is the latest viral challenge? Deep-dive into the platform and find out more  (or ask your TikTok Marketing Partner), and use these selling points to your favor to achieve your goals and create the best user experience possible!
6. User-generated content dominates
As I mentioned, TikTok challenges all companies and marketers on the creative production front. How we communicate our products, apps, games, add values, features, and more requires us to think outside of the box. 
You can still present your brand, you just have to think like a TikToker. Measure your performance and user behavior and constantly evolve your marketing strategy accordingly.
The bottom line: If you want your ads to succeed on TikTok – don't make ads. Make TikToks.