7 Tips to Optimize your Ad Campaigns with Apple Search Ads Benchmarks
Marketers have eagerly been embracing Apple Search Ads as a prime channel to promote their apps. An uptick in the adoption is not surprising, because, as Apple assures, Search Ads boasts an average conversion rate of 50%.    
More than that, when you market via this ad network, you engage users in the most common app discovery environment: 70% of App Store visitors use search to find apps, generating 65% of all app installs while doing so. There is no better advertising placement for an app to make a hit. Apple Search Ads also gives access to high-quality users with high intent to download and be further engaged.
All in all, it's obvious that Apple Search Ads provides huge advantages to app marketers. But to make the most of the ad network, it also makes sense to understand how to define good and bad performance. It's much easier to spot growth opportunities and optimize your Apple Search Ads campaigns, if necessary, by comparing your own stats with the average metrics.
The benchmarks below are based on the data of SearchAdsHQ top spenders, collected from July 2018 to January 2019:
422M+

impressions

25M+

taps

12M

downloads

1M

keywords

13

storefronts
Bear in mind that the findings below rely on a sample of accounts, selected based on their spend, and are not necessarily representative of the entire market.
Read on to explore these benchmarks and the recommendations that derive from that data.
1. Build your account structure by match types
If you have ever run Google Ads, two out of three Apple Search Ads match types will likely be familiar to you:
Broad Match

ensures your ad is matched to the widest range of related close variants of a keyword, such as synonyms, partial or related words, plurals, misspellings, etc.

By setting

Exact Match

for a keyword, you allow Apple Search Ads to show your ad when the user's query entirely matches your keyword or its closest variants, such as common plurals and misspellings.
Additionally, there's a match type specific to Apple's advertising network – Search Match – which automates the dirty job of manual keyword research. There's no need to specify the list of keywords whatsoever.  
To make the most of each match type, we recommend measuring the performance of Broad, Exact, and Search Match individually. It's not a good idea to add the same keywords to Broad and Exact Match groups, or else the statistics will be diluted.
2. Stick to the 20/80 budget distribution
The accounts under analysis distribute their keywords between Exact Match and Broad Match as 40.5% to 59.5%. While the difference is not that dramatic, the major part of their spend – 73.1% – accounts for Exact Match: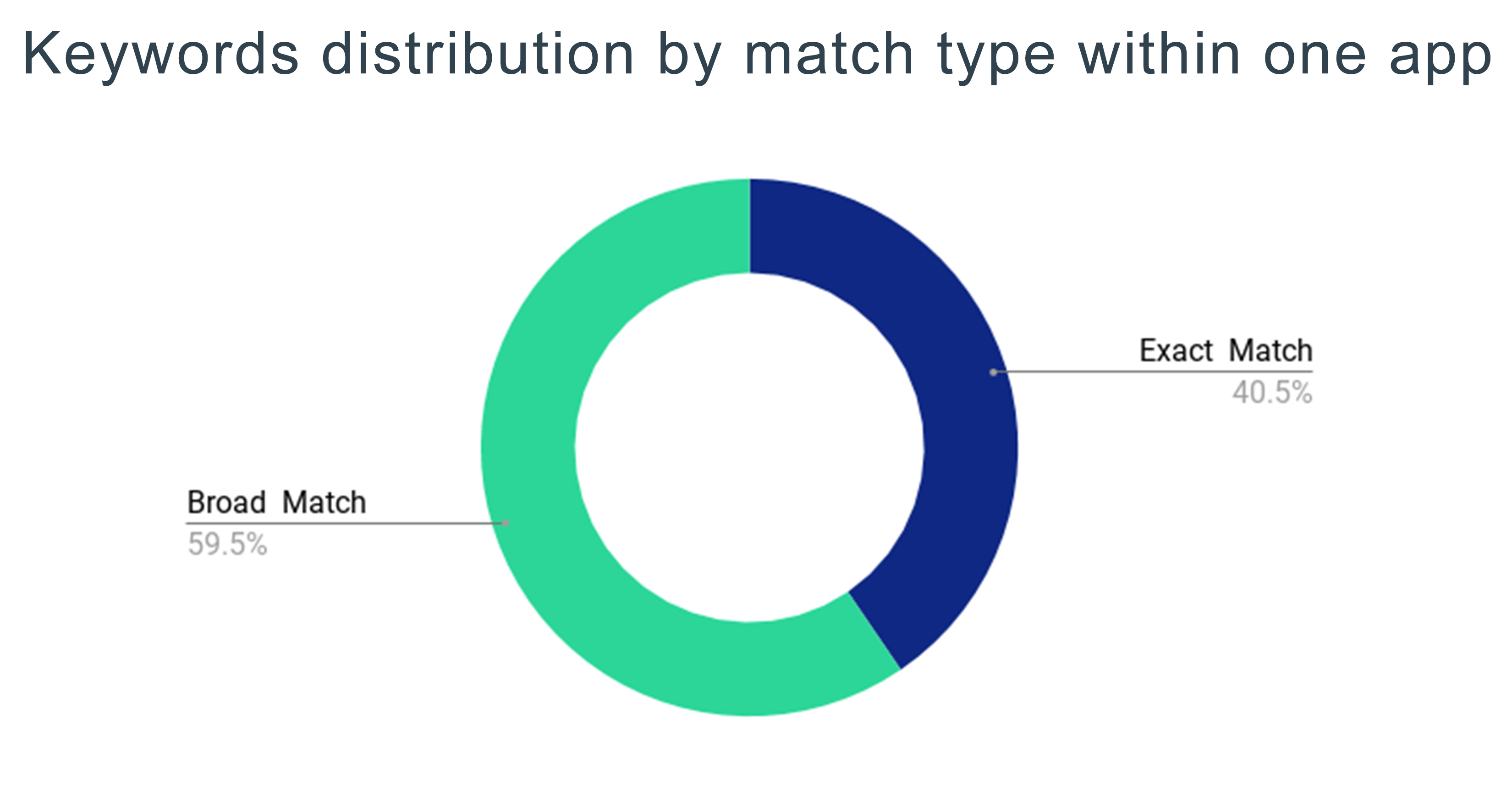 What is the reason for such a spend distribution? As a rule, Broad Match and Search Match are used in discovery campaigns to identify high-performing keywords.
Exact Match keywords, in turn, manage your relevance to user search queries and help pull in interested users, who are more likely to convert and bring in revenue in the long run. Such keywords cost more (compared to Broad Match), but they eventually pay off.  
Overall, 20/80 is the recommended budget distribution between discovery and exact campaigns, especially when you start building your account. After a while, the budget share allocated for keywords research can be lowered.
3. Focus on optimizing Exact Match keywords
Exact Match keywords help you get relevance under control, so it makes sense to prioritize their optimization. Our findings on the performance of match types reveal that they demonstrate the highest tap-through rate, or TTR (6.34%), and conversion rate, or CVR (54.73%), across all match types:
We concluded that users searching for your Exact keyword and tapping on your ad find extremely relevant content. As a result, they are more likely to perform the desired actions, e.g. download your app.  
Such keywords have the biggest cost per tap, or CPT ($1.09), across all the match types as well. Yes, Exact Match keywords cost you more, but they can potentially attract high LTV users who eventually bring in revenue.
4. Be careful using Broad Match
As seen in the charts above, Broad Match appears to be the least performing match type of the three in terms of TTR and CVR, and has shown the highest cost per acquisition, or CPA ($2.28) – compared to Search Match ($1.66) and Exact Match ($1.99):
The weak control over relevance to search and the overall poor performance of Broad Match suggests that you have to be very careful with it.
It makes sense to add only selected high-performing keywords to Broad Match groups to find their specific variations. Alternatively, you can choose to give up on this match type completely, especially if you have limited budget and time.
Another thing that the poor performance of Broad Match keywords suggests is the need for Phrase Match in Apple Search Ads. In Google Ads, Phrase Match is used as a middle ground between Broad Match and Exact Match. Ads only appear when users search the exact phrase of a keyword, but additional words are allowed either before or after that phrase.
Given its performance in Google Ads, the potential introduction of Phrase Match to Apple's ad network could help reach a wider audience and give keywords a higher relevance at the same time.
5. Consider using Search Match rather than Broad Match
As seen in the charts above, Search Match performed better than Broad Match in terms of CVR and had the lowest CPA of all the match types.
It has turned out that Apple's algorithm can be very helpful in matching your ads to relevant search terms. There's no point in ignoring this Search Ads default feature when you manage your ad account. Try it if you have a limited budget or no time for manual keywords research.  
6. Take into account the average length of a user search query
Search on the App Store differs from that on Google in terms of variability. It goes without saying: you don't use the App Store to search for a particular address or a product model, etc. Google queries are generally longer, while the average length of an App Store query is 2.4 words.
The research of impressions distribution by word count reveals that 3+ specific keywords received fewer impressions across both match types:  '
As you can see, hardly any users enter queries composed of 3+ words, preferring 1-2 word queries. It's reasonable to adapt to such a behavior and choose to bid on shorter keywords as well. Highly specific keywords don't bring in much traffic.
7. Focus on 2-3 word keywords
Our research revealed that keyword performance depends on the word count and match type. Specific (longer) keywords in Exact Match groups boast the biggest TTR (8.08%) and CVR (58.63%):
Such results have to do with the winning combination of the match type and specificity: Exact Match tightly controls the relevance, while long keywords are more specific to the searcher, which increases the likelihood of tapping on an ad.
On the contrary, Broad Match specific (long) keywords underperformed in terms of TTR (4.04%) and CVR (38.44%). When added to Broad Match groups, longer keywords generated a lot of variations which can be extremely irrelevant to user search queries, hence such low results.  
Regardless of the high conversion rates that long Exact Match keywords demonstrated, they appeared to be too expensive. The analyzed sample of accounts suggests the following Cost per Tap statistics:
And here's the CPA chart:
It's easy to notice that CPT and CPA for 4-word keywords stand out against the others, across all match types. One possible reason for such a phenomenon is that long search queries have limited reach and are more of an exception for the App Store. Hence, there's no point in adding keywords that are too specific to Exact Match groups.  
The research of our sample of accounts revealed that the optimal keyword length is 2-3 words. They are general enough to reach as many users as possible, and specific enough to show your ad for highly related search queries.
Bottom Line
The smartest optimization decisions are data-driven. When you've got TTR, CVR, CPT, CPA, and other metrics available, you've got the foundation for taking action. Hopefully, the benchmarks and recommendations above will be useful for any Apple Search Ads marketers in detecting their growth areas and better managing their ads on the App Store.