Boosting mobile live sports viewership by testing custom web Smart Banners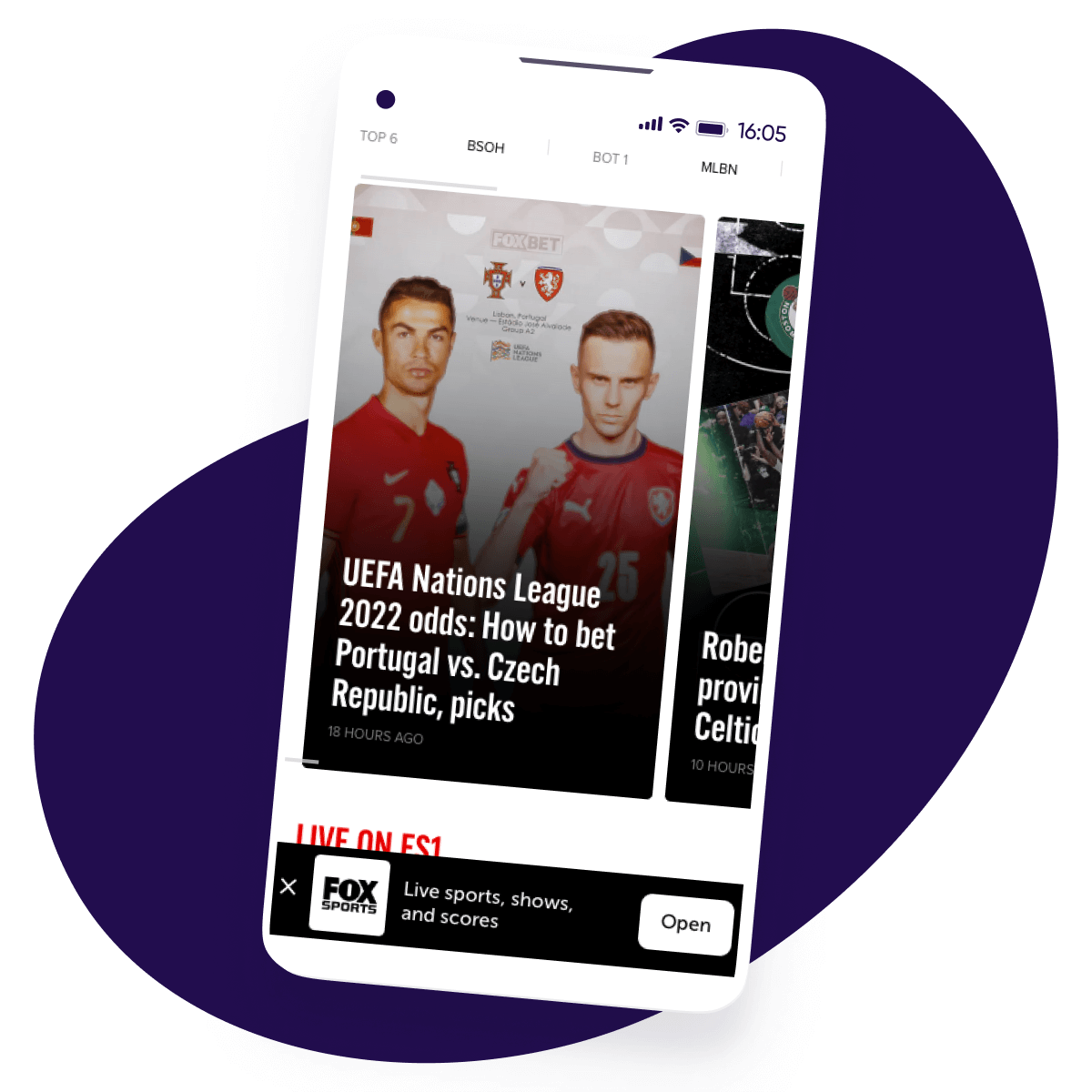 15%-35%
Increase in installs
10x
Increase in Banner CTRs
FOX increases app installs and engagement by customizing AppsFlyer Smart Banners to highlight the most relevant content available
Background
FOX Corporation produces and distributes compelling news, sports and entertainment content through its iconic brands including: FOX News Media, FOX Sports, FOX Entertainment and FOX Television Stations. In 2021, FOX brands combined to generate nearly $13 billion in revenue.
As of June 2021, FOX Sports programming was #1 in live sports viewership among all television networks, and as of June 2022, the FOX Sports app ranked #12 and #22 in the Apple App Store and Google Play Store respectively.
Challenge
The Growth Marketing team at FOX is challenged with improving app user growth and engagement on a limited budget. Without a paid media budget for their FOX Sports or FOX NOW apps, they focus on optimizing their owned media channels, including their mobile website, email, organic social and mobile push notifications.
With websites generating millions of hits, the FOX marketing team has a huge opportunity to drive users from web to app. In conjunction with effective SEO, the team needs to optimize the experience from their website to their app, AKA the web-to-app experience.
Before using AppsFlyer, FOX had very limited options to improve their web-to-app experience. For Safari browser users, marketers and their dev team can put an Apple Smart App Banner on their mobile website, but it only works on iOS, and the copy cannot be customized.
For users already with the FOX Sports app installed, the Apple Smart App Banner will display as shown below with copy that can only contain the name of the app and an "Open" CTA button.


For Chrome, Google does not have a comparable mobile banner solution. Therefore, marketers are limited to basic app links offered by Android or iOS (for Chrome users on iOS).
Solution
With AppsFlyer Smart Banners, FOX can fully customize their mobile website banner, and the banner is compatible with all mobile browsers.
Additionally, Smart Banners optimize the journey from web to app and enable full attribution in the AppsFlyer platform.
Like all other deep links from AppsFlyer's CX & deep linking suite, Smart Banners automatically route new users to the appropriate app store and deep link existing users directly to the desired in-app content — for a contextualized, frictionless experience.
A leader in marquee live sports, FOX Sports broadcasts the National Football League ("NFL"), National Collegiate Athletic Association ("NCAA") college football, Major League Baseball's ("MLB"), and other marquee events, including the Super Bowl and Men's and Women's soccer World Cup.
With the anticipated viewership of FOX Sports marquee events, the FOX team hypothesized that they could significantly boost in-app viewership by optimizing the web-to-app experience for users looking for the most popular live sports content.
To take advantage of this opportunity, FOX created custom Smart Banners for each marquee game to highlight the specific games users could be watching, while also changing the color and the CTA button to "Watch Live".

By contextualizing the Smart Banner with current marquee live games and deep linking users directly to the desired in-app game broadcast, FOX improved customer experience and significantly increased conversion rates from web to app. 
To take further advantage of this return on experience (ROX), the team began customizing Smart Banners during all their major sporting events.
Because AppsFlyer Smart Banners can be generated in a few quick steps directly in the AppsFlyer UI, the FOX marketing team was able to scale this strategy without having to involve their dev team or design team.
The Smart Banner interface is very simple to use. As a marketer, I really appreciate it because it allows our team to quickly create custom banners and allows stakeholders to easily visualize how the banner will render before approving.

Zack Simone, Executive Director, Growth Marketing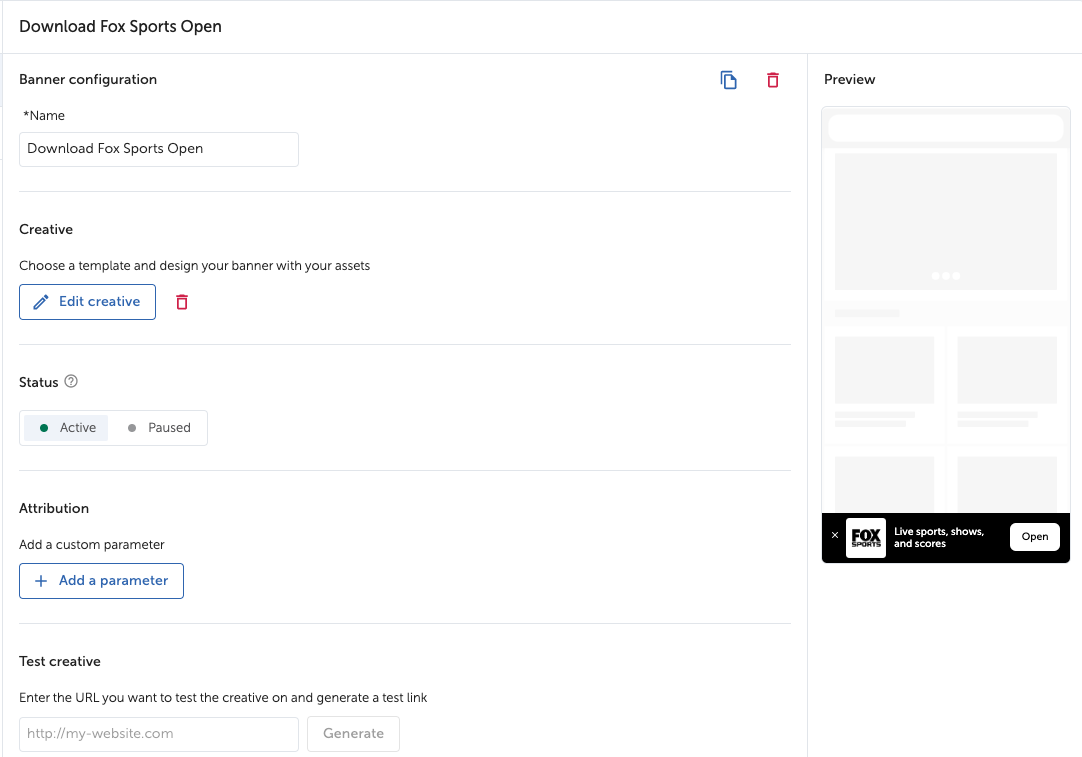 Results
To prove out the value of customizing AppsFlyer Smart Banners for major sporting events, the FOX team set up A/B tests during marquee live events on Saturdays and Sundays.
For each test, they used their default Smart Banner with the text "Live sports, shows, and scores" for the control banner, and created a Smart Banner displaying the games currently being broadcast for the test banner.
In both cases, the test banner yielded a high return on experience. After showing the test and control to the same number of website viewers, installs from their mobile website increased 15%-35% during marquee live events on Saturdays and Sundays.
This upcoming sports season, the team is looking to take the testing even further. They plan to test banners with some editorial copy such as "The reigning champs take on the …".
Custom Smart Banners are driving a 15% to 35% increase in installs compared to a generic banner. That's pretty dang exciting because it shows that with a little extra work, we can significantly boost app performance from organic web traffic.

Zack Simone, Executive Director, Growth Marketing
Looking for an MMP? Get your free assessment template today
Thanks for your download!