Mobile performance data serves multiple roles within your business. Custom Dashboards provide every team and team member the ability to customize their dashboard from scratch, as well as the option to adapt their teammates' custom dashboard to meet their needs.
The simple drag-and-drop interface makes it easy to use the right visuals, KPIs and filters for reporting on a single app or even across multiple apps. Easily setup a geo-specific dashboard for a local country team, a media source-specific dashboard for user acquisition managers, an in-app engagement dashboard for product managers, a top-line business performance dashboard and app health dashboard for executives, or a marketing performance overview dashboard for your VP marketing.
With simple drag-and-drop editing, one step cloning, easy customization and export to PDF capabilities, AppsFlyer's custom dashboards are ideal for unlocking the power of your mobile performance data across your organization.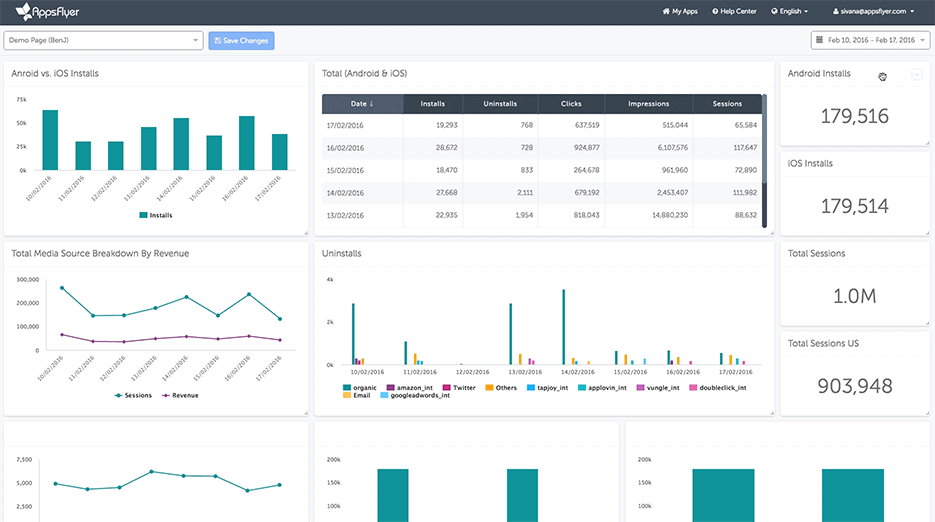 Below are a few examples of how some teams are using our custom dashboards:
Head of User Acquisition - eCommerce App
This head of UA setup the custom dashboard above to show top level performance across all of the apps her team was actively marketing. At the top of her dashboard are the high-level metrics she checks daily. She then added her Android funnel, as this was an area the team was working to improve. Beside the Android funnel, she measures her campaign performance in both Tier 1 and Tier 2 regions – monitoring both new installs and sign-ups (using in-app events). This is followed by a multi-app Aggregated Performance table, where she monitors her preferred metrics per-app. Below this table, she setup two dedicated rows; one for install performance data and the other for revenue performance data.

In total, this dashboard represents the key area she manages on a regular basis, allowing her to keep her finger on the pulse of her team's performance without needing to dive into multiple dashboards.
Cross-Team - Paid Media and Funnel Analysis
This popular gaming app publisher set up custom dashboards that analyze performance by media format. These reports are reviewed in their weekly team meetings.

At the top of this dashboard, they list the media cost, followed by the key stats in their funnel from clicks to installs and in-app events – all filtered to show only display media. Using this same filter, they then dive into their geo data – breaking down installs by media source by geo, followed by a breakdown of a lower funnel in-app events by geo. The next module reports media source-specific performance beginning with cost and following through the bottom of their user acquisition funnel. The following table repeats this analysis at the campaign level. To wrap it all up, they analyse their top three titles (apps across OSs) by funnel – cost through in-app events.

VP Marketing, Dating App: overall, cross app performance report
This account-level dashboard provides the VP with a straightforward overview of her marketing activity. At the top, she monitors overall impressions, clicks, non-organic and organic installs, mobile revenue and sessions. She then broke down her total installs, top media sources and Geos. The performance report shows the strength of each app's marketing performance. The final element of this page is a breakdown of revenue per mobile app. As their business has evolved, mobile revenues have become increasingly critical. This is an area of their custom dashboard that they intend to expand as their capabilities develop.