Sometimes your carefully planned targeting misses the mark. Your campaigns targeting the US end up driving installs in India, or your ads targeting the iPhone 7 end up bringing installs on the iPhone 6. Validation Rules put you, the marketer, in the driver's seat – blocking attribution for installs that don't meet your defined targeting. There are those times you need to customize your automated fraud protection, such as when you're entering a new market or running with a cost-effective but questionable ad network.
Enforce your campaign targeting and customize your fraud protection, with Validation Rules.
Setup Is a Snap
Setting a validation rule is incredibly easy. Simply follow the on-screen, step-by-step guide to define your parameters. Want to setup a ruleset? Simply select which media sources or campaigns you wish to manage, your desired targeting, and click save. It's that easy.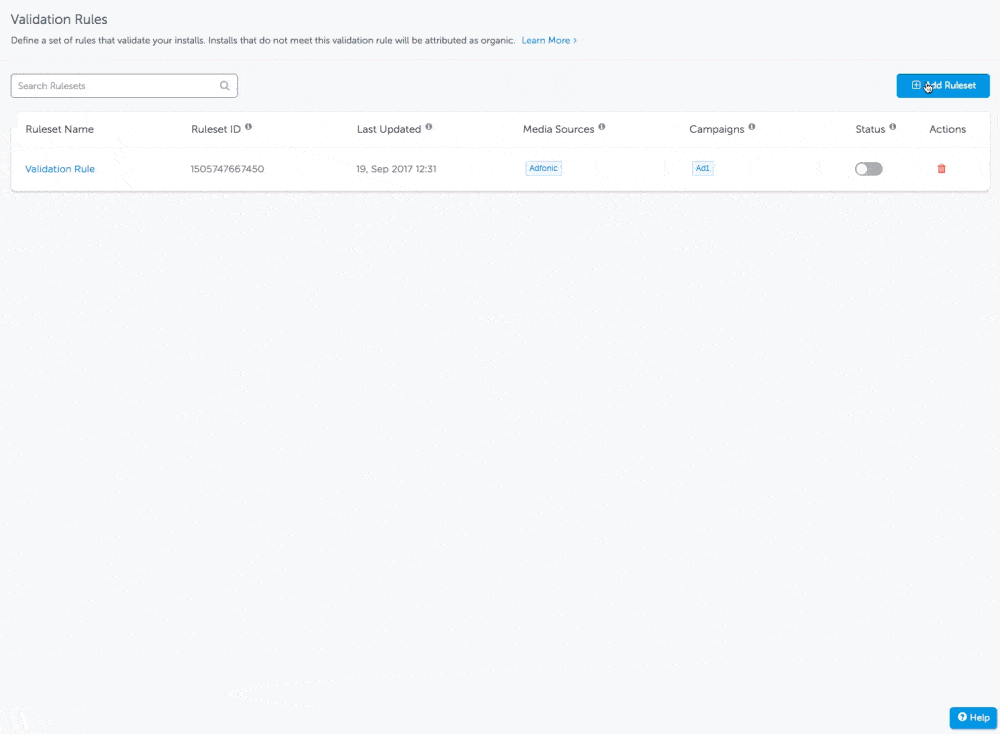 Setting up a Protect360 anti-fraud ruleset? Simply select which media sources, campaigns and GEOs in question, and set your desired click-to-install-time (CTIT) standards. Any traffic that doesn't meet your standards will not be attributed.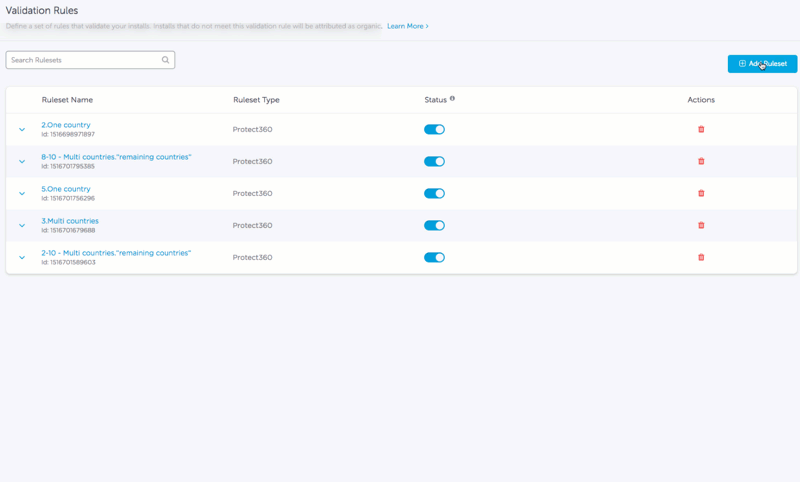 Built To Scale
Many teams find themselves managing dozens of campaigns across a large number, simultaneously. Validation Rules is built to scale, providing the ability to enforce the targeting of every campaign or network partner via a dedicated Ruleset. There are no limits to the number of Validation Rules you can define or run at any given time.
Real-Time Editing
The mobile business moves fast. All Validation Rules are fully editable in real-time. With just a click, you can change your Ruleset configurations, as well as enable or disable any Ruleset. You are always in total control.
Customize Protect360's Automated Blocking With Validation Rules 
Increasingly, mobile marketers are including fraud parameters in their IOs and contractual agreements with networks. Marketers with access to Protect360 can easily configure their own custom CTIT distribution, automatically enforcing the fraud terms they defined in their IO.
Large Apps
Large apps typically have longer download times. Let's say your Protect360 dashboard reports that your app takes at least 40 seconds to download. While other apps may be covered with a 5 second CTIT, your app needs a different, longer minimum CTIT. With Validation Rules, you can easily define a longer CTIT across all media sources, automatically blocking all invalid traffic.
Increase Protection For Questionable Sources
Running with an affiliate network for their low cost, but their performance looks too good to be true? Check out their performance in Protect360. If they have a shorter than normal CTIT, you can dial up your fraud protection by setting longer CTIT requirements for this particular network in Validation Rules.
Boost Protection In Troublesome GEOs
Facing some troublesome traffic in the parts of Asia, the US, Canada and UK? Protect yourself by setting stricter (longer) CTIT parameters in affected regions.
With Validation Rules, you can increase your fraud protection for targeted media sources, campaigns and GEOs. All blocked installs and resulting savings will be reported in Protect360, and raw data logs can be downloaded in Protect360.
Fully Transparent To Integrated Networks
Reconciliation negotiations at the end of a billing cycle are a headache for everyone involved. The best way to avoid this process is to maintain real-time transparent reporting with integrated network partners.
All integrated partners have full access to all Validation Rules that apply to their media, as well as a log of installs that were not-attributed due to a particular rule. Additionally, rejected attribution postbacks with rejection reasons will be shared with integrated networks in real-time.
Take back control over your campaigns, with Validation Rules.
To learn more about Validation Rules, speak with your success manager or schedule a demo today.