Spotting a $2 million-a-month diamond in the rough with AppsFlyer real-time analytics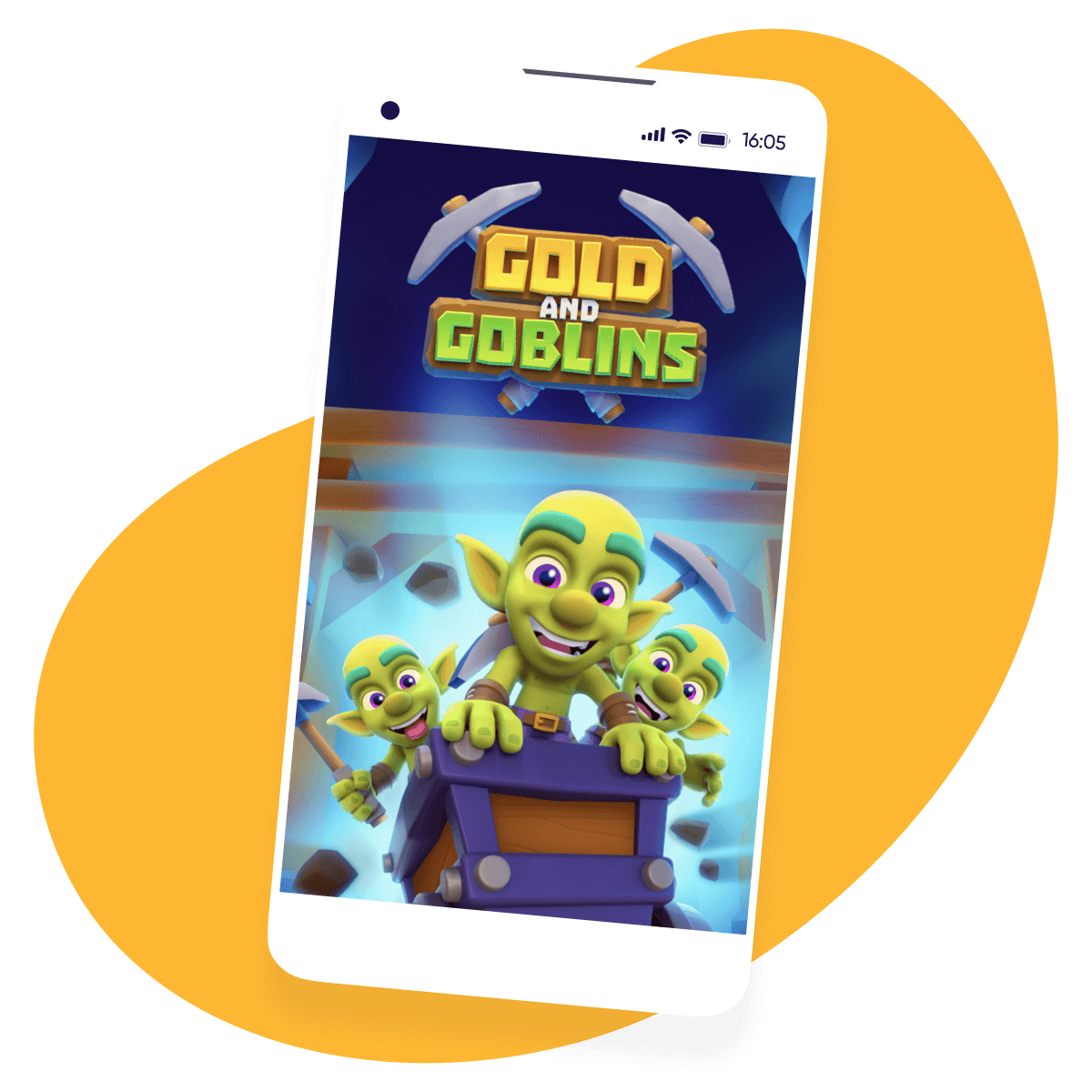 Background
AppQuantum is a mobile publisher specializing in free-to-play games. They have developed a track record of partnering with talented developers around the globe to publish and grow their games into worldwide hits.
In early 2021, AppQuantum released the app Gold & Goblins, an idle merge game that invites the player to lead an army of goblins and mine for valuable gold or gems. Gold & Goblins is a casual game, and the first title to be created by Canadian developers Redcell Games, but did not perform up to AppQuantum's expectations upon soft-launch. AppQuantum began to investigate external solutions to help bring Gold & Goblins in line with its other titles.
The results exceeded even their loftiest projections for the game.
Challenge
AppQuantum has an established, successful strategy for bringing an app to market. This is based on an approach of rigorous testing that allows AppQuantum to assess an app's potential before committing to a publishing agreement.
For Gold & Goblins – as for many of their other titles – the team at AppQuantum undertook a series of tests on the Android version to assess the best way to grow traffic and generate profit at the same time. This pre-launch period is also vital for AppQuantum to discover effective ad creatives and other optimizations that can provide higher ROAS.
As successful as this strategy had proved for AppQuantum in the past, and despite their high hopes for Gold & Goblins, the team found they had hit a stumbling block when applying this approach to the game.
"According to our previous experience we know that the games with even fantastic production quality might not perform very well. That's why when we first met Gold & Goblins developers we still had some doubts even with promising metrics. We understood that we needed to gain more data and ensure that this project was the future hit we were looking for."

Victoria Beliaeva, Head of Business Development & PR at AppQuantum
To reduce the time, financial and resource requirements, AppQuantum realized they needed to seek out an external solution. They needed a way to gather real-time analytics and performance measurement of their test campaigns. Most importantly, they needed a way to do it fast – and to know that the data was reliable.
Lastly, there was another challenge rearing its head while the game was being prepared for its 2021 launch: Apple's iOS 14 was about to roll out, and with it a raft of privacy changes that could potentially hinder AppQuantum's ability to scale Gold & Goblins.
Solution
AppQuantum reached out to AppsFlyer and immediately saw the benefits that we could bring. Not only would this be a short-term solution that would allow them to turn Gold & Goblins into a high-performing game where they were happy to proceed to a global launch. Partnering with AppsFlyer would also bring long-term benefits once the game launched in terms of scaling up and maintaining strong revenue performance long into the Gold & Goblins' lifespan.
AppsFlyer's tools played a key role at every step of the launch of the game as well as what came after. Real-time reporting enabled AppQuantum to react instantly and optimize their campaigns during the critical testing stage. Raw data from AppsFlyer was also fed via Data Locker into AppQuantum's own BI system, allowing them to create real-time custom dashboards to track performance on a granular level.
"Attribution is one of the most important aspects of a publisher's work. We need to understand how effectively we buy traffic to our applications. With the data we get from AppsFlyer, we can optimize campaigns in different sources in real-time, as well as experiment with creatives."

Victoria Beliaeva, Head of Business Development & PR at AppQuantum
Finally, AppsFlyer's SKAD solution empowered AppQuantum to scale up the success of Gold & Goblins' test period despite the challenges presented by the new privacy regulations introduced by iOS 14.
At each stage of the release, AppsFlyer ensured quick access to independent attribution data pulled from 50 million events per day across campaigns on AppLovin, Google Ads, Unity and others. AppQuantum have a reputation as a data-savvy publisher throughout the industry, and AppsFlyer's solutions have become vital for the team's user acquisition and retargeting efforts not only for Gold & Goblins but across the publisher's entire portfolio.
Impact
AppQuantum partnered with AppsFlyer to revitalize the launch of Gold & Goblins – and the effects were both dramatic and immediate.
Gold & Goblins was transformed from a game that AppQuantum had doubts over during soft-launch, to a title that – within three months – had brought in a remarkable $7 million in revenue. This was underpinned by a triple-digit return on ad spend (ROAS) following AppsFlyer integration.
AppQuantum currently has a portfolio of 15 games, and Gold & Goblins is now their most successful title. That portfolio currently earns about $3 million a month, for which Gold & Goblins accounts for the majority.
"Thanks to the real-time analytics, we were able to quickly commit to one of our most successful mobile projects to date – Gold & Goblins. With AppsFlyer, the revenue of this project has increased significantly due to the speed of data processing for the first tests."

Victoria Beliaeva, Head of Business Development & PR at AppQuantum
Just one year after signing their publishing agreement with Redcell Games for Gold & Goblins, AppQuantum surpassed the landmark of 100 million downloads across their entire portfolio.
Looking Forward
Having experienced first-hand the added value that AppsFlyer's solutions can bring to launching new titles, AppQuantum are now perfectly placed to utilize those tools for future game launches. As a publisher, this gives them greater confidence that their future releases can reach excellent levels of profitability and retention.
Fittingly given the game's name, Gold & Goblins has become the publisher's gold standard in terms of performance. As AppQuantum builds towards releasing their next hit mobile game, AppsFlyer will continue to support their team on their journey to further success.