Audience Segmentation for Mobile Marketers: A Crash Course
When's the last time you got annoyed seeing a mobile ad because it was irrelevant or the 87th time you've seen it already? Probably not too long ago… maybe even today. 
Beyond wasted budget, that brand's image has likely taken a hit, and may have been tarnished beyond repair. And all because its marketing team failed to set up proper ad targeting.  
Building an audience on mobile demands a deep understanding of the nuances within. Mobile audiences constantly change, while the variety and scale of data signals in this environment can be overwhelming.   
So how do you manage all of this complexity, and make it work for you? 
The answer: Segmentation. 
Audience segmentation is the key to harnessing the right data points among millions of users and transforming them into installs, engagement, and revenue. And also, making sure you're not annoying your users.  
Types of mobile segmentation defined 
What is mobile audience segmentation exactly?
It's the building of a group of potential and/or existing users based on specific, shared criteria that can be targeted, sometimes with bullseye accuracy.
Segments can be incredibly granular, depending on the platform you're working with. In audience segmentation, data is the gift that keeps on giving. With every subgroup you create, you can test to find the personalized messages that work best and continually iterate to find ones that work even better. 
When you master segmentation, each layer of interaction with every single user and each point of contact is rooted in shrewd segmentation.
There are lots of ways to segment an audience, but in broad strokes, these are the most common approaches: 
Geographic:

Country, state, city, and sometimes even down to a specific zip code; Geographic mobile data is rooted in what users have already input into apps, e.g. Facebook app users who have indicated they live in San Francisco.

Location-based:

Based on the device's GPS signal, where a user actually is at the time an ad can be served, e.g. the user is within a specific radius of a storefront. 

Demographic:

Gender, age, income, e.g. female users aged 50 and over with an income of over $200,000. 

Psychographic:

Values and interests, e.g. users who routinely install and engage with news apps or content.

Technographic:

The pint-sized tech stack in every mobile device, e.g. an iPhone 11 user with a device that has at least 4GB RAM. 

Behavioral:

What users actually do on their phones, for how long, and with what results, e.g. mobile gamers who tend to engage with games for 20 minutes or more in a session and have made at least 2 in-app purchases.
To illustrate, here is an example of audiences that were built by combining GEO and behavioral data.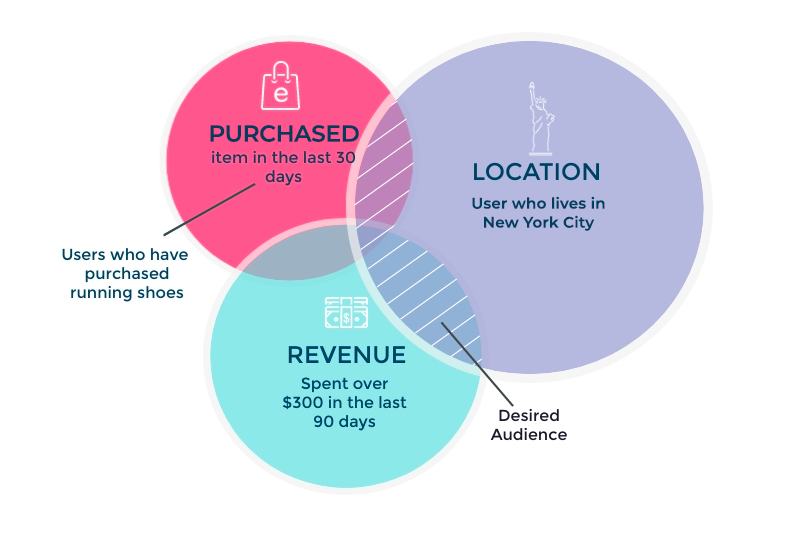 This example combines behavioral parameters:
There are all sorts of other ways you can segment an audience – these are just a few examples.     
Targeting options on top media platforms
Now that we've covered what is possible in terms of segmentation, let's drill down into targeting options on common media platforms. 
Facebook targeting capabilities are considered unrivaled. The social network offers three options when it comes to creating custom audiences: 
Core Audiences:

Allows you to set parameters for location, behavior, demographics, connections, and interests

Custom Audiences

: Leverages your own data extracted from your CRM and/or email lists, your site's visitors, or your app's existing users (for the latter you deploy Facebook's SDK)

Lookalike Audiences

: Targets users that are similar to the ones you already have. More on Lookalikes in a bit!
Facebook's Audience dashboard:
Google's App campaigns product is mostly automated, but you can define GEOs and languages to target, and also upload lists to run re-engagement campaigns. The machine does the rest.
Apple Search Ads naturally leverages keywords to allow marketers to present ads to users with a high level of search intent. These can be broad or exact matches. The platform also enables targeting by GEO, age, gender, customer types (all, new, returning, users of my other apps), and device type (only among iPhones and iPads of course). 
Twitter's marketing segmentation options are also refined: You can segment by age or gender, @user (people and the brands they follow), interests, conversation, or by tailoring (similar to Facebook's Custom Audiences).
ironSource, a network that serves game developers, offers a primer on segments where you can learn how to segment based on device tech stack (network connection, device model, OS version) and monetization data (e.g. if users spend on in-app purchases, and if so, how much they spend). 
Snap also has a range of options when it comes to segmentation, from its Predefined Audiences to Custom Audiences, which include Lookalikes and tools that match Snapchatters with your own data on device IDs or email lists.
Using attribution data for user segmentation
Attribution data is the building block for all types of segmentation. In short, it covers the path to install — organic or non-organic — and the subsequent post-install activity. 
For example, attribution data can inform a marketer that 1,000 app installs were driven by a Twitter campaign, while the total revenue generated by this group was $2,000 (or $2 per user). 
Attribution data is mainly used to segment re-engagement campaigns (after all, you're working with data you already have on your own users). Because securing ongoing usage is a major challenge for most apps, re-engagement — paid retargeting or owned media campaigns (email, push, blog, cross-promotions, social etc.) — is becoming an extremely important activity. 
In fact, between 2017 and 2019, the share of apps running retargeting has nearly doubled, while the share of retargeting conversions (among all conversions — retargeting and non-organic installs) increased by more than 2.5 times:
The growing importance of re-engagement reemphasizes why accurate segmentation is a key factor in mobile marketing success. 
You can also use attribution data to power user acquisition campaigns with lookalike audiences, known in the industry as "LALs". These are audiences that mirror (or nearly mirror) your high value users. 
LAL targeting is only going to get more robust as other networks meet the demand for it. Having said that, it takes abundant resources and a significant scale of data to be effective.
Looking to take your re-engagement and UA campaigns to the next level? Here are a few ways to capitalize leveraging user attribution and segmentation:
| | | |
| --- | --- | --- |
| Goal | Method | Audience |
| Drive users from owned media properties to specific touchpoints along your funnel. | Send a push notification that directs users to an app page with an offer to claim a reward to help players progress in the game.  | Users who made at least 1 in-app purchase in the first two weeks since installing AND have been dormant for two weeks. |
| Drive players from Game 1 to Game 2 (same brand) via owned media cross promotion. | Insert interstitial banner in Game 1 to promote the install of Game 2.  | Previously active users (e.g. had more than two sessions a day) whose activity dropped (e.g. 1 session every 3 days after at least two weeks since install)  |
| Enhance loyalty among one-time eCommerce purchasers | Retarget 1 time purchasers of smartphones with a discount to buy a related product | Users who made their first purchase within a certain product category (i.e. smartphones) |
| Retarget travel app users during the holiday season planning period | Segment based on exclusion parameters ( a very handy and important strategy) — you can exclude uninstalls, currently active users, etc. | Include users who booked a trip the previous holiday season; Exclude active users, uninstallers, and users who already booked a trip during the holiday season. |
| Find the best creative for your holiday shopping campaign | Split audiences for split testing — a "must-have" for identifying and iterating on the most effective messaging, creative, and bids. | Show creative A to audience group A, then show creative B to audience group B (with similar characteristics as audience group A) |
Attribution data is pivotal to effective mobile segmentation but before you commit to a provider, be sure to learn about what to look for in terms of security, precision, and seamlessness — all crucial factors for any ambitious mobile marketing plan.
Privacy: The no-go zones
You can't talk about mobile audience segmentation responsibly without talking about privacy and the No-Go zones in terms of industry standards. 
We live in a world that is hypersensitive to privacy (for good reason!), and it's your job to work with vendors and media partners that meet all standards, are compliant,  and deploy industry-standard shields to keep your data secure under GDPR & CCPA (General Data Protection Regulation, adopted by the European Union, and California Consumer Privacy Act, respectively). 
Even if your company is not headquartered in the EU or in California, these laws will almost always still apply because you will invariably have users in both California and the EU. Always adhere to the fine print in your own agreements with users — it's your legal responsibility. 
But it's not just about what you do with user data… It's also about how much data you expose to your partners. Attribution providers and platforms should allow you, the app marketer, to control the data sent to ad networks. For example, sending only device IDs you want to segment to media partners. 
Picture a scenario in which your app sells medication. When you want to reach a group of your users that have previously bought medication via your app, you can send along the list of device IDs to an ad network without exposing the fact that the users bought medication. Device IDs are all the ad network needs. 
Ultimately, any PII (Personally Identifiable Information, e.g. a name, phone number, or an email address) should only be passed on if there is clear consent from the user. 
Mobile marketing has every bit as much to do with responsibility as it does with being savvy. There are some No-Go zones, such as selling data to 3rd parties, and others that are fine, such as sending a push notification when your user might be out of a product assuming user consent was given. 
Bottom line: You can segment very successfully without overexposing data to third parties.
8 tips for effective segmentation
Now that you've completed your audience segmentation crash course, here's a checklist for driving results with your next campaign:
1) Perform continuous testing on multiple ad networks with new segments (never stop testing!).
2) Run incrementality tests on segments for more granular optimization, down to message types, bid types, and creatives.
3) Use granular engagement data such as in-app events (the post-install actions that mark engagement, such as in-app purchases, the completion of tutorials, leveling up in a game, placing an item in a shopping cart) to create more targeted segments. 
Power tip: Make sure you're measuring the right amount of events for your vertical! 
4) Consider both web and mobile audiences in your segmentation strategy. For web users, build segments that ultimately drive users within them from web to your mobile app as it is the consumer touchpoint with the best performance, as with smart banners.  
5) Pair customized messaging with deep linking for each segment to create a truly relevant, even memorable customer experience.
6) Implement a frequency cap for the campaigns a specific segment and/or user is sent through. (There is such a thing as too much marketing within a segment, and the last thing your brand needs is fatigue among existing and/or potential users — know that once a user is sick of seeing you, it's going to be hard to win them back.)
7) Consider creating new segments from existing segments, either through a CRM or internal BI tool 
8) Make regular communication between your marketing and product teams a top priority — doing so helps ensure that everyone is on the same page in terms of goals and avoiding redundant campaigns that alienate users.
To conclude, great creatives and a sound tech stack can only get you so far when it comes to reaching and converting new users or bringing lapsed ones back into the fold. Without good segmentation, you will waste money on impressions that bring you nothing in return. 
When you are savvy about your segmentation, however, you dramatically increase the chances that you will get the right ad in front of the right users — the ones who will click, install, convert, or re-engage.