Creating Successful App Retargeting: How to Do It the Right Way
90% of marketers think that retargeting is the best, or tied for the best tactic, for paid user acquisition. With desktop retargeting maturing, marketers are increasingly turning to mobile app retargeting to grow their user base.
The enthusiasm surrounding mobile retargeting ads is a very reasonable. After all, sales conversions for mobile retargeting is 13 times higher than desktop retargeting. On top of that, mobile retargeting has a 46% higher click-through rate than on desktops.
With such great numbers, it makes sense that most app marketers will eventually turn to retargeting to promote their mobile apps.
How Does Retargeting Work for Mobile Apps?
There are two common scenarios:
Someone visits your site on either mobile or desktop
The user installs your app
In the first case when a visitor visits your site, your retargeting goal is to persuade the visitor to install your app. This can be achieved by placing a pixel on your site, usually from your ad network. The pixels place a cookie in the user's browser enabling your ads to follow a user's online activity and ultimately asking the user to install your app (if he or she is browsing on mobile).
In the second case when the user already has your app, your goal is to get them to make an in-app purchase or engage with your app. This can be done by integrating an SDK either for an ad network or an attribution platform, like AppsFlyer, that can identify the user and pass the information to the ad network for retargeting ads. Once the ad network can identify the user's device, ads can be served within apps and on mobile sites.
How to Optimize Your App Retargeting Campaigns
Anyone can launch a retargeting campaign but we marketers earn our pay checks by knowing how to optimize campaigns.
Here are 11 tips for optimizing your app retargeting campaigns:
1. Use Deep Links
Two use cases for deep linking your retargeting ads:
The user visited a desktop site and is now browsing online or in a 3rd-party app. Deep linking your ad will prompt the user to install your app if he/she doesn't have it installed already or launch your app if it's already installed
When a user clicks on a deep link, your app launches to a specific in-app landing page, specially designed for your campaign (ex: special holiday sale) that increases conversion rates.
2. Be Creative with Channels
You have many platforms that you can use to place your retargeting ads, such as:
Mobile websites
3rd-party mobile apps
Mobile search
Social networks
 Each channel has its own pros and cons and its own unique characteristics.
3. Invest in Your Creatives
Creating great ads on mobile takes some skill since you need to deal with small screens which have varying amounts of space for text. Also keep in mind how people use different types of mobile devices like smartphones and tablets.
JackThreads' mobile ads are a great example of designing ads optimized for mobile. Users see a 320×50 banner ad that expands when they click to a larger, more detailed ad. This is great because JackThreads was able to create an interactive banner that mimics its mobile app once clicked. 
4. Cap Your Ad Frequency
You want your ads to remind users to install or re-engage with your app. If your ads aggressively follow a user everywhere he or she browses (in-app and mobile web), you run the risk of creeping out or annoying the user.
Don't just guess what ad frequency is enough, you need to test, just like Indochino did, when they discovered that the higher impressions per user, the higher their ROI. First understand who your audience is and why they're seeing your ads. Then take an educated guess as to which frequency to start with and follow up with tests that increase and decrease your frequency cap as the remarketing campaign progresses.
5. Always Be Testing
You should start your campaigns with a few different types of ads (vary text and design) and in-app landing pages. Try a few based on what has worked in the past and a few that are different but you think they will work well.
Then, keep testing to see which direction you should go and start making changes to improve the test winners. UserTesting came up with a few good ideas to get more insight as to why certain ads outperformed others:
We found that the green banner was converting better than the blue … we ran some user tests on it to find out why.

…people clicked the green banner because of the brighter color … But what our analytics couldn't tell us was that participants liked seeing the word "free" in the CTA of the blue banner (though it wasn't enough to convince them to click).

…we now know that the next batch of text ads should probably have a bright background AND the word "free" in the CTA…

Getting into your audience's head will make it much easier to create incrementally better performing ads.
6. Exclude Converted Users
Make sure you measure which users converted and exclude them from seeing more ads (sometimes referred to as a "kill pixel" or "burn code").
Continuing to serve ads to users who have already converted may annoy them and make you look unprofessional.
7. Find a Partner for Both Mobile Apps & Mobile Web
Mobile users often jump between mobile apps and the mobile web.
More than 80% of mobile users start their shopping research on the mobile web according to Google
Mobile users spend 86% of their time on mobile devices using apps according to Flurry
If users are splitting their time and tasks between mobile apps and the mobile web, you need a mobile retargeting advertising vendor that can reach users on both platforms. Otherwise, you'll either miss out on where users start their shopping research (mobile web) or where they spend most of their time (mobile apps).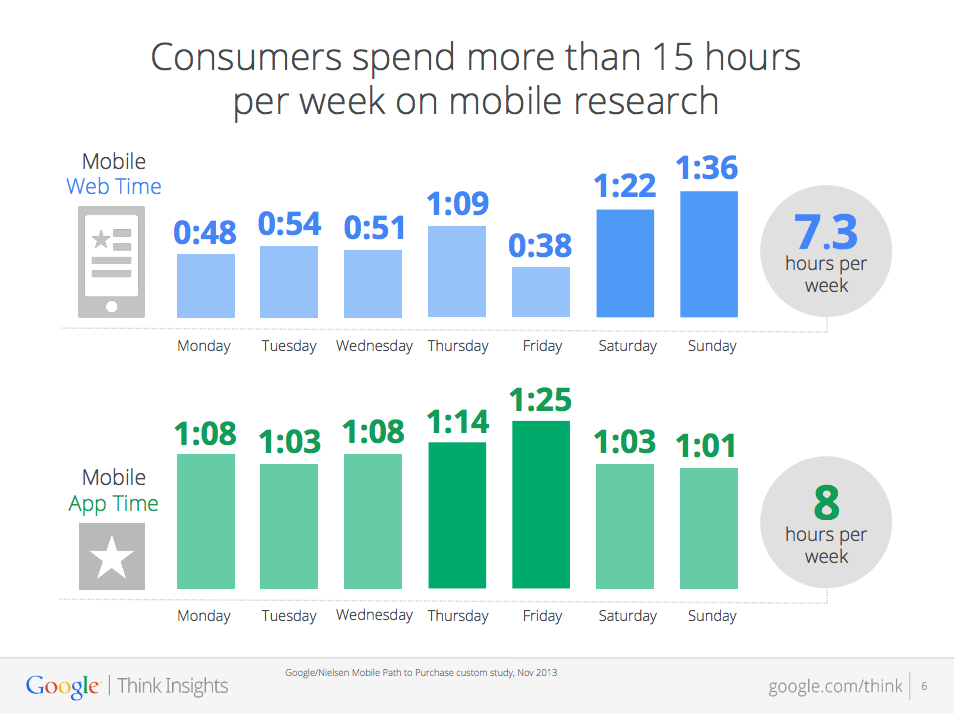 8. Use One Vendor
The best practice is to use only one vendor for your retargeting ads. By using one vendor, you keep all of your data and analytics in one place. This makes it much easier to segment users and gives you larger samples for analyzing results.
You also don't want the same users accidentally being targeted by two retargeting campaigns. This could result in users seeing a higher frequency of ads, conflicting or mixed ad messages and different offers.
9. Analyze Your Metrics
You need to keep an eye on the performance of your segments, campaigns and creatives if you want to increase your retargeting ROI, focusing on clicks, installs, revenue and in-app events.
By monitoring the metrics, you can see which messages, designs and segments are working better and shift your ad spend accordingly. In addition, you might want to try to improve the messages, designs and segments that weren't as successful.
10. Pay Attention to View-Throughs
View-throughs show how many users saw the ad and didn't click, but later on came to your app to make a purchase or install. While this is less important for mobile apps since installs are instant, it's still a useful measure to see how many total conversions (regular conversions + view-through conversions) were a result of your ads. 
11. Segment Your Users
People react to messaging that's relevant to them. If you want your campaign to perform well, make sure it's targeted to a very specific group of users. Some possible segmentation parameters include: location, prior usage, purchases (or types of purchases) and recency.
Mobile Retargeting Will Only Grow From Here
Mobile retargeting is still a relatively new space and there are many more methods that haven't been implemented enough to be considered proven to work.
Some outstanding questions for mobile retargeting include which types of ad formats work best, how different is retargeting on the mobile web from mobile apps and how do new smart deep linking technologies open up new opportunities for app marketers.