Introduction:
The science and art behind a bullet-proof mobile app engagement strategy
If you thought that lack of user engagement and churn are today's biggest pain points for app marketers – you thought right.
These jaw-dropping statistics paint a compelling picture:
Every 1 in 2 apps is uninstalled within the 1st month after being downloaded, with "not in use" being the top reason users uninstall a mobile app (39.9%).
90% of users who engage with an app – even once a week – tend to stick around.
With 2.89 million apps in Google Play and 1.96 million apps in the App Store, users have all but unlimited options to choose from. Fail to meet users' increasingly high expectations and you'll end up witnessing most of them going MIA (= low retention rates), or worse – jumping ship (= high uninstall rates).
It's about creating and cultivating an optimal customer experience, by keeping your eyes and ears open to what your users are saying, doing, and especially not doing, and then constantly tweaking your customer experience to meet users' expectations.

Chapter 1
Engagement – The elusive core pillar of successful apps' strategy
There's no doubt that in-app engagement metrics are the gold standard of the app space. They reflect the quality of your app to such a degree, that in an ideal ecosystem, these metrics serve as the basis of monetization in the free-to-install app space, and also end up dictating the direction of product developments.
As the app space is becoming increasingly overcrowded, competition grows fiercer, and user loyalty is the new holy grail, so does the importance of monitoring your app engagement become more critical.
But don't despair! Despite the challenges, there are quite a few proven tips and tricks to help you navigate the highly dynamic world of app engagement and user retention.
Before we dive into the "how", let's discuss the "what", and break down all the components that comprise this multi-layered landscape:

Chapter 2
Making sense of it all – definitions of engagement and retention metrics
App engagement
Despite sometimes being referred to as a state, app engagement is really the process of creating and nurturing valuable relationships with app users.
Although different apps focus on different sets of identifiers, app engagement is usually measured using a combination of active users, app opens, session length, session intervals, behavior flow, conversion, communication, and retention rates.
Increasing app engagement is one of the main goals of app owners, as it's the main driver of customer loyalty and lifetime value (LTV) growth.
Sessions
When we refer to a "session length", we're essentially measuring the amount of time a user spent in your app.
Session length, and the average number of sessions per user in a pre-defined timeframe, are excellent indicators of app engagement, and understanding how useful your app is to your users. As a general rule of thumb, the more time your active users spend in your app and the more screens they interact with, the more engaged they are.
And that's why focusing on user experience, rather than just individual features, is nothing short of crucial.
Screen views
Screens represent the content users are viewing within an app. Measuring screen views allows you to see which content is being viewed most by your users, as well as have a better sense of their navigation flow.
Time spent in-app
Another valuable metric for gauging how well your users engage with your app. Theoretically speaking, the more time they spend in the app, the more value they're getting out of it. That includes time spent per session, average time spent across X number of sessions, time spent per session over time, etc.
That said, it's important to cross-reference this stat with other metrics, as unfortunately, time spent in-app as a standalone figure doesn't always equal happy engagement.
For example, if users are spending a lot of time in your app because they're trying to figure out how it works or can't find what they're looking for, an extended in-app time might indicate imminent churn.
But if you know your app is relatively bug free, cross checking your average time in app with your daily active users (DAU) and monthly active users (MAU), will give you a more definitive indication of the bigger picture.
Another thing to keep in mind is that time spent in-app can vary according to apps' type and purpose. For Facebook, YouTube or TikTok, for example, the longer time in app is – the better. For an analytics tool, however, where users are expecting to access their data quickly on a daily or weekly basis, a time in app of more than 5 minutes might imply there's a problem that needs to be addressed.
The secret is to identify the ideal amount of time you'd like users to spend in your app, and then keep a keen eye on any suspicious fluctuations.
Retention rate
The number of unique users that launched the app at least once during a specific day/week since installation, or the total number of users that launched the app for the first time during the selected date range.
This metric let's you know what percentage of users are coming back to your app, versus how many are letting go.
Active users
This metric refers to the number of unique users who engage with your app during a predefined period of time and is designed to measure growth, churn, and product stickiness.
The criteria used to define an active user depends on your line of business and definition of an active user's engagement. Is your user logging into the app, completing a specific action, or performing a certain number of actions?
However you choose to define your activity criteria, your active users will be counted over a set period of time, which would usually fall under one of the following categories:
Daily Active Users (DAU) – The number of unique users that engage with your app within a 24-hour window. DAU is typically used by businesses where users are expected to interact with the app on a daily basis (e.g. gaming apps).
Monthly Active Users (MAU) – The number of unique users that engage with your app within a 30-day window. MAU is typically used by B2B apps where users are expected to interact a few times a month or less (eg. banking apps).
The DAU/MAU ratio – measuring product stickiness
This ratio allows you to measure the relative volume of monthly active users who engage with your app over a 24-hour time period.
Using the DAU/MAU metric, you can forecast traction and potential revenue over time, but even more importantly – it helps you determine the value of your product for your users by keeping track of how often they return to your app.
It's calculated in the following way: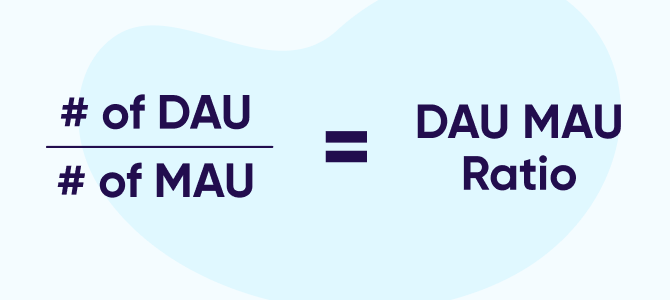 If, for example, you had 2,000 DAU and 8,000 MAU during the month of August, your stickiness ratio for that month would be 25%. That's a very happy place to be in, considering that across industries, a stickiness average of 20% is considered good, while 25% and beyond is considered exceptional.
Churn
Used to identify the percentage of your lost users. Although the actual uninstall rate is clearly defined and is regarded as definitive churn, some apps consider a user that hasn't opened the app for months as a churned user as well.
Loyal users
An offshoot of a broader concept – customer loyalty – the default setting is defined as users that held at least 3 sessions post-install.
That said, it's really up to each business to determine their own definition of a loyal user; either by engagement or purchases. For example, in eCommerce, businesses often regard a customer as loyal after placing more than 1 purchase during a given time period.
Now that we're a little more familiar with the different metrics that form app engagement, let's look at some of the leading ways in which in-app user engagement can be enhanced.

Chapter 3
All aboard! Tips for engaging and seamless onboarding
Did you know that effective app onboarding can increase app retention by up to 50%?
When you think about it, that makes perfect sense. The onboarding process is the very first time users interact with your app, and a smooth, hassle-free onboarding journey will make a lasting impression while keeping your app in their good books.
Here are a few well-proven ways to simplify your user onboarding journey:
Earn their trust first
Letting users start using your app without forcing them to create a profile right at the start means that you're placing user experience over app functionality.
Creating a user profile usually requires access to users' gallery or camera, and asking for too many permissions before offering your users any value might deter some of them away.
Shorter is better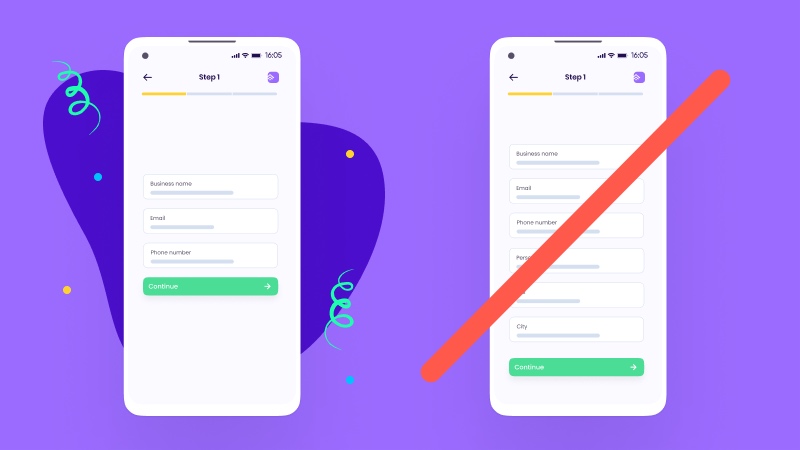 Minimize the number of steps necessary to create an account / sign up, and offer multiple registration options (e.g. login with Facebook or Gmail).
Ask users to provide the minimum required input during the very early stages, and then ask for more details only after they've gotten the chance to appreciate your app and trust your brand, at which stage they should be more inclined to share additional details.
Showcase value
Grabbing users' attention in a meaningful way at the very beginning is the key to getting these users to the next step of their app journey.
On their first app open, share with your users how your app is going to help them solve a certain problem, save valuable time, or make their daily lives a tad easier.
When it comes to freemium apps, letting your users experience paid features for free at least once, is a highly effective way to boost upgrades and reduce churn.
Offer self-service content
Videos or interactive demos offered throughout the onboarding journey are a great way to introduce your users to your app's functionality and encourage optimal usage.
Continuously optimize your user journey
Identify your users' paths and the average time it takes them to move from one step to the next. Then, examine your most prominent drop off points along that path.
It could be extremely beneficial to proactively engage idle or lagging users during those critical stages, guide them through next steps, and most importantly – loop your users' feedback back to your product team to further smoothen your app flow.
Ask for permission (not for forgiveness)
It goes without saying that feeding your users with too many permission notifications won't improve your user engagement.
Show sensitivity and always ask your users' permission, or you might end up annoying them out of your app.
Personalization is everything
Users want to feel valued and appreciated. If you don't open a channel for two-way communication – how else would you know what your users need?
Open communication will allow you to gather feedback, address technical issues in a timely manner, improve product functionality over time, and fix problems before negative reviews find their way to the App store or social media.
As an added bonus, showing responsiveness and a customer-oriented approach will boost your engagement and retention rates, encourage positive reviews, and help you build long-term brand loyalty.

Chapter 4
Rules of (app) engagement
A winning app engagement strategy has to encompass multiple channels like email, push notifications, in-app notifications, and social media remarketing.
Which channels should be used for which purpose, you ask? Base your decision on the stage the user is currently on, and the type of communication that's being delivered. Let's break it down:
1. Push notifications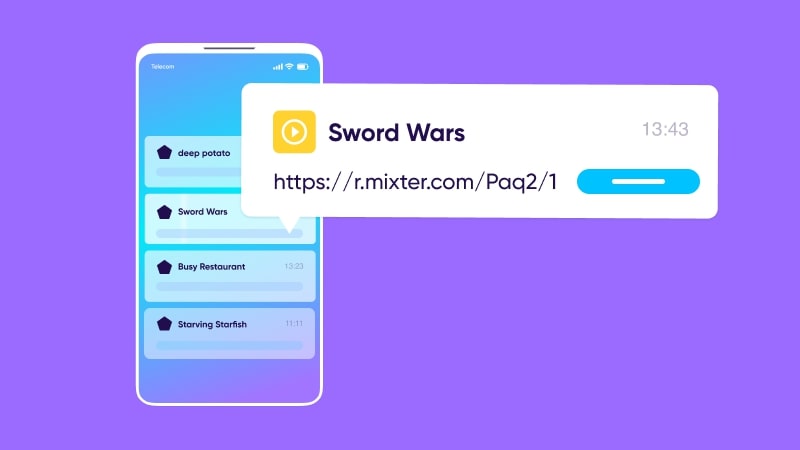 Despite being one of the most effective ways to engage your app users, if misused, push notifications are also one of the quickest ways to generate uninstalls.
So how often should you send push notifications to your users?
There are plenty of sources to provide you with best practices and benchmarks, but the most important thing is to ask yourself: Am I offering tangible value to my audience?
Push notifications should never be about quantity, but about offering users genuine value that will help improve their experience through personalization and relevancy.
To ensure optimal execution of your user engagement strategy, keep an eye out for your push notification statistics, which will help you determine what works – and especially what doesn't – when it comes to your engagement tactics.
2. In-app messages
The more aligned your app experience is with your users' needs and preferences, the more likely they are to continue using your app.
In fact, recent research shows that brands using personalized in-app messages are experiencing user retention rates of 61% to 74% within 28 days of receiving the message. On the flip side, brands that blast off mostly generic campaigns see retention rates cap out at 49% within 28 days.
Generally speaking, in-app messages are not intended for communicating immediate calls to action, but are nonetheless important notifications to receive. They can include warnings about app issues, payment failures, or version upgrades.
To ensure maximal relevance, it's best to segment your audience based on location, preferences, usage or history, using tailored messages that include real-time updates and links to personalized content.
3. Email/SMS
Retention comes down to being able to serve users well and keeping your app on the top of their mind so that they'll come back to it again and again. Because onboarding is a continuous process, the occasional email is a good way to maintain user retention.
For example, email could be used to target users that were once active but have since kept their distance. It's the least intrusive way to say "We've missed you. Here's what you've been missing".
Other than improving retention, email is also an efficient way to encourage new in-app purchases. In the realm of eCommerce, an enticing product offering can be sent out to a customer that hasn't made any purchases for the past 3 months for example.
Or in the case of content apps, a user who was once active for 7 days straight but then didn't open the app for 3 days can receive a link to a trending article in a category they're interested in. Proper audience segmentation could mean the difference between an idle to a re-engaged and therefore engaged user.
4. Deep linking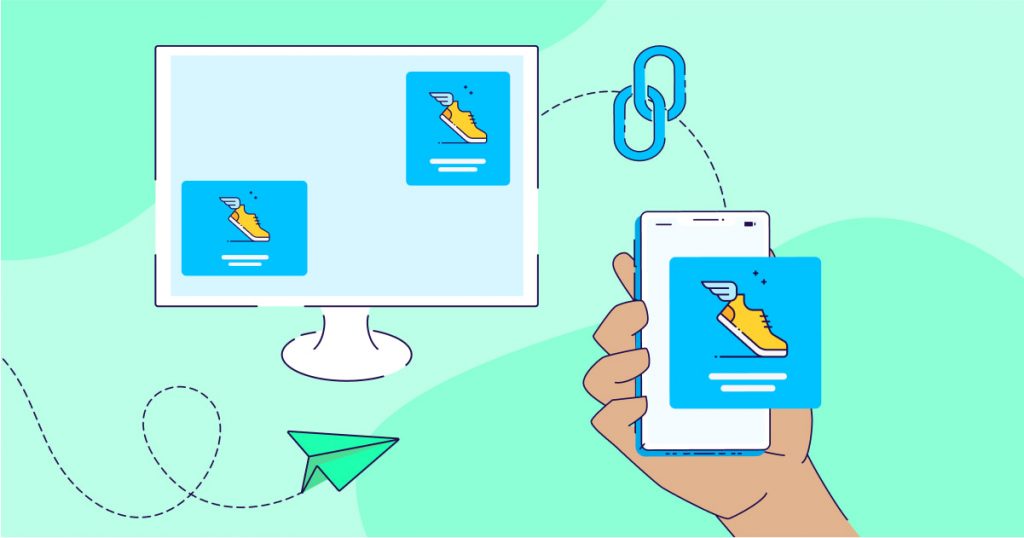 So you've crafted the perfect notification. It's personalized, it's contextual, and it's extremely relevant. That's great. But then your users clicked it and were directed to your app's home screen. Not so great.
Attribution-fueled deep linking is one of the best and easiest methods to enable your users to float through their user journey in a highly personalized and hassle-free way, while linking your siloed channels into one cohesive user experience platform.
Deep linking enables you to create a cross-channel strategy that ensures a consistent user experience by removing as many obstacles along the user journey as possible.
Using deep linking will also help you build a long-lasting relationship with your users, while creating a solid competitive edge, making it an easily executed strategy well worth implementing.

Chapter 5
Show me the money! Monetization tips
Who's not after increasing their revenue earnings using in-app purchases or subscriptions, in-app advertising, or in some cases even paid app downloads?
But what are some of the proven ways to convert freemium users into paying customers? We've got you covered:
1. Cement your monetization strategy with data analysis
The first step to app monetization is analyzing data and user paths. These basic actions will help you determine the barriers to generating more revenue, and pinpoint where users get stuck in the sales funnel, e.g. the payment gateway, a digital form or in between stages.
Once these drop-off points have been identified, you can send push notifications to hesitating users, offering real-time assistance or an incentive to take the next step.
The same concept applies to upgrades and upsells. A few days after a user has completed a purchase successfully, try sending an email showcasing additional and relevant products on sale, attractive deal offerings or upgraded subscription packages.
2. Conduct surveys
User and market surveys are a great way to find out which app features are most valuable for your users, missing or most anticipated functionality, competitive analysis or pricing benchmarks.
3. Give a little, get a lot
Sometimes offering certain features for free is a cheaper revenue stream than acquiring users.
By letting users experience your app's premium features for free, you're giving them a commitment-free taste for these features' added value, which will undoubtedly have a positive effect on your upgrade rates.
4. Make them an offer they can't refuse – Incentivization programs
Reward programs make users feel valued, and strengthen their sense of brand loyalty.
Apps that use in-app purchasing as their main monetization model, for example Quick Service Restaurants (QSR) apps, could benefit from time-sensitive discounts or special offers, whereas freemium apps can incentivize users with usage-based rewards.
5. Leverage attribution and measurement
By combining in-app ad revenue and in-app purchase (IAP) revenue, marketers can measure the full mobile LTV and ROI of each campaign and optimize accordingly.
These insights make a huge difference for businesses reliant on in-app ad revenues streams, and are key to making data-led campaign investments and optimization decisions.
As competition intensifies and media costs are on the rise, having a full picture of incoming revenue from multiple revenue streams is vital, enabling marketers to spend more while remaining profitable.

Chapter 6
Churning tables – tips for boosting re-engagement
According to multiple sources, acquiring a new user is 5-25x more expensive than retaining an existing one. Think about it. What's the point in neglecting the very users you've spent countless marketing dollars on acquiring?
The numbers reflect a tough reality. We can see that across the board, the average app's retention rate falls to 21% after the initial 24 hours. By day 10 this figure drops to 7.5%, and after 90 days it's a measly 1.89%.
Raising your app's retention and improving uninstall rates – even by a small amount – can have a major impact on your bottom line.
So to help you fight churn, here are a few re-engagement activities that you can start implementing today:
1. Fire segmented push notifications at the right time
As with every step of mobile user engagement, churn prevention also begins and ends with data analysis.
Analyze your user paths to identify the typical time period after which inactive users are unlikely to return to your app again. Use surveys to pinpoint why your users decided to stop using your app or even jump ship. Identify the re-engagement incentives your users tend to respond to the most.
If you know that more of your users are engaging with your notifications in a certain region or time of day, you can hypothesize the specifics that will help to improve your re-engagement strategy with greater accuracy.
Equipped with these insights, try to engage your users with a special offer for paid features they seem to value the most as soon as they begin to give out worrying usage or behavioural signals.
2. I just called to say I love you – Reach out to your uninstalled users
One of the common mobile engagement best practices is to send a "we miss you" email to uninstalled users, which is also a fantastic opportunity to ask for feedback and get honest input.
3. Be specific – The magic is in the details
Offering tangible value using creative and specifically tailored push notifications – should be your weapon of choice when it comes to retaining idle users.
And since gaming apps tend to do this very well, let's see a few examples of fun, personalized push notifications designed to get gaming users to re-engage, and maybe laugh while they're at it: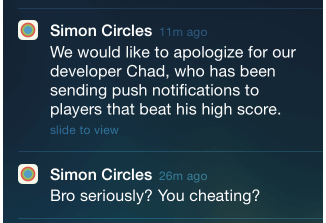 Key takeaways
Key takeaways
Increasing app engagement rates is one of the main goals of app owners as it's the main driver of customer loyalty and lifetime value (LTV) growth.
Although different apps focus on different sets of identifiers, app engagement is usually measured using a combination of: active users, app opens, session length, session intervals, behavior flow, conversion, communication, LTV, and retention rates.
Unfortunately, there's no golden rule for executing and maintaining a flawless app engagement strategy. This is a never-ending process of tweaking and re-tweaking that heavily depends on your line of business, competitive landscape, and unique business goals.
Experiment with different tactics and hacks during various user journey phases, and see what works best for your brand. Keep in mind that hard work pays off, and eventually you will be able to fine tune a winning performance growth strategy that will be perfectly tailored to your business needs.