Chapter 1
Intro to ROX – and how it links to premium customer experience
ROX, or return on experience, is a measurement framework that provides an accurate gauge to assess the success of your cross-channel campaigns, and its effect on business performance and KPIs.
But to understand what ROX truly means and how it can be measured, we must first define what has become the new industry standard for brand success — customer experience (CX).
We'll see what counts for good and bad CX, and how meaningful experiences can fortify mobile and mobile app journeys, creating holistic, seamless and joyful consumer paths that result in enhanced user engagement, user acquisition (UA) and lifetime value (LTV).
So what is CX?
To quote Oracle: "Customer experience (CX) refers to how a business engages with its customers at every point of their buying journey. In large part, it's the sum of all interactions a customer has with your brand."
Let's break down the three key pillars good digital CX consists of:
Contextualization – offering customers an experience that maintains a constant dialogue that is consistent with their current journey status, previous actions and present needs.
Personalization – none of that robotically generic yawn-fest. Personalization has become so ubiquitous that most customers nowadays expect nothing less.
Frictionless – enabling your customer to get from A to B with zero hassle along their user journey.
Why is CX a pivotal component for brand success?
For the simple reason that it's vital to the happiness and loyalty of your customer base, which will later translate into boosts in UA, average order value (AOV) and LTV.
From the consumer standpoint, fantastic CX is nothing short of mandatory when it comes to preserving their loyalty to a brand. In today's highly competitive mobile market, where alternatives abound and consumer devotion is a precious commodity, if your CX is poor or inconsistent, your competitors are literally a swipe away.
What do we mean by poor vs. good CX?
A very relevant example of poor CX would be generic customer journeys that are neither contextualized nor personalized. An even worse example would be broken paths throughout customer journeys.
Let's say we just got an email with an enticing summer sale coupon from AwesomeSportswear.com, and decided to go for it. But after trying to complete checkout, we found that our coupon wasn't redeemed and our final price remained annoyingly full.
Now, imagine yourself ordering a pair of running shoes from TheGreatOutdoors. Shortly after starting to use their training app, they send you an email with a special offer on their Dry-Fits. Contextual? You bet. Personalized? Very. frictionless? Blissfully so.
Fantastic mobile CX equals fantastic ROX, but we'll explain more about this before you can say "I don't trust marketing concepts that sound like a dog's name". So bear with us!
What are the challenges of putting in place and maintaining great mobile CX?
"Over 70% of CX leaders struggle to design projects that increase customer loyalty and achieve results."

Gartner
On the one hand, mobile marketers are expected to continuously develop effective CX strategies to optimize customer interactions and drive business outcomes.
On the flip side, while CX is often the goal, mobile marketers operate in a deeply fragmented world of siloed systems, channels, devices, identifiers and environments, turning accurate measurement of value and true business impact — into a daily struggle.
What makes this even more challenging is the fact that your customers don't care about this complexity, and expect consistently superior CX across all available channels, e.g. mobile, web, email, text, and social media.
Take personalization, for example. According to Salesforce's 2021 "State of the Connected Customer" report, 52% of customers expect offers to always be personalized — up from 49% in 2019.
This, however, is their reality: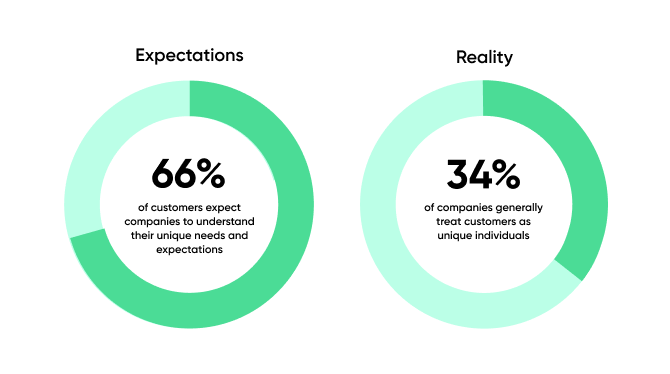 In addition to dealing with the complexities of channel marketing and personalization, making the most of existing owned channels, especially when budgets are tight, poses another serious challenge for brands' UA and re-engagement activities.
How do we connect the dots and cement all of our customer-facing channels into a smooth, glitch-free ride, so we can ensure a contextualized, personalized and cohesive CX?

Chapter 2
Enter ROX – The race to customers' hearts
What is it really?
We all know and rely on return on investment (ROI) as a key metric for estimating the profitability of monetary investments, e.g. paid campaigns. ROI measures the performance of financial investments on our campaigns.
That being said, it's not always enough. After creating dedicated experiences within a given campaign, how do we measure the changes driven by these experiences?
Instead of the traditional assessment of "money in vs. money out," which measures how much money we invest and how much money we get back in a given timeframe, ROX measures the financial impact of experiences on campaigns, making it a more scalable, ongoing derivative of ROI.
It's the effort to leverage campaign-focused activities that have a decisive influence on CX, which will eventually have a positive effect on your bottom line in the not so distant future.
Turning CX into the embodiment of your brand
Exceptional companies are experts in making their brand synonymous with the experience they deliver to their customers: Apple doesn't sell tech products — but a sought-after status symbol. Volvo doesn't sell cars — but safety. Old Spice doesn't sell male grooming products — but confidence. And IKEA doesn't sell affordable furniture — but "a better everyday life".
These clever slogans must ultimately manifest themselves into real experiences when we, as customers, interact with these brands.
Because of that, companies that invest in outstanding digital CX often find that it results in measurable growth in brand awareness, digital conversion, customer loyalty, employee retention and advocacy.
Why does ROX matter?
Whether you're in retail, gaming or FinTech, delivering superior digital CX is the key to customer success, customer retention, and business growth. The "State of the Connected Customer" indicates that four-fifths of customers place the same emphasis on flawless engagement as they do on product quality.
Clearly, extraordinary experiences help companies earn more than sales — they build relationships. According to eMarketer, 94% of US consumers would purchase again from the same brand if they were offered excellent CX. 94% of these consumers would also recommend that brand, and 77% would forgive a bad subsequent experience.
ROX helps brands understand the value they are getting on investments in customer engagement or brand experience, and clearly outlines which digital initiatives to invest in to win.
If ROI captures the value created by a specific activity, ROX focuses on how changes to CX positively impact customer LTV, and the financial well-being of the business. And while not being a siloed metric that can be extracted using out-of-the-box formulas, such as the case with net promoter score (NPS) or brand health index, ROX can be more easily measured on a campaign level.
Traditionally, we're used to measuring marketing activities by crunching a lot of different numbers coming from a lot of different sources. But often, these numbers are not a great help when you try to find out what you should be doing differently or what needs to be improved.
The key is to focus on combining internal and external data sources that provide insight into which experiences are delivering the desired results. Armed with this knowledge, you'll be able to invest more in the areas that are crucial to your brand's success.

Chapter 3
Who's embracing ROX?
When looking at leading brands, one aspect they all share in common is phenomenal CX and a cross-channel ROX-focused approach.
Customer-centric giants such as Amazon, Apple, Uber, and Zappos all invest heavily in memorable digital CX that is distinctly their own. Leveraging data to tie their CX into actionable insights, enables these brands to harness the power of mobile with fantastic customer engagement, to fire up their ROX and drive their business forward.
Market leaders like Salesforce, Adobe, Braze, as well as consulting firms like Forrester and PwC, all tie ROX to true market leadership, and the ability to boost returns by connecting experiences.
ROX is at the forefront of companies that are out to leave a mark, whether in B2C or B2B. After all, we're all people.

Chapter 4
Fueling mobile apps with CX
Mobile apps are currently a $6 trillion market, boasting an impressive 37% increase in CAGR over the past five years, that has been made even more prominent with the recent pandemic. The answers to "why mobile" are pretty self-explanatory: ease of use, instant availability, faster operation, and enhanced personalization, to name a few.
These distinct advantages enable a firm foundation for supreme CX, and it's therefore not surprising at all that digital CX and mobile CX are rapidly becoming synonymous.
Over the past year, COVID-19 brought with it a cross-vertical surge in mobile app usage, and made it clearer than ever that brands have to focus their marketing efforts on creating personalized, relevant mobile-first CX.
But what if instead of trying to create new experiences from scratch, brands could create a solid CX foundation by leveraging channels they already own, without having to build a paid media strategy behind it?
The good news is that driving stronger end-to-end customer engagement is easier to deploy and maintain than ever before.
If brands adopt the right tools, they can execute truly connected, cross-channel campaigns that encompass their mobile app, web, social media, SMS, email and referrals, and by doing so — catapult their UA and re-engagement strategies to the next level.
Let's make music together – Campaign orchestration using deep linking
Industry experts are unanimous in viewing a cross-channel approach, where in-product and out-of-product messaging (e.g. email or SMS) are combined, as immensely more effective than sticking to a single channel.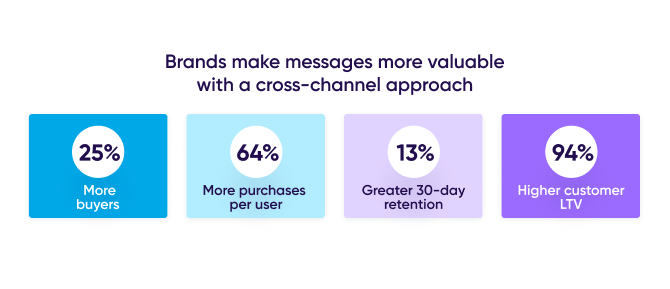 Salesforce's recent report states that 76% of customers expect consistent interactions across departments, yet 54% of them say it generally feels like sales, service and marketing don't share information between them.
Despite the fact that in recent years, more and more brands focus their customer engagement efforts on mobile apps, managing to connect all or even a few dots across all touchpoints, can pose significant challenges.
To ensure success, it's extremely important to coordinate messages across channels, devices and touch points, and understand that customer engagement success relies largely on the creation of personalized, contextualized experiences across the entire user journey.
Think about how CX takes a direct hit if a customer is bombarded with the same "don't miss out our special!" message across email, text and in-app push notification, despite the fact they already took advantage of that special on Instagram last week.
Now think about a user receiving message X on touchpoint Y, and then a corresponding message on touchpoint Z based on their reply on touchpoint Y. Seems complex, right?
How do we ensure all channels play in harmony? And how can we create as coherent an experience as possible across touchpoints?
Deep linking – there's a (not so) new sheriff in town
Deep linking allows brands to lead mobile users directly and seamlessly from ads, emails, text messages, social media posts, web, offline campaigns and referrals to an in-app page, such as a special offer landing page or signup page.
How?
Imagine yourself clicking on a promotional email that offers a 10% discount on your Uniqlo order, and then get immediately directed to the in-app page of that gorgeous smart-casual coat you laid your eyes on, with your discount already included in the offered price.
Would that count as a contextualized, personalized, and smooth CX? The answer is a resounding yes.
Nowadays, deep linking is an all-pervasive component of the mobile marketer's stack. However, it's imperative to keep in mind that without comprehensive, end-to-end measurement, we won't be able to see the full picture of our cross-channel install conversion rates, in-app events or revenue.
To be able to measure ROX, optimize our campaign performance, and make informed, data-driven decisions, we must have holistic attribution data tied into the backend of our deep linking tool.
The impact of deep linking on ROX
To learn more about various experiences and their contribution to seamless and contextual user journeys, see chapter 6.

Chapter 5
ROX in numbers
How to calculate ROX?
The first stage is to identify the metrics you want to use. Once done, the following is a relatively straightforward equation to get you started:
ROX = Benefits (e.g. revenue) / Cost of experience (e.g. software, manpower, services) x 100%
If your inputs and outputs are clear, all you need to do is add up realized gains (or losses — hopefully not), and divide by the sum of the costs invested in bringing that experience to life. Then multiply that number by 100 to get your ROX as a percentage.
How to calculate ROX?
Let's dive into a theoretic scenario so we can better understand how the ROX formula is put to use in the real world:
An imaginary US-based grocery retailer called FreshBuy recently launched a new app. After noticing it generated a dramatic spike in conversion rates, they decided to launch a Smart Banners-based campaign that would drive more mobile web users into their native app.
FreshBuy measured two parameters:
Benefits – Over the period of 6 weeks, the incremental lift in revenue was $2.2M.
Cost of investment – Marketing = 3 hours for the hourly rate of $64, design = 3 hours for $38 p/h, development = 2 hours for $51 p/h, and operations = $1,286.
Our ROX formula will look as follows:
$2.2M / $1,694 = ROX 129,870%
Disclaimer: The ROX formula refers only to monetary values such as revenue. While some choose to plug in other parameters like engagement or conversion, these measures should still be translated into revenue before applying the formula.

Chapter 6
It's all about digital experiences
When you're a mobile marketer, the landscape you operate in is a vast ocean of potential complexities, making it increasingly difficult to monitor and optimize your campaigns, not to mention cultivate a seamless user experience across all of your owned media channels.
Attribution-fueled deep linking is one of the best and easiest methods to enable your customers to float through their user journey, in a personalized and hassle-free way, while linking your siloed channels into one cohesive CX platform.
Why do deep linking experiences matter?
Customers crave CX delights. Brands that contextualize their user journey, acknowledge their customers' history and preferences, while removing as many obstacles along the user journey as possible. This creates a solid and loyal customer base that is happy to spread the good word across social media channels, leading to organic boosts in brand awareness and UA.
Building a long-lasting relationship with your customers starts with creating a cross-channel strategy of consistent and personalized CX. By treating your customers to value-packed deep linking experiences, your brand can leave a lasting impression, which will translate to enhanced user engagement and a more solid brand loyalty.
Smooth, personalized experiences help to create a clear competitive edge. At the end of the day, products, websites, and even brand messaging could sometimes sound like more of the same. An outstanding and truly unique CX could catapult your brand beyond all the rest.
What types of experiences are brands implementing to ensure a smooth digital CX and positive ROX?
Let's review a few key journeys that focus on the acquisition and re-engagement stages:
Journey #1 | Web-to-app
Web-to-app experiences convert your web visitors into loyal app users by capturing mid-funnel, high-intent users that hit your site.
This gives you the opportunity to let them know your app is a click away, and offer them some sort of an incentive to install it, leading to a frictionless digital journey.
Starting on your website, or initiated by campaigns that lead to it, Smart Banners and deep linking scripts dynamically generate links behind banners, web copy, CTAs, and badges to effectively drive and measure traffic to your app.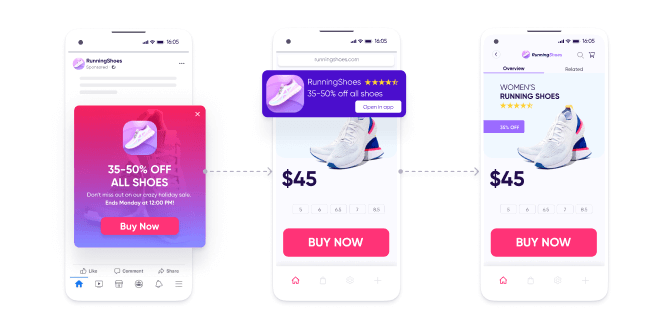 Web-to-app experiences are showcasing promising success rates when it comes to driving ROX, especially through conversions.
Users on a brand's website already have relatively high-intent, so if they click through an ad to install an app, there's a good chance they'll end up installing it. Because of this, brands using AppsFlyer's web-to-app solution report an average of 5% click-through-rate (CTR) and a whopping 25% click-to-install (CTI).
Journey #2 | Email-to-app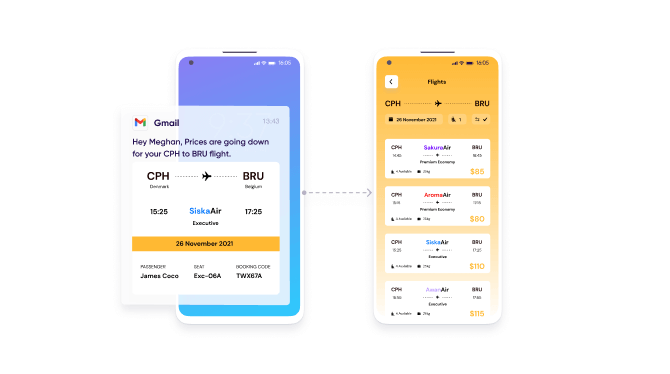 Email-to-app experiences ensure contextually relevant journeys, combining powerful deep linking with email service providers (ESPs) and app attribution metrics.
They enable brands to smoothly deliver users from their mobile inbox to specific in-app content, ultimately allowing you to drive higher conversions, LTV and engagement.
The best part is that tight integration with ESPs means no broken links, empowering you to connect the dots between email and app attribution metrics.
Email-to-app experiences have been proven to be a fantastic way to boost click-to-install rates by 4x (compared to generic journeys), gain insightful visibility into email engagement and in-app events, and eliminate friction caused by ESP link wrapping.
Note that in order to ensure smooth operation, a great email-to-app solution should always support key providers such as Adobe, Salesforce, Oracle, Mailchimp, Braze, and other popular platforms.
Journey #3 | Offline-to-app
With the recently growing sensitivity to contactless interactions and the privacy challenges they might present, QR codes have emerged as an important tool for driving UA at key points in the physical shopping journey.
Offline-to-app experiences enable brands to bridge the gap between offline and online marketing campaigns, by routing users seamlessly from QR code scans into your app.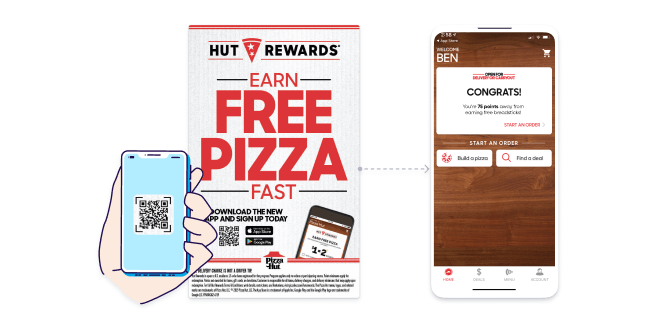 Offline-to-app experiences connect the physical to digital with ease, and convert large offline audiences into high LTV app users. They're your best way to turn packaging, posters, and in-store displays into an opportunity for driving UA and engagement.
Journey #4 | Social-to-app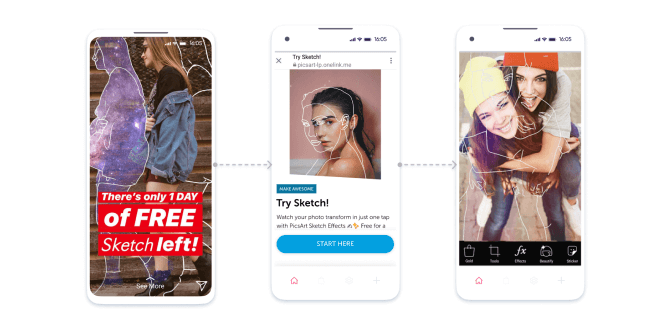 Social-to-app experiences deliver friction-free paths from today's #1 go-to channel, directly to your app.
By routing users from social media feeds to landing pages, you can engage the right users and serve them the most relevant, contextual in-app content.
Social-to-app experiences enable you to create smoother CX paths, eliminate broken links and fragmented customer journeys, and convert high-intent visitors from your social campaigns into loyal app users.
Journey #5 | Referral-to-app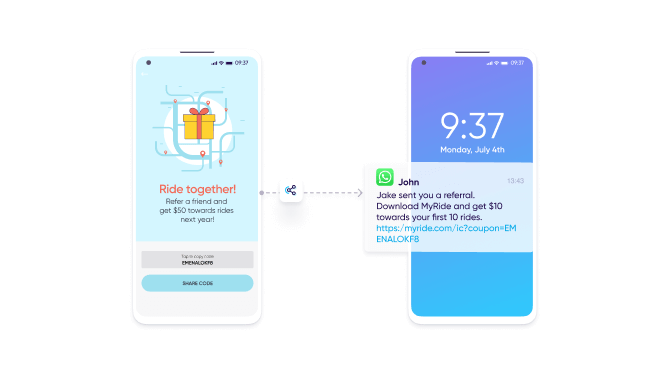 Referral-to-app experiences enable you to unleash the power of word-of-mouth, helping you drive new users to your app, by building on the trust element cemented by friends.
Leveraging direct referrals, user invites, and content sharing, referral-to-app experiences are essential to building frictionless paths from a user share, directly to specific in-app content, enhancing LTV and driving UA.
Journey #6 | Text-to-app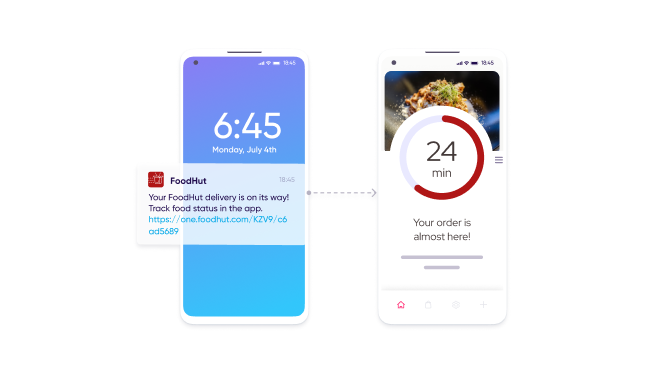 Since device-native and messaging apps (e.g. WhatsApp, WeChat) score high on open and response rates , it's critical that links deliver users to contextual in-app content in a reliable and uninterrupted way.
Text-to-app experiences allow brands to engage users with discounts, limited-time offers, and time-sensitive messages, using dynamically generated short links.
Building experiences for messaging, SMS, and push notifications, enables you to
tap into this powerful, high engagement channel that showcases a 98% read rate and 45% response rate.

Chapter 7
What does successful ROX look like?
According to a recent survey by Adobe, investing in CX brings 1.7x higher customer retention rates, 1.6x higher customer lifetime value, 1.5x more happy employees and 1.4x revenue growth.
Let's have a look at a few brands that know how to delight their customers with remarkable digital CX, yielding great ROX as a result:
Example #1 | Web-to-app & referral-to-app enable Letgo to boost UA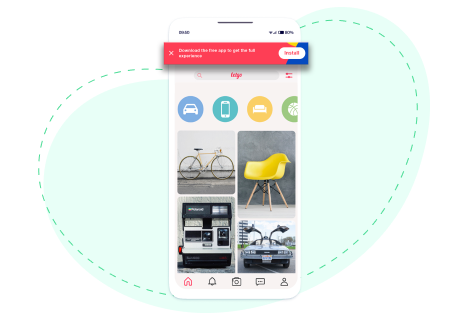 The untapped potential of word-of-mouth
Letgo were looking for an effective way to streamline conversion of their web visitors into loyal app users, and enable contextually relevant user referrals.
To address that, Smart Banners and user referrals brought an increasingly growing stream of shoppers to the app.
It's all about users-empowered growth
As we already know, referral-to-app campaigns drive a deeper level of customer engagement. People are not just using the app, they also share it with their friends and encourage organic installs.
Letgo tapped into the power of word-of-mouth referrals to drive bottom line revenues and created powerful growth loops, by getting existing users to share their app with new users.
Using attribution-backed deep linking, Letgo repeated these growth loops continually with new Letgo app users, which enabled them to single out the highest performing banner.
The impact

Example #2 | Offline-to-app enables Kabam to recruit new OOH gamers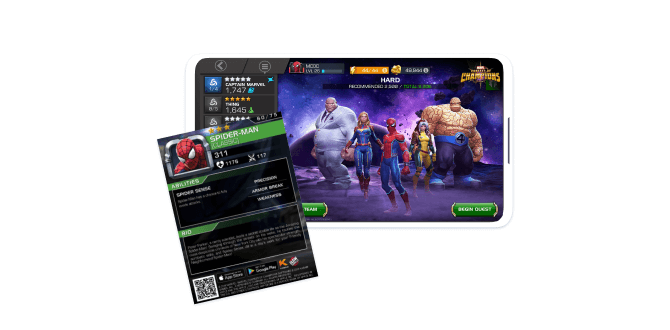 The unreachable audience
Kabam had to unlock new gaming audiences who cannot be reached via traditional mobile channels. Their solution? Arcade machines that extend playing cards with a special offer: deep linking-powered QR codes to unlock a playable character.
Harnessing QR codes & deep linking to bridge between two worlds
The native mobile format of Kabam's games excluded a large segment of gamers who didn't yet embrace the mobile gaming platform.
How could Kabam's team of experienced UA managers increase usage among their core user base, while also introducing Marvel Contest of Champions to non-mobile gamers? For inspiration they turned to the roots of gaming itself – the arcade.
But to effectively convert arcade gamers into mobile gamers, the team needed a way to seamlessly direct them to the mobile game and measure their activity. A QR code powered by deep linking transformed the Champions Cards from a collectors item, into an effective user acquisition channel.
Once scanned, the QR code either added the character featured on the Champions Card to their mobile game or directed those who didn't have the app to download it.
This way, Kabam's users were being directed to the most valuable destination every time, without custom configurations or interstitial pages.
The impact

Example #3 | Referral-to-app enables CRED to drive quality UA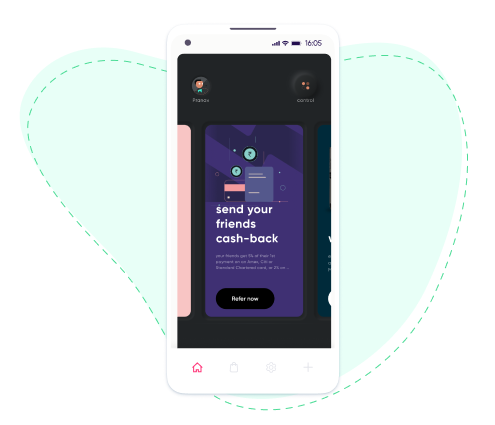 With a little help from their friends
CRED's goal was to expand its user base by using a referral rewards program. Using in-app invites (instead of referral codes), and utilizing real-time webhooks to reward users making a referral, they were able to achieve that with flying colors.
Smoothing out a bumpy journey
In the highly competitive FinTech market, CRED needed to expand faster, relying on an effective referral program to grow its user base. This program allowed marketers to effectively leverage word-of-mouth and virality, while ensuring and validating user quality.
The product and marketing teams needed a scalable and stable method to reward both referrers and the users they refer to the app.
However, several challenges stood in the way. First, how could referrers be rewarded based on the in-app actions of the referred users, and not merely on their install? Second, CRED wanted to drop referral codes altogether to ensure a seamless user experience, while avoiding the overhead of reconciling referral codes for rewarding users.
Finally, CRED wanted a platform-agnostic mechanism to attribute referrals across both Android and iOS.
invite their contacts in-app instead of using referral codes.
The app generates shortened and customized deep linking URLs that referred users can use to download the app directly. Through clever webhooks and APIs, CRED then receives attribution data in near real-time, and after performing the required in-app actions, both the user and their referrer are rewarded.
The impact

Chapter 8
Deep linking-charged CX & key points to consider
Attribution and deep linking are core pillars that growth teams can rely on to execute against KPIs, because their undeniable value can be proven almost immediately.
Here are a few key takeaways to consider when on the lookout for a solid deep linking solution to supercharge your CX:
Identify a solution that works across all of your marketing channels – Make sure that you can use deep linking to create awesome experiences across paid media — e.g. Facebook Ads, Google Ads, and ad networks, as well owned media such as email, mobile web, SMS, and QR codes.
Make sure your deep linking is in sync with the latest privacy and security guidelines – As the industry continues to evolve, it's never been more important to ensure that your campaigns comply with the most up-to-date user privacy and security regulations, while supporting your growth goals.
Pair deep linking with mobile attribution for higher ROX – While often misconstrued as two separate technologies, attribution can enable some forms of deep linking, in which case the underlying technology powering both is the same.
Consolidate deep linking and attribution in your tech stack – Other than maintaining consistency in reporting and minimizing wasteful labor, implementing one consolidated solution will also help your marketing teams operate more efficiently. No more going back and forth between two separate systems and dealing with inconsistent data from different vendors.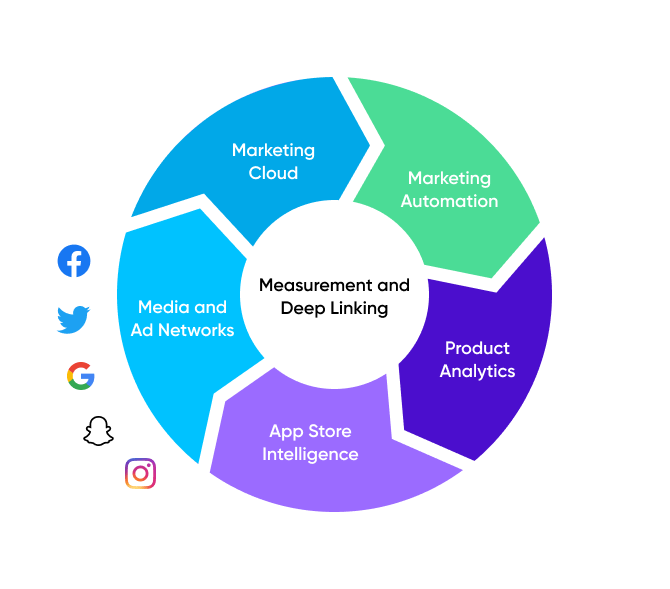 To learn more about how to use deep linking to ignite your ROX, visit: https://www.appsflyer.com/product/one-link-deep-linking/