Chapter 7
Optimizing UA Performance with Attribution Data
User acquisition is an evolution in progress, but its underlying truth remains the same: to generate demand for an app that will lead to positive ROAS and improved profitability. Doing so requires extracting useful insights about app installs through marketing analytics that are tied to attribution data.
As mentioned earlier in chapter 2, your attribution and marketing data, especially in its raw, granular form, is truly mission-critical for getting deep insights on your campaigns, enhancing marketing performance, and optimizing your ROAS. It is used to guide budget allocation and inform decision-making on multiple levels: from channel, source, publisher, and campaign to creative.
You can see in the two images below that, within an attribution provider's dashboard, marketers can monitor KPIs, acquisition trends, and view data broken down by media source, including cost, install data, loyal users, lifetime revenue, ROI, uninstalls, in-app events, assisted installs, and geographical distribution.
Mobile marketers can get deep insights to learn which promotions drove and/or assisted each install, revealing the customer journey via multi-touch attribution models.
Attribution reports also offer extensive retention and cohort data. For example, it is clear from the following chart that Network 1 has the highest retention rate from the get go, while Network 2 starts and remains strong, albeit with less favorable performance than Network 1. Network 4 has the lowest retention on Day 1, but over time, it is Network 5 that loses the most users, as only 4.8% remain after 10 days.
To give more global and regional context to your retention data, check out our recent 2018 App Retention Benchmarks report.
On the other hand, a cohort report enables you to segment audiences based on common characteristics and measure specific KPIs over different timeframes. In the following example, the cohort includes users from Great Britain who installed the app between January 1 and January 31, also grouped by the media source that acquired them. With this categorization, we can then analyze which network delivered users with the highest average sessions per user over time.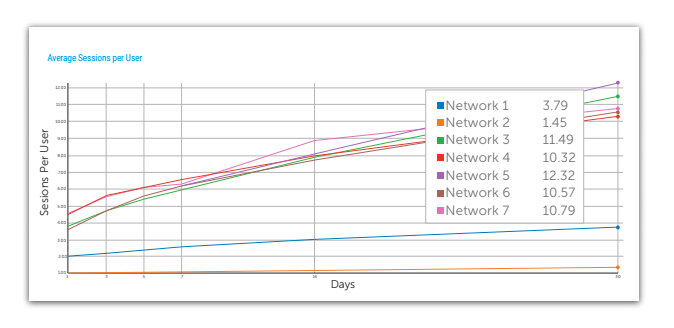 Cohort analysis is distinctly calculated per different timeframes representing the first X activity days per user, and is then accumulated among all users (explaining the graph's upward direction).
In this case, what are the key insights?
Networks 1 and 2 underperform and should be considered for removal

The growth of Network 5 (purple) is most impressive and constant over time – it makes a lot of sense to therefore increase its budget

As indicated by the dropping curve for Network 7 (pink), engagement is dropping. Perhaps a retargeting campaign before day 14 can help maintain the curve in the long run.
For more information on attribution dashboard reporting, see our Getting Started with Mobile Attribution guide and marketing analytics pages.
Inform future spend decisions with granular measurement of your users' actions
In today's complex and competitive mobile landscape, a basic UA strategy that doesn't factor in specific audience profiles and consumer behaviors simply won't cut it.
Let's explore some of the most powerful audience segmentations you can generate to improve your key metrics and bring your app to success.  
Boost UA by mapping in-app events that matter
First and foremost, you can increase UA and engagement by mapping important in-app events in your funnel.
With that data in hand, you can optimize your UA campaigns based on the sources that deliver users with this behavior and deliver customized messaging for more installs, higher engagement, and performance uplift.
In the chart below, we can see a report on ARPU broken down by source. Assuming that, in this case, we are looking for users with a high threshold of in-app spend, we can see that our email and SMS owned media channels, as well as Networks 1 and 5, are the highest performing and should receive more of our marketing budget.
Segment by custom audiences to target high-value users
Custom audiences are segments of users that have been constructed based on parameters you have already set to define your high-value users.
The idea here is that, once you've gathered granular data on these target audiences, you can use that to optimize your UA campaigns towards high-value users that similar traits, demographics, interests, and/or behaviors to your converting clients, otherwise known as lookalike audiences.
Note that you can specifically target "lookalike audiences" on Facebook, and similar segmentations (called Similar and Tailored Audiences on Google and Twitter, respectively) on other media sources, based on their rich behavioral and demographic data.
Create a segment for cross-app promotions
In some instances of UA, you may have existing active clients who interact frequently with one of your apps, but not with others. Audiences of those users are therefore low-hanging fruit for increasing installs, engagement, and revenue in other apps, especially more likely if the apps are related in some way. In these situations, in-app push notifications can capture your users during their live engagement.
Retarget users who didn't convert
Although this guide is primarily focused on UA, we cannot talk about audience building without mentioning retargeting. The most basic way to optimize with your data is to set up audiences of users who clicked or interacted with your ads but didn't complete the installation. Retargeting these users can help to improve conversions and re-establish your connection to them for greater retention.
Conclusion
Your marketing analytics will reveal which of your promotions are most fruitful. The data delivered in your attribution dashboard can help you create segmentation strategies for more effective retargeting and tactics to boost engagement and sales.