Chapter 8
The Essentials of App Store Optimization (ASO) for UA
Search engine optimization in the app ecosystem has its own name: App Store Optimization (ASO).
Most people search for apps in the App Store or Google Play. As such, ASO is a major battleground for app publishers and marketers. However, like Google and other web search engines, the algorithms used by the app stores are mysterious black boxes.
Overall, we can say that in the last couple of years a lot more emphasis has been placed on quality (e.g. app engagement, uninstall rate, reviews, ratings) rather than quantity metrics (sheer number of downloads).
You can liken ASO to SEO for your mobile website, because the overall strategy is the same. However, some tactics differ. Also, although the ASO process for both Google Play and Apple's App Store are based on the same principles, they too differ slightly in execution.
The essentials of ASO fall into three main categories:

Keywords

Visuals

Off-site factors



We'll dive into each now.
Choosing keywords for ASO
Though search engines continue getting smarter and more semantic, keywords remain the top dog for ASO or any type of search. The biggest mistake brands make remains the same as well: they put too much emphasis on search volume.
The top priority should be choosing the relevant keywords for which you have the best chance for achieving a high ranking. Keep in mind, a keyword may get thousands of searches a month, but if your app ranking is buried deep in the results, you've done yourself no service by attempting to rank for the keyword (or phrase).
Keep in mind:

Google Play reports that 60 to 75% of the keywords that drive installs target long-tail keywords (three or more words).

Work with the keyword suggestions provided by the stores – they know what they're doing.

It's best to target at least 120 keywords per country.
Your ASO strategy depends on getting inside the mind or your customers and unearthing the natural language they use to describe the app they seek.
Here's a great list of questions to examine, from a guest post on the Moz blog.
Once you've got a list of the keywords you want to target in hand, here's how to go about using them.
The all-important title keywords

Don't use special characters in your app title.

Don't use category words (free, game, puzzle, etc.).

Google Play allows for 30 characters.

The App Store will only display the first 25 characters in your title.

The App Store also allows for a total of 100 characters to list your keywords. Use them wisely.

Skip stop words.

Separate your keywords with a comma.

Use numerals – don't write out numbers.

Don't repeat the app name.



The app description
In this space,

offer compelling copy

about the features and benefits users can expect from your app.

Don't keyword stuff but repeat your keywords up to five times.

Front-load the descriptions with keywords so they appear in the truncated descriptions presented.

Don't use testimonials, but consider mentioning social proof such as awards and reviews.
Localization
Treat localization as a key optimization process. If your audience goes beyond the English-speaking world, adapt your communications to the wants and needs of each geo-based audience segment.

Your product page should be localized for multiple countries.

Depending on your app and target audience, it may be helpful to localize your keywords. Essentially, this means translating your title, the first sentence or two of your description, and your screenshots.

Localize the graphic elements.
Visuals
Great images can be the difference-maker that inspires users to click on your app. Technically, your visuals aren't going to affect your rankings, but they will affect click-through results.

Your app's icon makes an important first impression. Make sure it's simple, but consistent with the app's design and company brand. Don't use text.

Both app stores provide slots for multiple screenshots. Use them all, but pay special attention to the top two slots. Avoid dull screens such as menus.

Screenshots should show off your app's best features, latest updates, and the pages on which your customers will spend the most time. 
Video
You can also add a preview or promotional video to your app page, which can be extremely compelling. Make your video exciting in the first few seconds.  
Off-site ASO factors
You can't control off-site ASO factors, but each of the following have an impact on your rankings:
User feedback




Apps that have the most positive ratings will consistently surface at the top of the charts. Ratings are all-important for both rankings and conversion.

Ratings extend beyond app store optimization into the realm of online marketing. For example, Facebook's App Install Ads and

Twitter's App Cards

pull an app's average rating and display it alongside only the app's name and icon

Ensure at least 1% of your users rate it.

Maintain an average rating of at least 4-stars, and of course, aim to earn 5-star reviews.

Volume of downloads and uninstalls

User engagement (opens, session length, etc.)

Retention and re-engagement

Updating your app encourages users to re-discover portions of your app and improve retention.

Leverage push notifications to encourage re-engagement (and sales).

Bonus tip: Push notifications containing emojis are opened at higher rate.

Growth trend line



Outside promotion
ASO experts believe your app's total page visits and product page backlinks are also factors determining your search ranking.
The basic idea: the more traffic your listing gets, the higher it will rank in search results. You can drive traffic to your listing by:

Posting social media updates

Publishing content

Soliciting press and reviews

Running ads
App indexing
Gone are the days when apps were an isolated silo separate from the web. Today, it's common for people to use multiple devices and platforms to perform the same task, and it's even possible to discover mobile app-only content via desktop search.
Enter app indexing—the process of making app content searchable and linkable from a web or mobile web search. In 2015, Google began indexing Android and  iOS apps. App content can now be discovered and deep-linked from a Google search. Bing has done the same.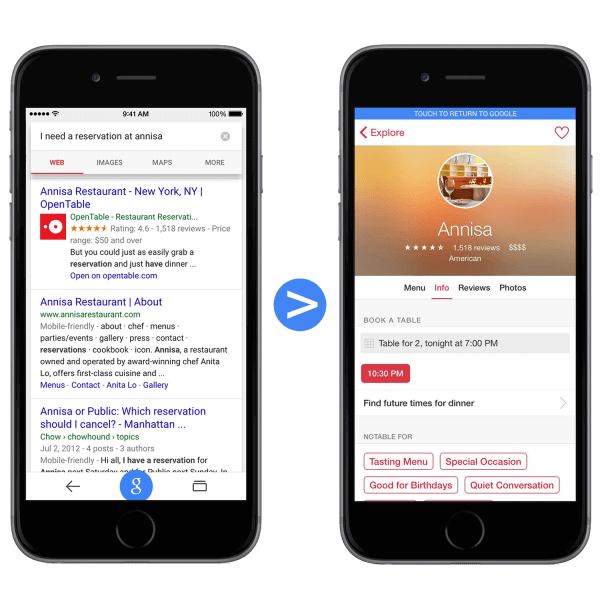 When users who does not have your app installed click on a search result, the deep link redirects them to the app store listing page. If they do have it installed, they arrive on the page in your app from which the content is indexed. As such, app indexing helps with both re-engagement and acquisition by promoting your content in new channels.
A case study by Google (from 2016) states 50 billion links within apps are indexed and 25% of searches on Android return deep links to apps for signed-in users.
Ongoing optimization
Though you've taken care of the ASO basics, remember it's a process. Conduct regular testing, analysis, and optimization of the various elements of your app page and listing. Look at what your successful competitors are doing and see if there you can apply even more optimizations.
Conclusion
Mastering ASO calls for a keen understanding of keywords and using them alongside the most impactful visuals. While you can't control off-site ASO factors, keep in mind that they too will affect your rankings.