Deep Linking: Is Now The Time For Mobile Search Ads?
When it comes to mobile app user acquisition, paid search just isn't the 800 pound gorilla it is for online ads.
And this trend isn't new. According to eMarketer, Google's been losing paid search dollars to search apps for the past couple of years. Google's mobile search market share has dropped from 82.8% to under 66% during this time.
Why hasn't paid search taken off? Well, for starters mobile users prefer to use mobile apps as opposed to browsing the mobile web where paid search lives.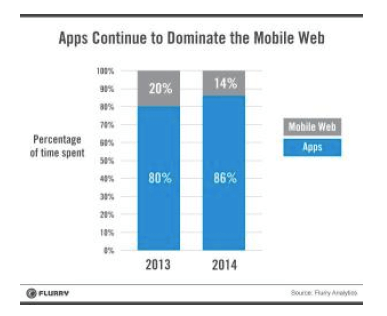 The other reason paid search hasn't really taken off on mobile is because the technology just wasn't there.
Mobile advertisers traditionally had two options for paid search:
Send searchers to a mobile optimized site
Use deep links instead of regular links in ads
We know that mobile users prefer mobile apps to the mobile web, so sending searchers to a mobile site isn't an attractive option for most consumers.
The other option, deep links, hasn't been a very smart technology until recently. A mobile deep link is a link that when clicked, launches a specified mobile app on the user's phone with a specific page of the app open (such as opening to a specific product page).
Deep links lose their usefulness when clicked on by someone who doesn't have the app installed on her phone. When the user doesn't have the app already, the deep link will send the mobile user to the app store in order to download it. That's it, end of process, conversion killed. The next the mobile user launches the app, she'll see the same home screen as everyone else, not the special in-app landing page built to complete the conversion from the mobile ad.
Enter Deferred Deep Links
Deferred deep links offer some hope.
Basically, deferred deep links finish the process that regular deep links started. With deferred deep links, the process works like this:
The mobile user sees an advertisement and clicks on the deferred deep link
The link checks if the user has the app already

If not, the user is sent to the app store to download the app and then on first launch, the app opens to a specific in-app landing page to complete the conversion
If the user already has the app, the app will launch and open to the specific in-app landing page
You can get a better idea of how this works from AppsFlyer's deferred deep link OneLink: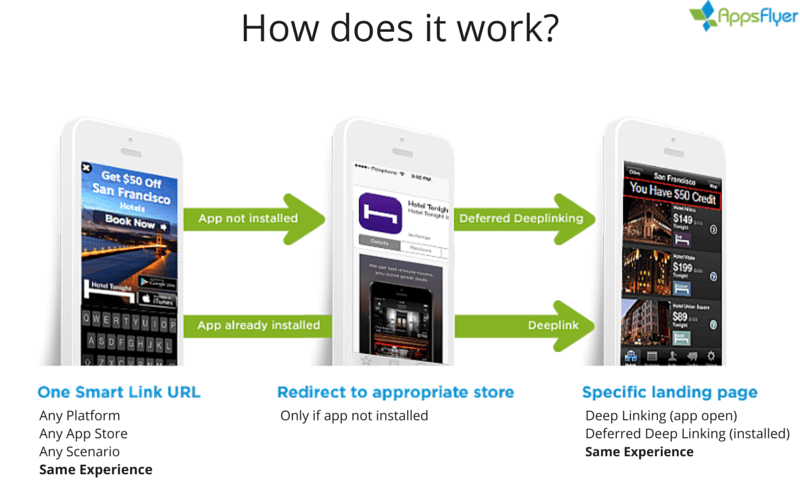 How paid search might change with deferred deep linking
Deferred deep linking might not be enough to change consumer behavior or make mobile search more popular. Deferred deep linking could make paid mobile search much more popular for mobile app marketers.
In the war for ad spend budget, efficiency could win out. Mobile paid search is already the best channel when it comes to acquiring high quality app users.
As we see with AppsFlyer's mobile app discovery report, search outperforms other mobile user acquisition channels when it comes to user quality (engaged, monetized users). So if deferred deep linking can increase mobile search conversion rates even more, it might get a lot more attention from mobile app marketers.
All of the data available points to the potential of mobile search. Consumers most often start their mobile research for purchases in mobile browsers and E-commerce mobile app conversion rates are closing in on online conversion rates.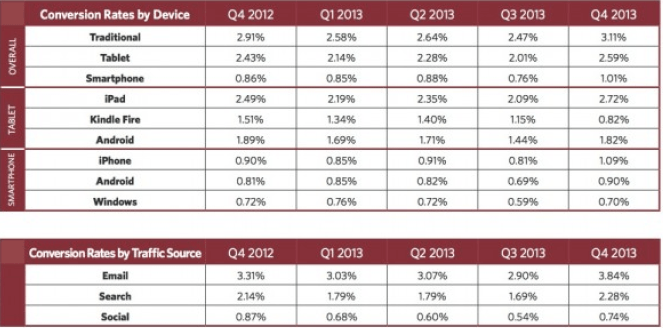 As mobile browsing becomes as natural to consumers as online browsing, consumers' mobile activities will start to more closely mimic online where paid search dominates other paid channels for industries like E-commerce.
With deferred deep linking for paid mobile search, mobile app marketers will get consumers who have purchase intent, and consumers will get the comfort of completing mobile purchases in-app.
Four Industries that should be using deferred deep linking today
Here are 4 use cases begging for deferred deep linking:
Ecommerce
eMarketer predicts that by 2016, 82% of adults who redeem digital coupons will do so on a mobile device. Daily deal apps and retailers can take advantage of this trend by running paid search ads with coupons exclusive for mobile, using deferred deep links to open their apps to targeted landing pages when launched.
Travel
According to  eMarketer, one-third of travellers will research travel on a mobile device. This is a great opportunity to use high converting in-app landing pages related to the travel search of the consumer.
In the example below, we can see how a mobile ad with deferred deep linking can increase conversions: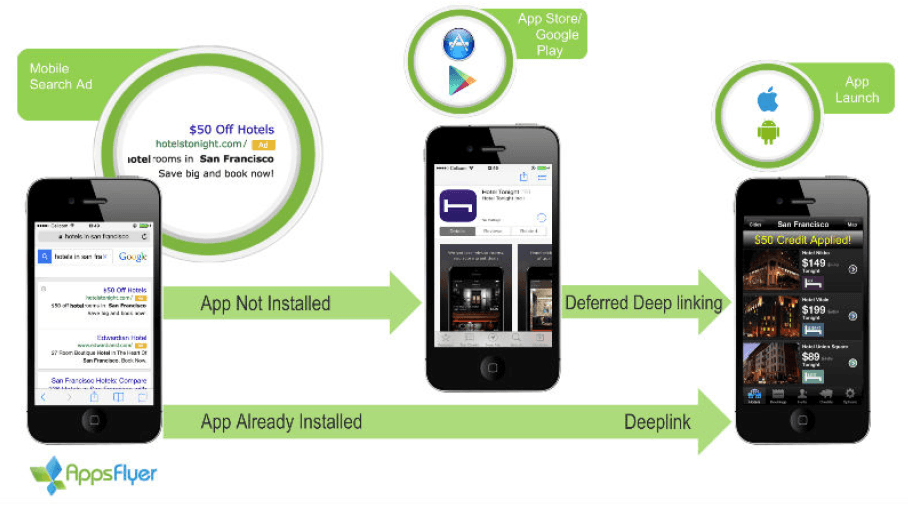 Jobs Search
Job search apps can advertise on job title keywords in mobile search with deferred deep links. Once a mobile user clicks, they can install the app and instantly launch a search. This is a great way to create instant engagement with mobile users and potentially become the user's default job search app.
Finance
Finance companies have the most conversions per day from paid search, so it makes sense to try and replicate this success on mobile. Finance companies can even use mobile search to push tools and content as a new form of content marketing. Searching on your mobile device for how to pack for moving? State Farm can use a deferred deep link to get you to download their MoveTools app and have it open to the screen with packing advice.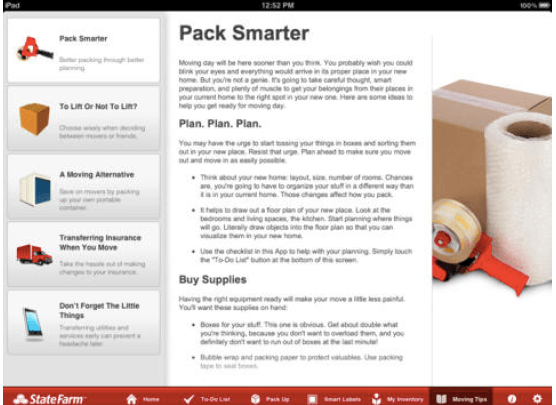 Paid search is insanely popular for online user acquisition but it hasn't taken off for mobile apps. Deferred deep linking provides the technology necessary for paid mobile search to reverse its downward trend versus other mobile ad channels.
Now that deep linking technologies, like OneLink, have gotten smarter,  the era of mobile paid search may have just arrived.