Announcing 6 New Features to Tackle the Challenges of the 'New Normal'
At AppsFlyer, we understand and share the challenges marketers are facing today as it relates to their new day-to-day work environments, shifts in budget allocations and remote work dynamics.
This is why we are excited to roll out a set of new features that will make the AppsFlyer platform more remote-work-friendly, productive and effective.
1. Measure the Impact of COVID-19 on Your App
COVID-19 is pushing companies to move at an unprecedented speed. As a marketer, that means you are required to continuously report on the COVID-19 impact.
With AppsFlyer's new ready-made COVID-19 Custom Dashboard template, keeping track of the specific performance KPIs important to your business during COVID-19 is easy.  Customize the template with additional filters and KPIs, utilize the drag-and-drop interface to organize and rearrange the report to fit your needs. That's it! You're ready to go.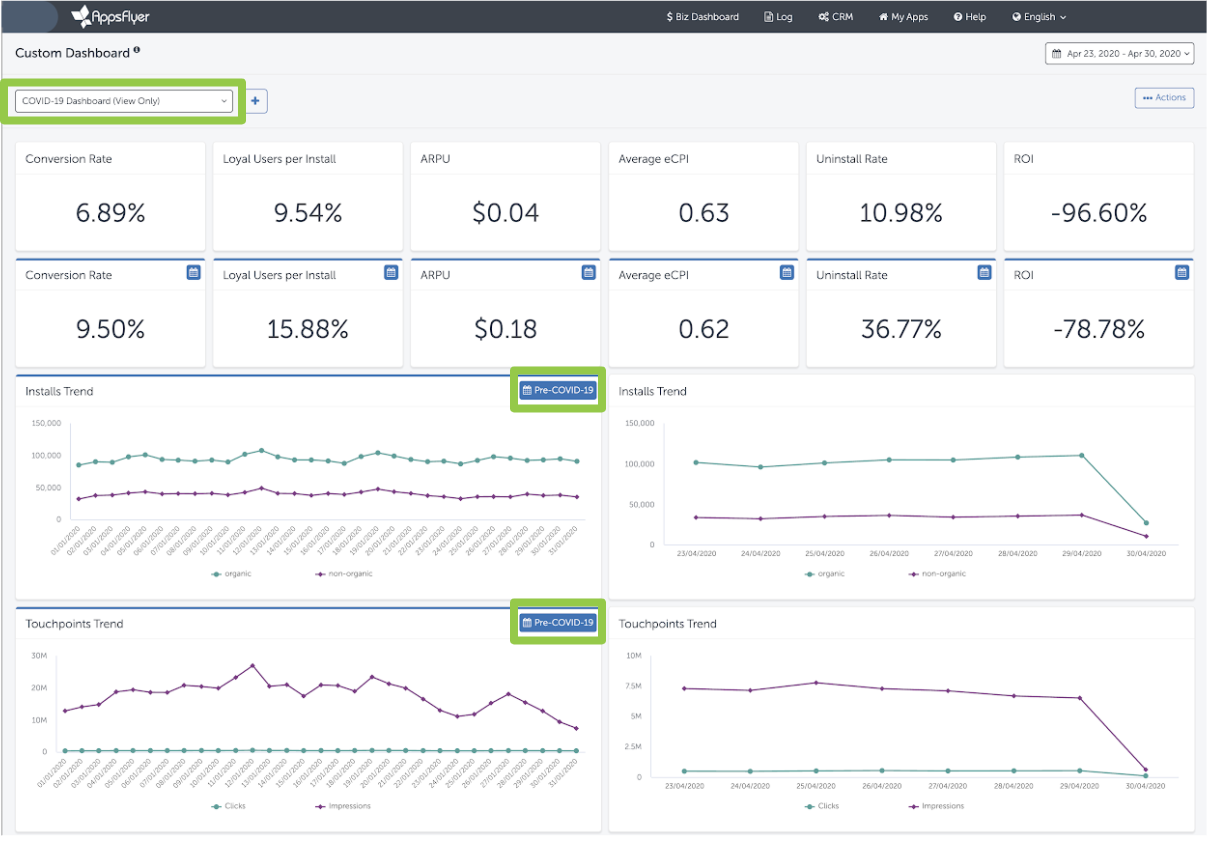 2. AppsFlyer Anywhere
We've all been there. You aren't in front of your computer when something urgent pops up. You need to access your marketing performance data, but sitting down with your laptop when you are trying to juggle kids playtime, homeschool, meals and laundry isn't an option.
With AppsFlyer, you can stay in the know wherever you are. Monitor campaign performance 24/7 with unlimited, configurable Live Alerts – sent straight to your AppsFlyer mobile app.
3. Activity, Revenue and Overall Performance Comparisons
Need to compare app activity with that of a preceding period? Compare user performance during and before COVID-19? We got you covered!
Our new activity data comparison feature helps you uncover the impact COVID-19 has on your app compared with the preceding day, week, month or quarter.
4. Monitor Your Account Activity
Account admin? With our new monitoring tools, you can get instantly notified about changes and actions taken in your account. These reports include real-time, downloadable log reports and email notifications about critical campaign configuration changes made on your account.
5. Exclude Existing Users from Your UA
Given the situation and how tight marketing budgets are becoming, you may be looking for ways to optimize your spend. One of the most effective ways to grow more with less is by improving user acquisition targeting.
By excluding your historical user base from your UA campaigns, you can easily avoid targeting existing, unprofitable users and by that, improve CPIs, conversion rates and the entire UA cycle.
Exclusion lists can automatically be applied using AppsFlyer's audience segmentation tool or manually, by leveraging AppsFlyer's raw data and reports.
6. Measure the True Impact of Your Retargeting Campaigns 
In a period during which every dollar counts, the million dollar question is whether the paid-for users who generated revenue would have done so organically, which basically means for free.
Today, we are excited to share the beta release of a brand new incrementality dashboard that will help answer that question and justify spend. With this new dashboard you can now:
Discover your TRUE retargeting ROAS
Measure the % of organic traffic cannibalization
Optimize your audience targeting
Find the best network for your audience
Want to learn more about this set of new features and how your team can use them to power through these uncertain times? Talk to your Success Manager or schedule your AppsFlyer Demo today.